In 1964, when the United States Supreme Court ruled on Jacobellis v. Ohio, Associate Justice Potter Stewart gained fame for his description of obscenity: "I know it when I see it." However, with beauty resting in the eye of the beholder, the irrationality of such judgments works for what appeals to a person as well as to what might repel someone.
In her essay entitled "Enormous," Jean-Michele Gregory writes of her husband, Mike Daisey:
"I am in love with an enormous man. Though he is only two inches taller than me, his girth is twice my own, and his weight more than double. I look at these rail-thin men on the street and I wonder, how could I lay in bed next to something as small as that? How would I ever feel comforted by their small-boy embrace?

When he enfolds me I almost vanish. His arms are thick and heavy, and once he's asleep, almost impossible to move. His belly warms the small of my back and fills in all the space between us so there is no point at which we lose contact. I sleep curled like a fetus, my toes barely extending beyond his knees, and when I look down I see his feet poking out from under the covers, two rough loaves of bread."
While the mass media pushes certain stereotypes of mindless beauty at the public (Does anyone remember Carrie Prejean?), a person's perception of beauty is often more than skin deep. Ironically, an object of beauty is often rated in direct proportion to one's subjectivity rather than objectivity.
Performers who may be idolized by the public are sometimes riddled with insecurity about their looks.
Back in the days when bathhouses were packed with gay men, the S&M crowd (when it stood for "stand and model") often found their haughtiness could leave them untouched by human hands while much plainer men scored lots of sex.
Oftentimes, one spots a couple and wonders what they ever saw in each other.
In their 1965 musical, The Roar of the Greasepaint -- The Smell of the Crowd, co-lyricists Anthony Newley and Leslie Bricusse gave these words over to the glorious diction of actor Cyril Ritchard:
"Look at that face just look at it!
Look at that fabulous face of yours
I knew first look I took at it
This was the face that the world adores
Look at those eyes
As wise and as deep as the sea
Look at that nose
It shows what a nose should be!
As for your smile it's lyrical
Friendly and warm as a summer day
Your face is just a miracle
Where could I ever find words to say
The way that it makes me happy
Whatever the time or place
I will find in no book
What I see when I look
At your face."
Those lyrics easily come to mind while watching Worst in Show, an amusing new documentary being screened at the 13th San Francisco Independent Film Festival. The popular success of Christopher Guest's acclaimed 2000 mockumentary, Best In Show, did nothing to diminish the love that pet owners felt for dogs who were, shall we say, less than pretty. Dogs like the one pictured below: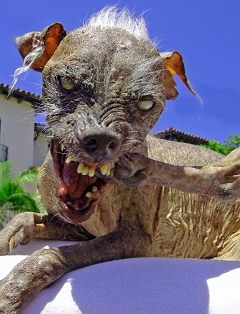 Made by John T. Beck and Don R. Lewis on a budget of approximately $5,000, Worst In Show captures some of the personalities that work the ugly dog contest circuit with the same determination of stage mothers who devote their lives to pushing their daughters to participate in child beauty pageants. These may include people like Dawn Goehring (whose dog is named Miss Ellie), or the stage mother-like Dane Andrew (an actor whose dog, Rascal, has won several trophies as the world's ugliest dog).
While Chinese cresteds and three-legged mutts vie for top prize, much of the footage taken at the World's Ugliest Dog Contest (which is held in Petaluma, California during the annual Sonoma-Marin Fair) is fairly low key, with the owners showing far more anxiety than their dogs.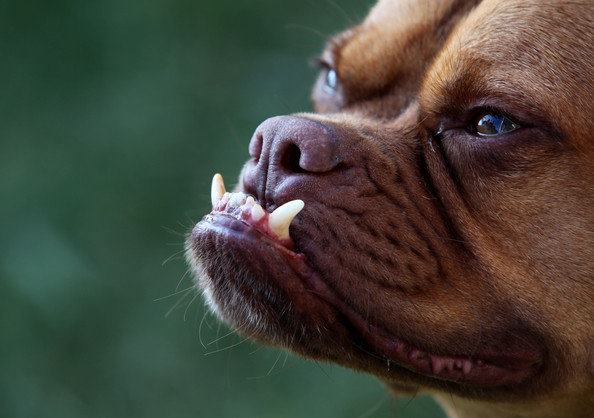 Pabst, with a face only a mother could love

My favorite was Pabst, a boxer mix adopted by Miles Egstad of Citrus Heights, California, who won the title several years ago and seems, like his owner, to be a lot more emotionally balanced than some of the other people interviewed for this film. In 2010 (the contest's 22nd year) the top prize went to Princess Abby, a chihuahua rescue dog whose hind legs are much longer than her forelegs.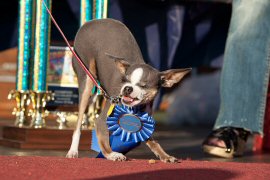 Princess Abby, the 2010 title holder for World's Ugliest Dog

Although Worst In Show probably won't win many awards, it is a sweet and well-intentioned documentary. I'm sure the film will have special appeal to pet lovers (especially those who have rescued an animal from the pound). Here's the trailer:
Sponsored by San Francisco's Academy of Art University and directed by Bob Toy (a graduate of the Academy), Ruth Asawa: Roots of an Artist is a fascinating new documentary about a Japanese-American artist whose work has become part of San Francisco's inspired collection of public art. Born in Norwalk, California in 1926, Asawa's life has taken her from an itinerant childhood (part of which was spent at the Rohwer War Relocation Center for Japanese-Americans in Arkansas during World War II) to serving on the San Francisco Arts Commission, California Arts Council, the National Endowment for the Arts, and becoming a trustee of the Fine Arts Museums of San Francisco.
When she was 68 years old, Asawa spoke of her experience in an internment camp: "I hold no hostilities for what happened; I blame no one. Sometimes good comes through adversity. I would not be who I am today had it not been for the Internment, and I like who I am."
Today, Asawa is known for some of her spectacular fountain sculptures in San Francisco (the mermaid Andrea in Ghirardelli Square, the cast bronze fountain outside the Grand Hyatt San Francisco on Union Square, her stainless steel Aurora fountain in Bayside Plaza, as well as her Garden of Remembrance on the campus of San Francisco State University). A magnificent collection of her wire sculptures and works on paper is on permanent display at the M.H. DeYoung Memorial Museum in Golden Gate Park.
Throughout her life, Asawa has been a fierce advocate for community art projects and art education in public schools. Her murals -- built with the help of countless schoolchildren whom she has taught how to work with baker's clay -- can be found in various parts of the city. Her basic philosophy?
"Learn something, master it, and pass it on. Art is for everybody. It is not something that you should have to go to the museums in order to see and enjoy. A child can learn something about color, about design, and about observing objects in nature. If you do that, you grow into a greater awareness of things around you. Art will make people better, more highly skilled in thinking and improving whatever business one goes into, or whatever occupation. It makes a person broader. When I work on big projects, such as a fountain, I like to include people who haven't yet developed their creative side -- people yearning to let their creativity out. I like designing projects that make people feel safe, not afraid to get involved."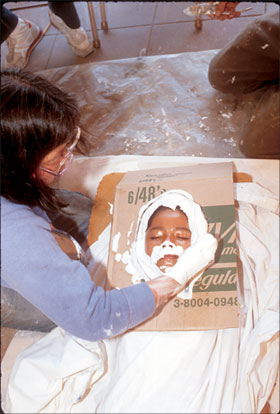 Asawa casting a young student's face using plaster in 1982.
Photo by: Allen Nomura

Toy's documentary traces Ruth Asawa's artistic development from her days in an internment camp (where she worked beside some animators from the Walt Disney Studios who taught art in the grandstands of the race track) to her experiences attending Black Mountain College in North Carolina (on scholarship), where she studied with people like Josef Albers and Buckminster Fuller.
Ruth Asawa: Roots of an Artist also describes how, over several decades, Asawa's table became a well-known meeting place for politicians, poets, and artists to share food and ideas, create art, and organize projects. Her door always remained open as she committed herself to linking her personal life with her community.
Now 85, Asawa has donated her table to become the centerpiece of Ruth's Table at Bethany Center (whose programs for people over 50 living independent lives in San Francisco was named for Ruth Asawa's own kitchen table). Barely an hour in length, Bob Toy's documentary leaves the viewer feeling fulfilled and immensely gratified, yet wanting more. Here's the trailer:
Calling all HuffPost superfans!
Sign up for membership to become a founding member and help shape HuffPost's next chapter