Curaçao, part of the Caribbean's Netherland Antilles Islands, is just 35 miles north of Venezuela and well south of the hurricane belt. It's a vibrant, arid isle, largely populated (150,000) by African and Dutch descendants and also home to people of 40 different nationalities. Add to the mix music lovers who trekked to Curaçao for its new jazz festival and the island shines.
The Curaçao North Sea Jazz Festival Brings a Cool Vibe


The North Sea Jazz Festival, a respected international music celebration held in Rotterdam, Netherlands, has reached across the Atlantic and blessed Curaçao with the first Curaçao North Sea Jazz Festival, set at the World Trade Center in Piscadera Bay. The new venue was inaugurated with a dazzling array of jazz, soul, salsa, bosa nova and rock performed by an impressive roster.
Opening the festival on the large, open-air Sam Cooke Stage, George Benson and his soulful jazz guitar licks enchanted thousands with In Crowd and This Masquerade. Nicaraguan-born salsa star Luis Enrique followed with an exciting set of hits from his Grammy Award-winning album Ciclos. Lionel Richie closed out the night with rousing performances of All Night Long and Dancing On the Ceiling.
On the second evening, Natalie Cole graced Celia Stage hall, singing her dad's classics (Unforgettable, Route 66) and her hits (This Will Be, Inseparable), while jazz/folk guitarist Raul Midon warmed the crowd at the intimate Sir Duke Stage. The sunny sounds of Sergio Mendes had fans swaying at Sam Cooke Stage. The crowd swelled to 10,000 when neo soul singer John Legend, swaggered on stage crooning Green Light, Save Room and the Harold Melvin & The Blue Notes' staple Wake Up Everybody. Legend invited a female admirer on stage and serenaded her, dropping to his knees and caressing her hips. Male fans held on to their girlfriends tightly to avoid a stampede. Simply Red, led by Mick Hucknall, continued their farewell tour with midnight performances of Holding Back the Years and If You Don't Know Me By Now.
Curaçao's countryside looks like an Arizona desert surrounded by water. Each town is anchored by a church, school and cemetery. The streets are clean. The pedestrians smile. Most live around the southeast capital city of Willemstad, which is divided into two quarters: Punda (established in 1634) and Otrobanda (1707). These neighborhoods are separated by St. Anna Bay, which leads into Schottegat Harbour. Willemstad's pastel colored colonial buildings have become a UNESCO world heritage site. Duty free shops and a floating market with boats bearing fresh fish (snapper) and fruit stands abound.
Plasa Bieu is a large hangar-looking, un-air-conditioned (feels like a furnace) hall with restaurants that offer home-style meals: curried goat, snapper fillets, rice and peas, polenta. Locals line up and indulge and it's worth the sweat. For an I-can't-believe-it moment, visit the Ostrich Farm: see and feed emus from Australia and ostriches from Africa and debunk some fallacies - they don't stick their heads in the sand to hide, in fact they put their ears to the ground to detect approaching interlopers. If beach combing is your thing, try Knip Beach on the west coast, or Santa Cruz Beach on the northwest. Dinah's Veeris' Herb Garden grows 300 species that are turned into remedies (for anything from asthma to kidney stones), soothing oils and beauty products sold to island spas, like the one at the new Hyatt.
The Hyatt Regency Curaçao Golf Resort, Spa and Marina Eclipses the Competition.

Since opening April 2010, this classy hotel has stolen the thunder from other resorts. Set on 27 acres on the far side of stately Table Mountain (named for its flat top), Hyatt Regency Curaçao Golf Resort Spa and Marina is nestled between Spanish Water Bay and the Caribbean Sea. The manila-colored, 350-guestroom buildings feature 15 suites -- and the Spa suites offer a daily 90-minute massage. Lying on the beach or swimming in the tranquil hip-height water brings complete serenity. A livelier atmosphere waits at three pools or at the poolside restaurant SWIM that serves a tasty Baja Fish Taco.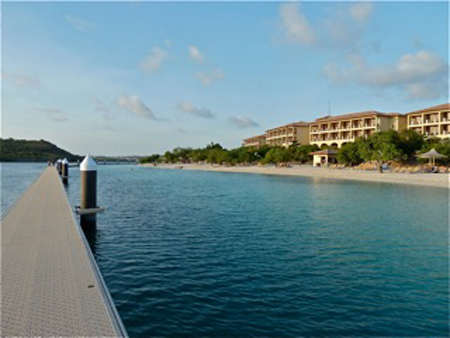 By day guests golf on the 18-hole, par 72 Pete Dye course that runs along the sea and under Table Mountain. Or they play tennis with resident pro Karl Vukobrats on HydroGrid clay tennis courts. After a vigorous workout in the fitness center, aching bodies appreciate the 4,500-square-foot Atabei Spa, where treatments can be conducted indoors or outdoors. There's no need to go into Willemstad for dinner. The best meal on the island is served at Hyatt's SHOR restaurant. The American grill cuisine includes: Prime aged rib eye steak, with tasty lobster macaroni and cheese.
The North Sea Jazz Festival gives vacationers a specific reason to come to Curaçao. The island's friendly people, cultural sites and the lush new Hyatt gives travelers incentive to stay.
Popular in the Community