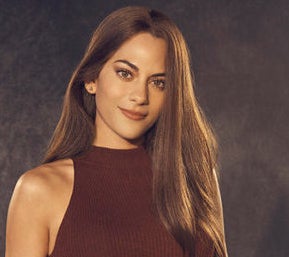 When I was single and in the Jewish dating scene, Natalie Portman was often cited as the desirable prototype and celebrity crush of my male acquaintances. She was born in Jerusalem - as Meryl Streep may have reminded you - and is on an elite list of hot Jewish Hollywood stunners along with Rachel Weisz and Gal Gadot (Wonder Woman). Now, an arrestingly beautiful and talented Israeli actress named Inbar Lavi is about to take the extended Jewish community by storm - as well as the rest of the world. Lavi is not an unknown, but her fan base is about to increase along with Bravo's straight male viewership. She previously was on MTV's Underemployed and Fox's Gang Related. Unlike the latter which only lasted a single season, her new chapter on Bravo's riveting scripted thriller Imposters looks promising. I was lucky enough to screen the first three episodes and can attest to the talent of its star who plays Maddie, an irresistible persona- shifting con artist who is always on the move. When each assignment is completed, she has wiped out savings accounts and left victims blindsided and brokenhearted, not knowing her true identity. Then three of her scorned exes join forces, intent on piecing together clues and tracking her down as she begins her next con job (See Video Below).
I had the opportunity to chat with Lavi and get to know the actress behind the fictional vixen:
SHW: Hi Inbar, how are you? Or should I say "Mah shlomech? Mah Inyanim?" I actually know Hebrew but not as well as you do! I can understand completely, but speaking is another matter.
IL: (In Hebrew) Good, how are you?!! (Back to English) Your Hebrew is good! The more you practice the better you'll do (laughs).
SHW: I read about how you had started really watching TV and thereby, studied acting while you took the nebulizer for asthma when you were younger. I know that you grew up in the Ramat Gan neighborhood of Israel. Is that where you trained in acting?
IL: I actually didn't really train in acting in Israel. I had one class that introduced me to method acting and I knew it was what I wanted to do. But, I wanted to go to school in New York for it so I moved to the States. My upbringing in Israel was actually in dance. I went to an academy for ballet and contemporary dance which really introduced me to the stage and the constant performance for an audience. It taught me a lot of my…Oh how do you say it?
SHW: You can say it in Hebrew.
IL: It just taught me how to work really hard. My work ethic came from my dance background and I owe a lot of what I do today to my upbringing there. Physicality and body movement.
SHW: I detect maybe the slightest accent now although you do sound mostly American. When I watched the preview of Imposters, that fake French accent stood out. Then we see how that is the accent used to con the husband Ezra.
IL: It's all about conning the audience all season. That's what we do. I get to play with languages and accents on the show. Full of effect and melodies.
SHW: How were you discovered for TV?
IL: Oh my god, I wish I had just been discovered. That would have been so cool. I think there's an urban legend that happens to someone like Rianna where they're on the beach and some talent or model scout discovers them and makes them famous. I had to claw my way (laughs) into Hollywood and I feel like I'm still doing it every day.
SHW: If the first 3 episodes are any indication, I think you're going to be one of those actresses that is chased around by paparazzi. I also think you'll be the new desirable celebrity crush for the Jewish boys I know and a sort of 'It Girl.'
IL: You're so kind to say so. I do play a character that can also be quite dangerous to both men and women so it's nice to hear you would feel someone would actually fall for that! I relate to a lot of things about Maddie, her passion for her work and her enthusiasm. She's also very fun loving and I can relate to struggling with her line of business. It's very similar to what I do in the sense that I put on a mask every day and pretend to be different characters for a living. Once you do that for a while, you lose a bit of yourself in the journey. I turned 30 this year and there are a lot of inner conflicts that go on. All of a sudden your priorities shift and things you didn't want before…there's a hunger for them. I've always been sort of a gypsy in my travels and all of a sudden I'm craving normality and having an anchor. These are things that drew me more so than ever before so I can appreciate many things in the journeys that Maddie goes through.
SHW: Do you miss Ramat Gan, Israel?
IL: I was born there but I actually grew up in Cholon, which is outside of Tel Aviv. My parents got divorced and are now living in different parts of Israel. I am Israeli first and foremost - in my blood, veins and my art. Ani po aval halev sheli sham (Translation: I am here but my heart is there.)
SHW: You suffered from asthma as a kid, so was the Israeli army not an option for you? How is your asthma today?
IL: I had childhood asthma so I mostly grew out of it. I was very lucky and I'm completely cured and very healthy. Dance really helped and connected me with my breath. I suffered from many knee injuries so the army wouldn't take a risk with me due to my bad knees and I ended up not serving in the army.
SHW: I know about bad knees from having been a runner and aerobic jumper myself. You do seem graceful in the dance scenes that I saw on Imposters.
IL: Yes. There's lots of physicality in this character. You will see through more of her personas how I absolutely use my body, my movements and my breath in every scene. I studied sense memory technique at The Lee Strasberg Theatre and Film Institute. We learned Strasberg's method and sense memory is one of the tricks you draw from your own experiences. There are different senses to trigger the emotions. You go back to the memory and recreate it. Thank God I have this in the back of my mind because I used it with the different characters.
SHW: Which actors inspired you?
IL: Natalie Portman, like many other female actresses that I admire, is always honest and brave with her choices and she's absolutely grateful, kind and down to earth. I respect everything about her. I like that she has a long-lasting, respectable career while keeping her private life private and raising a child and having a family. I admire her efforts to make the world a better place. There's also Ayelet Zurer, an Israeli actress along with Ronit Elkabetz, a wonderful artist who we lost last year to cancer. She was also an incredible filmmaker who was nominated for an award just before she died.
SHW: Where do you see yourself in 10 year?
IL: Oh wow. Wow…Wherever it is I just hope that I'm happy.
SHW: Uma Thurman is one of your co-stars on Imposters and the show reminds me of Pulp Fiction so that was very suiting! How did that come about?
IL: Pulp Fiction was a big inspiration throughout the pilot and it was always on our vision board. We looked at the color scheme, the tone and the dark comedy. When the creator showed Imposters to Uma Thurman, she asked to be in it. It just fit and made total sense to have an actual piece of the Pulp Fiction puzzle. I still can't believe I got to work with this incredible icon. I haven't seen the rest of it either, just the first three episodes as you did, so I am just as excited as you are to see episode four…and beyond. It's like being pregnant forever and I can't wait to see this baby and birth it and take care of it!
SHW: This show is different than ANYTHING on Bravo. I think it's going to bring a whole different, new viewership to Bravo like ABC's Scandal viewing crowd.
IL: B'ezrat Hashem! B'ezrat Hashem! Todah Rabbah Rabbah. ("With the help of God! With the help God!" Thank you greatly, greatly!")
Imposters is produced by Universal Cable Productions (UCP) with Adam Brooks and Paul Adelstein (Girlfriends' Guide to Divorce) serving as Executive Producers. The show premieres on Bravo this Tuesday, February 7th at 10/9c.
Related
Popular in the Community