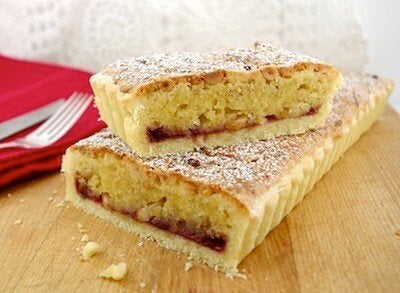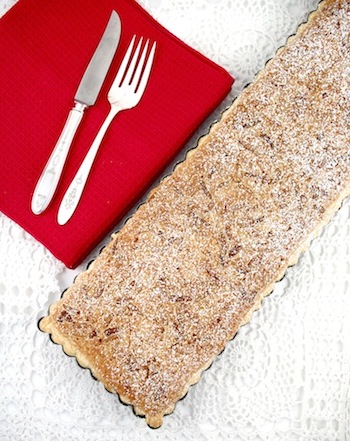 If given the choice, my husband and sons would have me bake exactly the same sweet treats every single time: our youngest, the persnickety one, would be happy with the most basic of brownies or a simple chocolate chip coffee cake over and over again; our elder son, the gourmand, would enjoy ooey, gooey, luscious Tiramisù or creamy, tangy lemon tart till the cows came home; my darling husband is a fruit fanatic and would be thrilled if everything I baked started... and ended... with apples. Unless it was Panna Cotta. And, of course, that good, old-fashioned essential of American hearth and home, the chocolate chip cookie, gets smiles and nods all around. Oh, how easy, how simple, how painless this would make my life: by now I can practically bake any or all of these desserts with my eyes closed. In the great effort to feed my food blog, I must admit that my family often revolts against the continuous succession of the new and untested and clamors one and all for the same old, same old.
Traveling the world, we have been confronted with so many new and different ingredients, culinary traditions and foods that I wonder why I should stick to the tried and true. Isn't life an adventure? Yes, there have been epic failures, more than one concoction ending its short, miserable life in the trashcan or oozing out of the springform pan and puddling on the oven floor, offering us little more than an acrid memory. So many new creations have ended up forming a fine layer of fuzz for lack of interest, or crumbling to dust for neglect, their undiscovered charms drawing no enthusiasm at all. Noses turned up at cookies redolent of molasses, eyes rolled and backs turned on cakes infused with the odd flavor of chestnut or the intriguing idea of powdered beets. New dessert experiments have led many to utter words that were harsh beyond what the situation called for and even my ooooh's and ahhhh's and mmmmm's only make them more skeptical, suspicious and unwilling to taste. Even a new chocolate layer cake elicits groans of discontent merely for the fact that it is new.
Yes, attempting the new and unknown are often recipes for disaster in my home, yet anything Italian is always sure to please even the naysayers. We had the great luck to live in Milan, Italy for seven glorious years, and everything about this diverse, extraordinary yet humble cuisine never ceased to surprise and delight each of us. Simple enough to please the persnickety one; luxurious and sumptuously rich enough to fulfill the gourmand; intriguing and flavorsome for the culinary adventurers; pure pleasure for us all.
I loved strolling into the bakeries and discovering completely new delicacies, local specialties, holiday treats. Rarely rich in chocolate, and other than the infamous tiramisù, panna cotta or zuppa inglese, desserts, cakes, tarts or brioche-like breads are simply flavored with one of a variety of nuts, usually chestnuts, almonds or pine nuts, and the occasional handful of chopped candied fruits. A splash of liqueur or deep, sexy, bitter espresso give some desserts a truly adult twist while white, creamy ricotta and mascarpone give other confections a slightly cheesy, luxurious smoothness. Local oranges, cherries, apples, figs, grapes and kaki are among the favorite fruit found in torte, crostate, focaccia, adding a sweet, flavorful kick to an otherwise plain backdrop of dough. Sweetened dough in all of its variations, baked, fried, filled, twisted, made for a huge yet simple array of cookies, cakes, pies and enriched breads. Oh so simple yet infused with the goodness found in all home-baked, traditional treats.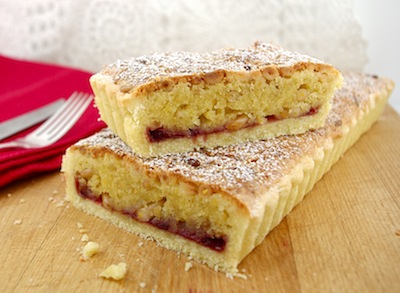 La Pinolata, the Pine Nut Tart, is a traditional, homey favorite in Italy, with variations ranging from a ricotta, pastry cream or even chocolate filling baked in a sweet pastry crust. For others, the Pinolata is a pine nut-studded genoise-type cake. My own version is an almond and pine nut frangipane smoothed into a pastry crust over a thin layer of tangy, sweet fruit jam and sprinkled with more pine nuts. This luscious filling can be flavored with a bit of lemon zest and juice, vanilla or even rum. And it not only keeps perfectly well for several days, but tastes better and better as the flavors meld together.
PINOLATA (PINE NUT TART)

For one 9 to 10-inch (25 cm) round tart. I used my 13 ½ x 3 ¾- inch (34 x 10-cm) rectangular tart tin + 1 small 4 ¼-inch (11-cm) round tartlet tin.

1 recipe single Sweet Pastry Pie Crust (recipe below)

1 cup (100 g) finely ground blanched almonds
½ heaping cup (75 g) very fresh, lightly toasted pine nuts, finely ground
4 ½ oz (about 8 Tbs + 2 tsps/ 125 g) unsalted butter, softened to room temperature
¾ cup (150 g) sugar
2 whole large eggs
2 large egg yolks
1 Tbs + 2 tsps (25 g) flour
Very fresh pine nuts for the top of the tart, lightly toasted if desired, about 5 ½ oz (150 g)
Optional flavorings: 1 tsp vanilla extract, 1 Tbs rum or to taste, finely grated zest of one lemon and a squeeze of juice to taste
5 Tbs apricot jam (traditional) or flavor of your choice (I use cherry jam)
Powdered/confectioner's sugar for dusting

Prepare my favorite Sweet Pastry Crust or your favorite sweet pie dough, roll out and carefully line a buttered tart tin, fitting in the dough and making sure the corners and sides are well pressed in. Trim the edges level with the top of the tin. Cover with plastic wrap and refrigerate for at least 30 minutes.

Preheat the oven to 325°F (170°C).

Prepare the filling. The easiest and fastest way I have found to toast the pine nuts is to simply place them in a clean skillet over medium-low heat and, shaking the pan constantly, allow them to color ever so slightly then remove immediately from the pan when golden. This step is optional but recommended as toasting the nuts brings out the full nutty flavor. Watch carefully to keep from burning.

If you desire the ground almonds and pine nuts to be as fine as possible, place them together in a grinder or processor and whiz for several seconds. If not, simply grind them separately.

Place the softened butter with the sugar in a large mixing bowl and beat with an electric mixer on medium speed until creamy, fluffy and smooth. Beat in the whole eggs and the yolks as well as one of the optional flavorings if you choose. Add the ground almonds and ground pine nuts, the flour and about a third (50 g) of the whole pine nuts and beat on low speed until well blended and smooth.

Remove the chilled pastry shell from the refrigerator and spread the jam evenly over the bottom, making sure you spread it into the corners and up to the edges. Pour or spoon the filling batter into the shell on top of the jam and spread, smoothing the top. Sprinkle the remaining whole pine nuts evenly over the top of the filling and gently press onto the filling using the back of a spoon or your fingertips.

Bake the tart for 30 to 35 minutes, depending on your tart pan size and your oven, until the top is slightly puffed and a nice golden color. The filling should be set but with a slight give, indicating it is still moist and not baked dry. The edges of the piecrust should be golden and cooked. If using a glass pie plate, very carefully lift up to make sure that the bottom of the tart shell is evenly golden brown.

Remove the Pine Nut Tart from the oven onto a cooling rack and allow to cool. Serve at room temperature lightly dusted with powdered sugar. I find that the tart improves the following day, so don't hesitate to make this tart a day before serving.

Sweet Pastry Pie Crust

1 1/4 (160 g) cup flour
1/4 cup (50 g) granulated sugar
7 Tbs (100 grams) unsalted butter, cubed *
1 large egg, lightly beaten

Combine flour and sugar in a mixing bowl or on a work surface. Using only your thumbs and fingertips, rub the butter into the flour until the consistency of damp sand and there are no more large chunks of butter. With a fork, vigorously stir in the lightly beaten egg until all the dry ingredients are moistened and the dough starts to pull together into a shaggy ball. Gather the dough together into a ball and place on a lightly floured surface. Using the heel of one hand (dipped in flour so the dough doesn't stick to your skin), smear the dough little by little away from you in quick, hard strokes in order to make sure that all of the butter is blended in well. Scrape up the dough together, re-flour the surface lightly and work the dough very briefly and quickly until you have a smooth, homogenous dough. If the dough is too soft or sticky for you, refrigerate it for 10 or 15 minutes until it can be easily rolled out without sticking to your rolling pin. As it is a butter-rich dough, this is recommended.

* Most piecrust recipes call for the butter to be chilled. I have found that butter at room temperature is easier and quicker to work into the flour (without leaving your arms sore) and the dough seems to be fluffier. If the dough is too sticky to roll out right away, several minutes in the fridge should do the trick.

Jamie Schler lives, eats and writes in France. To read more of her work visit Life's a Feast.

Popular in the Community