Where to Visit Kerouacian Sights in the Bay Area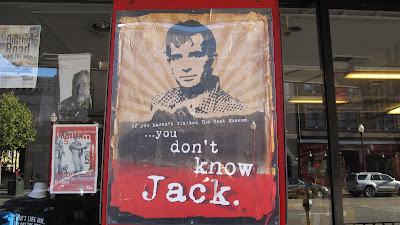 With the feature film adaptation of Jack Kerouac's On the Road on its way to U.S. theaters, what a better time to make a pilgrimage to the epicenter of Beat, San Francisco, to see some Kerouac landmarks?
Obviously, the first place to visit is the North Beach neighborhood of the city, which can sometimes look like a shrine to the novelist, what with all the Kerouac photos and paintings and book covers on display in shop windows.
But keep in mind that Kerouac never really lived in San Francisco, or never did for long. It's more like he crashed on the couches and floors of pals, or flopped in flop houses, or roamed the streets searching for that "ancient heavenly connection." The closest he came to residency was an extended-stay hotel room near the present-day AT&T Park in the Fall of 1952, after he had finished On the Road, the so-called Bible of the Beat generation.
As poet Lawrence Ferlinghetti told me in an exclusive one-on-one interview in 2000: "Kerouac never really lived here, except for a short period where he worked on the Southern Pacific as a brakeman; he lived in a hotel by the old Southern Pacific railroad station, which is near the [AT&T] ballpark. The old Southern Pacific station was on 3rd Street there, Third and Townsend."
(A momentary digression here: can you imagine someone less-suited to be a railroad brakeman than Kerouac, a long-time alcoholic?)
Anyway, he did make frequent visits to the Bay Area and, obviously, made a huge splash in the city. So here's a guide to the places where Kerouac stayed, slept, ate, drank, wrote and wandered in the City by the Bay!
1. Jack Kerouac Alley
Yes, there actually is a street in S.F. named for Kerouac, though it's about as short as the writer's life itself! (He died at 47, of a booze-related ailment, and would've turned 90 last March.) Running along the south side of the City Lights bookstore and connecting North Beach with Chinatown, the alley has plenty of Beat-related plaques and tiles and frescoes and signs. Officially named for Kerouac by the City on January 25, 1988.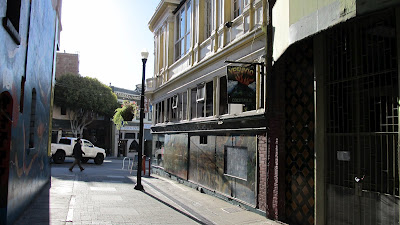 Kerouac Alley, 2012.
[photo by Paul Iorio]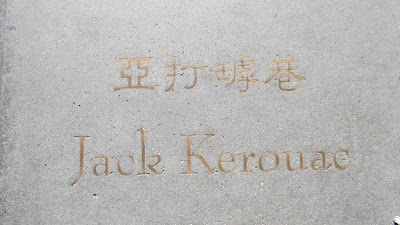 Where the Alley meets Chinatown.
[photo by Paul Iorio, 2012]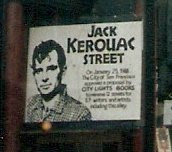 Sign in the window of City Lights about the creation of "Jack Kerouac Street."
[photo by Paul Iorio, 2000]
As central as City Lights was to the birth of the Beats, it's worth noting that "On the Road" was not published here but by Viking Press, though CL did publish other works by Kerouac. Founded by Lawrence Ferlinghetti, who knew Kerouac but didn't know him well, the store and publishing house is best known for publishing Allen Ginsberg's "Howl" and defending the work against obscenity charges in a high-profile legal case. (At 261 Columbus Ave.)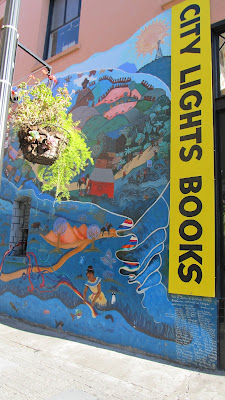 The south wall of City Lights.
[photo by Paul Iorio, 2012]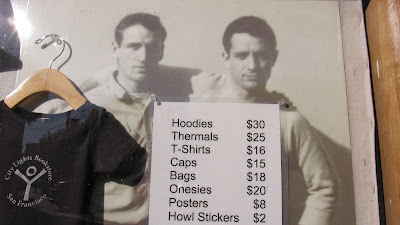 Kerouac in the window at City Lights, 2012.
[photo by Paul Iorio]
A bar where great poets used to get drunk and write! Kerouac drank here, as did Dylan Thomas, Allen Ginsberg and others. And you can, too! (The place is quite well-preserved.) At
255 Columbus Ave.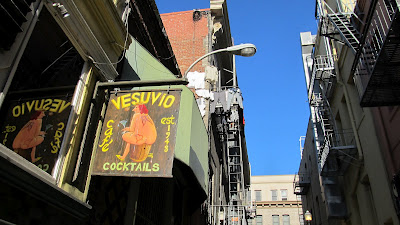 The Vesuivio, 2012.
[photo by Paul Iorio]
Founded in 2006 by Beat enthusiast Jerry Cimino, the museum has lots of memorabilia from the era -- and an "On the Road" exhibit that includes numerous foreign-language editions of the book. Check out the front entrance of the building, with its paintings and pictures of Kerouac, perfect for photo opportunities! (At 540 Broadway.)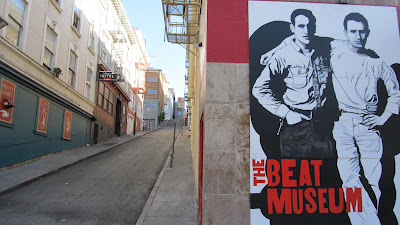 5. 29 Russell Street, S.F.
This was Neal and Carolyn Cassady's house in the 1950s, where Kerouac was an occasional houseguest, even staying in the attic here for several months in early 1952 while writing Visions of Cody.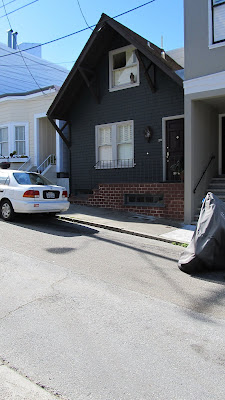 Kerouac crashed here, at Neal Cassady's house!
[photo by Paul Iorio, 2012.]
6. 1201 Greenwich St. on Russian Hill.
While staying at the Cassady home, one night Kerouac wandered out into the Russian Hill neighborhood and came upon the filming of a Joan Crawford movie, Sudden Fear. He went on to write about the shoot in a section of Visions of Cody called "Joan Rawshanks in the Fog."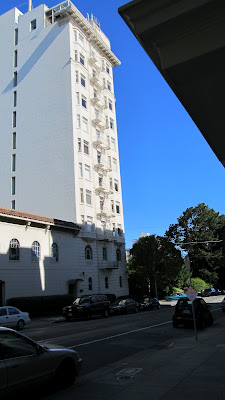 Kerouac stumbled on the filming of a Joan Crawford film here in 1952.
[photo by Paul Iorio, 2012.]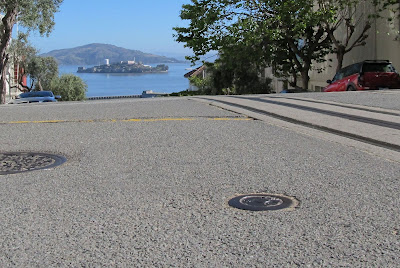 Kerouac used to stroll around this Russian Hill neighborhood when he stayed with the Cassadys in '52.
[photo by Paul Iorio, 2012]
Kerouac was at this performance space called Six Gallery in October 1955 when Allen Ginsberg first publicly read "Howl." And as Ginsberg read his poem before around 35 to 50 people (Ferlinghetti's estimate), an inebriated Kerouac sat on the edge of the low stage shouting, "Go! Go!" "Kerouac had a jug of red wine," Ferlinghetti told me in 2000. "He was passing the red wine around." (Six Gallery, which has been gone for decades, was at 3119 Fillmore St.)
8. Caffe Mediterraneum, Berkeley.
Kerouac is said to have been a regular at this outdoor cafe near the University of California campus. (At 2475 Telegraph Avenue.)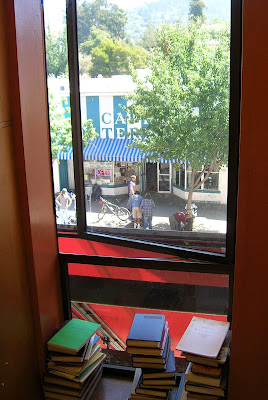 The Mediterraneum, as seen from Moe's bookstore.
[photo by Paul Iorio, 2005]
9. 1624 Milvia St., Berkeley.
Kerouac stayed here -- at Allen Ginsberg's apartment in Berkeley -- while Ginsberg was writing "Howl" in the Fall of 1955. (Ginsberg rented the cottage behind the apartment house.)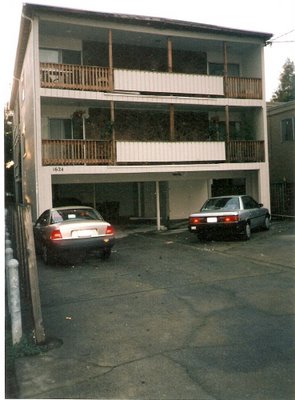 Kerouac stayed at Ginsberg's place in Berkeley in '55.
[photo by Paul Iorio, 2000]
So that's the Kerouac Tour of the Bay Area! And here's one more photo for the road: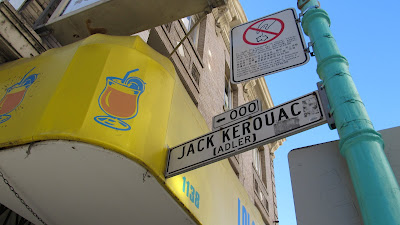 photo of Kerouac Alley sign, 2012.
[photo by Paul Iorio]
Popular in the Community