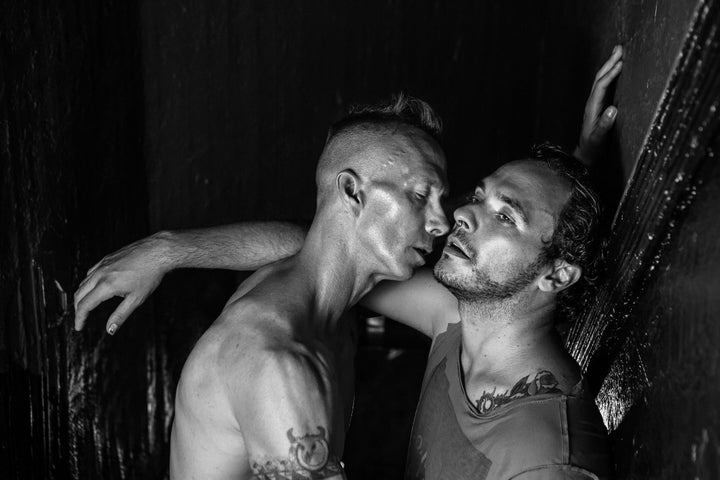 New York actor-playwright J. Stephen Brantley and director David Drake are hoping to put an optimistic spin on the trials and tribulations of recovering drug addicts in the queer community with a new, introspective play.
"The Jamb," which is billed as a "punk-rock rom-com on crystal meth," focuses on the lives of two gay men who grew up in a post-Stonewall era, but who came of age before the era of "Will and Grace" and all that followed afterward.
Brantley stars as Roderick, a former punk who has "gone straightedge" as he inches closer to 40, embracing LGBT activism and martial arts along the way. His pal, Tuffer (Nic Grellli), has had the opposite trajectory, and continues to abuse substances while dating ― and discarding ― a series of young lovers.
When things take a turn for the worse, Roderick stages an intervention that ultimately takes the pair to New Mexico, where they both "hit bottom on the high desert."
The new play, which opens Sept. 1 at the Kraine Theater in Manhattan, echoes themes Brantley first examined in 2014's "Chicken-Fried Ciccone," which Drake also directed. That show saw the Texas-born Brantley recalling his struggle with heroin addiction and brush with homelessness through hit Madonna songs, including "Like a Virgin" and "Vogue."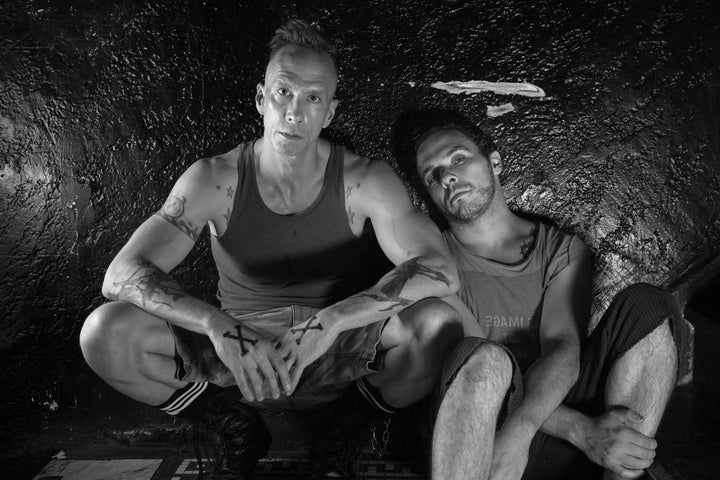 Similarly, "The Jamb" is inspired by music – in this case, punk rock – as well as many of Brantley's personal experiences with addiction and sex. Still, the actor-playwright told The Huffington Post that he wrote the piece from the "perspective of those who want to save an addict from self-destruction" as opposed to that of an addict themselves.
"Even now, we don't see a whole lot of queer characters over 30 that aren't tragic or boring. Stories about gay men and drug use tend to end badly, and there is truth in that, of course," he said. "But there's also hope and resilience – I should know."
The personal feel of Brantley's work instantly appealed to Drake, whose award-winning solo play, "The Night Larry Kramer Kissed Me," was a landmark drama based on his own coming-of-age during the HIV/AIDS crisis.
Drake praised Brantley's "inspiring way of zeroing in on the truth of a moment" and willingness to take "fearless leaps of faith" in his work. The pair first began working on "The Jamb" in 2008, and the eight-year process has "mirrored our own journey of wisdom and maturity," he said.
Noting that he's "really interested in representing LGBT people in all their complexity," Brantley was also quick to stress the romantic comedy nature of "The Jamb," noting that the relationship at the core of the story is partly inspired by the John Hughes classic, "Sixteen Candles."
Ultimately, he sees the show as a reminder of "how much better life is when lived honestly, and shared with others."
"Queer folks have struggled long and hard for their piece but, now that we're finally at the table, we should split dessert," he said. "Life is sweeter that way."
J. Stephen Brantley stars in "The Jamb," which opens Sept. 1 at the Kraine Theater in New York. Head here for more details. 
REAL LIFE. REAL NEWS. REAL VOICES.
Help us tell more of the stories that matter from voices that too often remain unheard.
BEFORE YOU GO
PHOTO GALLERY
Understated Celebrity Coming Out Stories