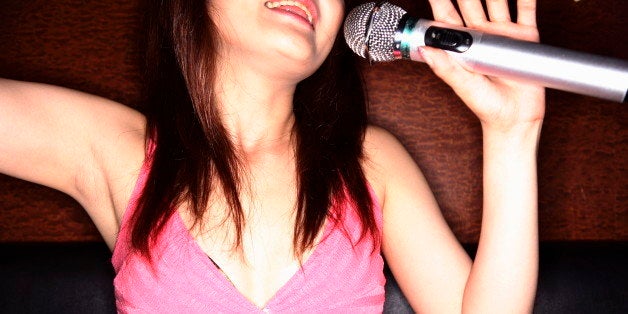 The Red Hot Chili Peppers, famous for performing naked but for a single tube sock, were really caught with their pants down this week when it was revealed that their Super Bowl halftime performance was unplugged... and not in a good way.
Seems that the NFL required prerecorded music to eliminate the possibilities of technical snafus and lengthy set-up time... and the guys complied but went through the motions of performing live, fake-playing their unplugged instruments on stage.
Responding to outraged fans and music media alike when the discovery was made, Flea, the Chili Peppers' impish bassist defiantly proclaimed that he would do it "all the same way again" in a letter on the band's website.
Though I do think that the Chili Peppers owe their fans an apology for misleading them, I am thrilled that my favorite pastime has just inadvertently gone mainstream.
I am talking about karaoke.
You see, by singing their iconic concert-closing hit, "Give it Away" to a music-minus-one track, together with Bruno Mars, the Peppers gave the most highly-televised karaoke performance ever. And if karaoke is okay for the punk-funk quartet of coolness, then it is high time for me to out myself as a proud practitioner of this art form.
As my friends and family know, I am a late-blooming fan of karaoke and the bars in which it typically takes place. Give me a microphone and a video screen with the lyrics of my favorite songs and I am in heaven.
Indeed, I am often literally in "Heaven" by the Talking Heads. There is no work day so stressful, no conflict so severe, that a rendition of "Heaven", Elton John's "Someone Save My Life Tonight", the Proclaimers' "I'm Gonna Be", or Tom Petty's "Mary Jane's Last Dance" cannot dissolve... accompanied by a couple of shots of tequila, stirred with water, ice and the juice of one whole lime -- my signature drink.
I got into karaoke accidentally, some five years ago, when we were invited to a friend's party, which kicked off in a rented karaoke room in Manhattan's Koreatown. Enchanted by the uninhibited performances of people whose voices were far from Carnegie Hall caliber, I took to the stage to belt out a boozy "I'm Your Man" by Leonard Cohen, purring one verse whilst reclining with my leg up along the back of the chaise.
More than the applause and laughter, I was hooked by the sheer rush of interpreting a beloved song in front of a live audience, discovering a new side of myself just when I thought my personality was set in stone. I got the essence of karaoke in a second -- it's not about the voice, but the originality and spirit of the performance. I was delighted by the moxie of others who voluntarily exposed their vulnerabilities and secret aspirations. The big bearded guy who sang a sappy love song heartbreaking off-key, the prim slip of a girl who growled her way through Billy Idol's "White Wedding", the political powerbroker who performed only Clash songs... in a dead-on British accent; these are the moments that make karaoke my extracurricular activity of choice.
Over the past five years, I have sought to sing karaoke as often as my demanding personal and professional life allows. I have my favorite venues -- Soldier McGee's on Manhattan's Upper West Side and Walter's on 8th Avenue, just south of Penn Station top the list. The vibe of both places is communal, democratic and friendly. After several years, I might even be deemed a regular at their weekly karaoke nights, presided over by Steve the DJ whose song list is epic.
I also like to venture beyond my comfort zone by performing periodically at the grungy, basement level Arlene's Grocery on the Lower East Side where a live punk-rock band accompanies singers in what amounts to a rock concert featuring members of the audience. Here, everyone rocks out, dancing and head-banging. I usually have to turbo-charge the tequila in order to overcome my self-consciousness about being, essentially, a 50-something Upper West Side professional trying to pass for a downtown chick.
My professorial husband is horrified by my passion for singing in karaoke clubs, which is fine with me as I am beyond the need for anyone's approval or company. Though he accompanied me on my recent karaoke adventure near Istanbul's Taksim Square -- when I sang "Let it Be" to a crowd of Turkish teens who lifted their lit-up smart phones in tribute -- I prefer to go solo.
Karaoke is my private release, the counterpoint to my serious work life, a good-hearted, goofy escape; a safe adventure for a long-married woman who likes to be in bars, but is there for the exalted purpose of singing her soul out.
Since Super Bowl Sunday, I've been rehearsing "By the Way" by the Red Hot Chili Peppers as a gesture of gratitude to them for breaking the barrier of live music-only performance.
Tonight, when I give Steve the DJ my song request, it will be signed "She-Ra, Princess of Power." That is my karaoke handle, my after-hours self, the singing superhero I become the moment I take hold of the mic and become one with my song.
Calling all HuffPost superfans!
Sign up for membership to become a founding member and help shape HuffPost's next chapter