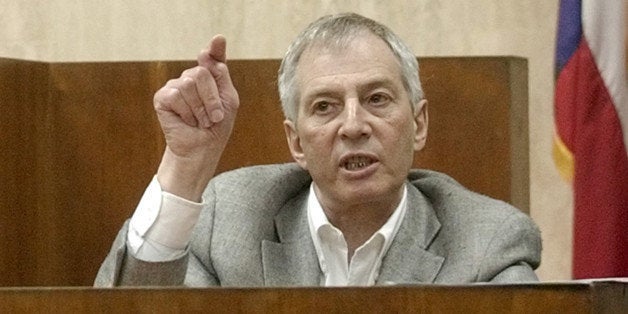 An heir to his family's billion-dollar New York real-estate fortune, Robert Durst almost witnessed his mother's suicide as a child, emerged as the prime suspect in his wife's disappearance years later, became estranged from his family after his brother secured the chief position in their business, was accused of dismembering his neighbor's body, began cross-dressing to disguise himself and urinated on a cash register at a Texas CVS. Enticed? You should be watching "The Jinx."
HBO's miniseries, currently halfway through its six-episode run, is more gripping than whatever else you're watching on television right now. The genre-bending show is catnip for anyone who spent the final months of 2014 obsessing over the podcast "Serial." Replace Adnan Syed with 71-year-old Durst, and give host Sarah Koenig's role to Andrew Jarecki, the filmmaker at the helm. Jarecki directed 2010's "All Good Things," a fictionalized take in which Ryan Gosling portrays a Durst analog. An elusive presence for years while the New York media gobbled up his scandal like a midnight snack, Durst, for reasons not quite clear, volunteered to discuss his case with Jarecki. Out of that, "The Jinx" was born.
Bringing true-crime reenactments to prestige TV, "The Jinx" employs newspaper headlines, diary excerpts, investigative footage and interviews with Durst's affiliates (including family members, attorneys, friends of his wife and others) to piece together a mystery that has no probable solution. The framing device of "Serial" stemmed from Syed's skepticism over Koenig's interest in his 15-year-old case; "The Jinx" contains the opposite DNA, yet, because Durst was never convicted of murder, packs even more allure. It's "Serial" for the rich and privileged. Durst's willingness to discuss the case gives him a certain ownership, but the whodunnit makes him a performer, as though he's cast himself in his life story. The labyrinthine tentacles -- divorce proceedings that immediately predate his wife's disappearance, a mobster's daughter who becomes a player, mysterious collect calls, questionable investigations -- rely on Durst's alibis, which are often airtight enough that he almost comes off as a victim.
You will be flabbergasted by the narrative's developments, compounded by the visual medium they inhabit. Sure, this could be a podcast or book, but then you wouldn't get to witness Durst's dry cadence and uncanny tics. "The Jinx" is a new achievement for HBO, whose longstanding highbrow crown has not yielded much in the way of unique programming formats. Here is a presentation seemingly fit for Investigation Discovery earning the glamour of the network's sleek production values. The Errol Morris parallels don't shy from frothy gossip, but it has a polish that suits both the eccentric plutocrat at its center and the lofty platform that houses it (along with an opening-credit sequence that feels like a blatant "True Detective" ripoff). Tune in now. Besides, what else are you going to watch?
"The Jinx" airs Sunday at 8:00 p.m. ET on HBO.
Support HuffPost
The Stakes Have Never Been Higher
Popular in the Community