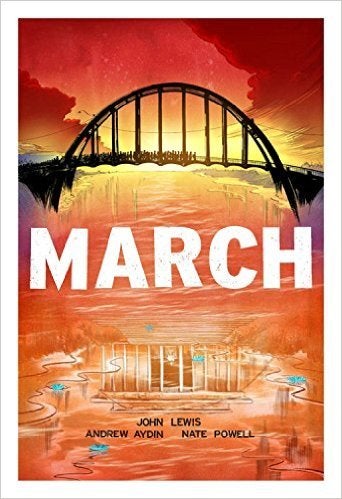 Congressman John Lewis has provided another great service to America by documenting the civil rights movement in his recently-published graphic novel trilogy, March, written with Andrew Aydin and Nate Powell.
After reading all three volumes in succession, I was struck by the enormity of the ongoing effort that was required of the civil rights workers. When we think of the lunch counter sit-ins, the Montgomery Bus Boycott, the Freedom Riders, or the March on Washington, we forget that the protests were not isolated, single events nor were they limited to just one part of the country.
In reading John Lewis's story—from his home on his family's Alabama sharecropper farm to his eventual leadership roles in civil rights organizations, one is struck by the unrelenting pace that the fight for equal rights required.
How Lewis Became Active
John Lewis was a teenager when he first heard Martin Luther King, Jr. in a radio broadcast. He was so inspired that he wrote him and asked for a meeting, which King arranged. John Lewis knew he had to get involved politically, and he soon joined a group in Nashville. The Student Nonviolent Coordinating Committee there was planning a nonviolent sit-in at segregated lunch counters in and around Nashville. Students were outraged at the fact that they could spend their money in the area department stores, but they couldn't use the changing rooms or eat at the store lunch counters.
To prepare for these sit-ins, the students practiced receiving the type of treatment they knew to expect. They taunted and verbally abused each other and rehearsed not responding, in preparation for remaining calm under duress.
A single sit-in protest, of course, did not accomplish the group's goal. The process was long and slow. The students visited lunch counter after lunch counter again and again. They were spat upon, screamed at, hit, and arrested. In one place, they were left sitting at the lunch counter while the owner turned off the lights, locked up, and turned on the bug fogger. The students feared they would die. No matter what terrible things befell them, the activists kept returning to stand up for their rights.
It took more than six months of steady, nonviolent protest to bring about change in Nashville. Finally, on May 10, 1960, six downtown Nashville department stores served food to black customers for the first time in the city's history.
While victory was welcome, it was only temporary; the students knew they could not rest. The next challenge was integrating movie theaters, so they started again.
This was just one small part of the country. There were efforts being made to integrate all types of institutions elsewhere.
In 1961, John Lewis, by this time the leader of SNCC, helped organize students for the Freedom Ride. This was an effort to end racial discrimination in interstate bus travel. The freedom riders were beaten and jailed for prolonged periods of time. Some were killed in their stand for justice.
Yet they kept protesting.
Remember the Headlines?
Try to remember some headlines, and you'll realize the enormity of the process: Brown vs. Board of Education, the Montgomery Bus Boycott, James Meredith at the University of Mississippi, Ruby Bridges at William Frantz Elementary School in New Orleans, the Freedom Riders, Freedom Summer, the death of Medgar Evers, Malcolm X, Martin Luther King, Jr., and six little girls at a church in Birmingham…and that's only a start. The civil rights workers were prepared to die for what they believed---sadly, many did.
When the voting rights fight moved to Mississippi in what was known as Freedom Summer (1964), John Lewis writes in March that the civil rights workers suffered 1000 arrests, 80 beatings, 35 shootings, 35 church burnings, and 30 bombings. The volunteers who returned home from the summer frequently described symptoms that were like PTSD---called "battle fatigue" then.
John Lewis, a Leader
By the mid-1960s, John Lewis achieved national prominence and was among the organizers of what was to be an orderly march from Selma, Alabama, to the state capital, Montgomery, to campaign for voting rights. The year was 1965. Coretta and Martin Luther King, Jr., were among the participants, all of whom knelt to pray before crossing the Edmund Pettus Bridge in Selma. As the marchers set out, the state troopers attacked them with billy clubs and tear gas. The attacks on the marchers were so violent that it became known as "Bloody Sunday." Lewis was among those injured.
The news coverage of the event was covered worldwide. It was felt to have hastened the passage of the Voting Rights Act of 1965. America had been embarrassed by the publicity surrounding the shoddy treatment of our own citizens.
Lewis in Politics
Lewis did not run for elective office until 1981 when he was elected to the Atlanta City Council. In 1986, he was elected to represent Georgia's fifth district and has been in Congress since that time. In 2011, President Barack Obama awarded him the Medal of Freedom.
What March Taught Me
For the last six years, my website, www.americacomesalive.com, has profiled African American leaders during what is recognized in this country as Black History Month. The more people I profile and the more reading I do, such as reading March, the more I understand one thing clearly: Black history is American history. If we don't understand the stories of people of all backgrounds, we operate in ignorance.
Today with protests of all sorts happening across the country, I highly recommend reading John Lewis's March. The leaders of the civil rights movement have lessons for us to learn about what it takes for people to stand up for their rights and bring about change.
Calling all HuffPost superfans!
Sign up for membership to become a founding member and help shape HuffPost's next chapter
This post was published on the now-closed HuffPost Contributor platform. Contributors control their own work and posted freely to our site. If you need to flag this entry as abusive,
send us an email
.