In 2011, my editor at the Financial Times asked me to write a feature on the real estate boom in Panama. I had just spent a few days in the country and had found it surprisingly modern and bustling. Panama occupies the narrow isthmus separating the Caribbean Sea from the Pacific Ocean. Its canal, completed in 1914—a remarkable piece of engineering in any age, and a considerable source of revenue—immediately set the country apart from its neighbors.
In Panama City, scores of high-rises poked at the sky on the waterfront, in a Latin copy of Dubai or Singapore. One of them was a dramatic, sail-shaped seventy-story tower called the Trump Ocean Club Panama, and it had just opened for business. Meanwhile, plans were afoot to turn a 3,460-acre former US Air Force base near the canal into a new urban environment with sleek business parks, malls, and thousands of new homes. It was part of the general ambition to transform this small, ideally located nation into a hub of the Americas, the perfect place for blue-chip corporations to locate their Latin American operations. I asked the communications director of the project to develop the old air force base if Panama, long considered a developing country, was now about to join the ranks of the first world. "Yes," he replied, "absolutely!"
While I was writing my newspaper feature, I came across the story of an American expat known as William "Wild Bill" Cortez—a fearsome-looking young man in the photos—accused of killing five of his compatriots in Bocas del Toro, a remote archipelago off Panama's Caribbean coast, near the border with Costa Rica. Cortez had been apprehended on the run in Nicaragua, and promptly flown back to Panama to face the music. Under interrogation, he soon admitted to killing a total of six people: five American citizens and a Thai woman, married to one of the Americans. Cortez's victims had all been shot in the head, execution-style. His wife and presumed accomplice, Jane Cortez, was a tight-lipped young woman who, like Wild Bill, had been born and raised in North Carolina. At their home in Bocas del Toro, police found a stash of gold dental fillings and crowns, ammunition for an AK-47 assault rifle, and a number of credit cards and checkbooks that were not theirs. Bill had been described by a fellow expat as "the world's first capitalist serial killer."
In 2011, there were an estimated two thousand expats living more or less permanently on the tropical islands of Bocas del Toro, around two-thirds of them Americans. No one knew the true figure, but the number was certainly growing every year. Many homes were only accessible by boat. I wondered what kind of expat community Bocas del Toro was. Bloggers made arch comments about the kind of newcomer who washed up there. It turned out that Bocas del Toro—literally "Mouths of the Bull," or Bocas for short—is a place of sun-kissed beaches and pristine jungle. But scratch the surface and the islands of Bocas appear a whole lot more sinister: for thirty years or more they have been a key transit point for drug shipments from Colombia to North America. They were also known for their property scams. Among other things, unscrupulous realtors went as far as hawking tracts of land to people who already owned them, and trying to sell sandbars, only visible at low tide, hoping the gullible buyer wouldn't come back when the tide was high and the sandbar was underwater.
Most of all, the islands of Bocas del Toro had become a hangout for the type of expat who appreciates anonymity and who might want to disappear—from ex-spouses, tax authorities, the police. Many of these people adopt a false name, and few others seem to care. "The principle of live and let live has been taken to the extreme in Bocas," another expat told me. "Everyone here," he said, "came because back home they were either 'Wanted,' or unwanted." Some of them had precious few friends and family.
After 9/11, Bocas saw a huge new influx of expats. Even if it was the middle of nowhere, it was far away from likely terrorist targets. It was a place whose isolation forced an almost total self-reliance. It attracted the kind of person, often in their forties or fifties, the tail end of the baby boomers, who had given up on the idea that any government was going to take care of them.
From around 2002 onward, Bocas Town—the only large settlement in the chain of islands, with bars and restaurants right on the water—became a place to party. You could buy land or a house and, in a year or two, sell up and double your money. This was an accentuated version of what was happening in the United States: in the period preceding the housing crash of 2007, many American states saw years of double-digit house-price growth. A lot of folks thought there was no reason why house prices could not go up forever.
The disturbing Cortez story also connected with that global property boom and bust. Soon after he arrived in Panama in 2006, Wild Bill portrayed himself as a real estate developer with plenty of cash to spend, advertising HASSLE FREE AND FAST CLOSINGS in a local English-language newspaper. In Bocas it was known that Cortez was solvent and on the lookout for houses to buy. Piecing together accounts from locals and Panamanian and US news reports, I began to suspect that Cortez's numerous murders—if, indeed, he was the perpetrator—had property fraud at their heart.
Besides his real estate business and a Harley-Davidson repair shop, Cortez also ran a bare-bones drinking den called the Jolly Roger Social Club. The bar, open weekends only, was located four hundred yards from Bill and Jane's own home. The raucous parties at the Jolly Roger were the stuff of local legend. Some expats would not want to be seen within a mile of the bar, such was its reputation. But many others loved the place and its boisterous drinking games, and courted the company of Wild Bill himself. Cortez, with his beefed-up physique—it was widely assumed he took steroids—long blond hair, and Viking helmet, was defiantly larger than life. And so was his life story. His father was Mexican and had been an ambassador. He owned oil fields in Texas. He had a $10 million trust fund. Meanwhile, Jane said she was a veterinarian, but when shown a sick Jack Russell terrier she said she couldn't help as she only treated "big animals like cows," not dogs. The Jolly Roger Social Club flew a skull and crossbones and its motto was: Over 90% of our members survive. One oddity about the place was that, for a successful, even hard-nosed businessman, Cortez appeared to run his dive on what could only be described as altruistic lines. All the time he spent serving drinks behind the bar, and in the kitchen preparing greasy finger food, made a profit of little more than $20 a night. On top of that, the Cortezes had to pay for electricity and upkeep of the wooden structure, jutting out on stilts over the Caribbean.
Sign up for more essays, interviews and excerpts from Thought Matters.
ThoughtMatters is a partnership between Macmillan Publishers and Huffington Post
But details of the Cortez case were sparse and sometimes contradictory. Panama's criminal justice system is flawed, and police have in the past used torture to extract confessions like Bill Cortez's. From the start I knew that I would have to navigate carefully through the leads that I was amassing, some of which would surely prove false. You have to keep your wits about you in Panama.
And yet, Bocas del Toro is seductive. It's easy to step off the plane and fall in love with the place and with its people; heaven knows, many have done so. The islands of the archipelago fringe a vast lagoon, where the sight of a native family setting off in their kayukos—canoes hollowed out from a single tree—gladdens the heart. Then there are the lobster cookouts with friends on the beach; the sound of the relentless, pounding rain on a corrugated iron roof; the multicolored bird-of-paradise flowers. In Bocas, many local families speak English with the lilting accent of the Caribbean, helping gringos settle in a bit more quickly. Here, witchcraft is taken seriously and shamans earn a decent living. All the locals, and indeed some expats, know which plants in the jungle to take for high blood pressure and rashes, and to soothe a hangover. In the 1980s, the English novelist Graham Greene wrote that Panama was "bizarre and beautiful." It still is.
Every paradise has its snake, of course, and often more than one. In 2011, soon after my first visit, former dictator Manuel Antonio Noriega arrived back in the country in handcuffs, after an absence of twenty-one years. In 1989, the United States had invaded Panama and removed General Noriega from power. He was detained as a prisoner of war, flown to Miami, Florida, and tried and convicted on eight counts of drug trafficking, racketeering, and money laundering. In the early 1990s, Panamanian courts had found the famously pockmarked Noriega guilty of murder in absentia, so Panama's hitherto most famous, if involuntary, expat was taken from the airport straight to jail. Meanwhile, his confiscated, once-opulent, hacienda-style mansion in Panama City was put up for auction twice. After Noriega's ouster, this was where a shrine to Adolf Hitler, voodoo materials, and ninety pounds of white powder were discovered. The white powder was initially reported as being cocaine but later found to be flour for making tamales. (The auctions, by the way, failed to attract a single bid.)
After I filed my story with the Financial Times, I followed the Bill and Jane Cortez case at a distance. I also got to know a group of courageous women, a close friend of one of the American victims, and three family members of another, who had banded together to see that justice was served. None of these women spoke Spanish and they all found Panama perplexing. But they were determined, resolute. They wanted to find out exactly what had happened at the Jolly Roger Social Club.
Meanwhile, the police investigation progressed at a snail's pace and Panama's wheels of justice turned very slowly. Then something changed: in the middle of 2013, a slimmed-down Cortez, speaking fluent, confident Spanish, started to acquire a public presence. He appeared on television and radio and became president of an outfit calling itself the Panamanian Prisoners' Association. He had achieved, however improbably, a kind of jail-bound notoriety, even a warped celebrity. How was this possible?
I had lived in Latin America for a decade and had been looking for a Latin American story that demanded telling. But far from everyone in Bocas del Toro wanted this story out in the open. Some thought it was bad for business, others that it brought shame.
"It's too raw," one expat guesthouse owner, a woman from Europe, told me. "This isn't the right time to tell it."
"When would be the right time?" I asked.
"In about a hundred years."
I don't agree. Many Americans—and other nationalities, too, of course—dream of a new life next to a white-sand beach and an azure sea—a place where you never need to switch on the heating or light a fire to keep warm, where it's pretty as a postcard and the living is easy. They want to start over in paradise. And in one such paradise, here was a strange American couple with an implausible and sometimes brutal backstory who were tolerated—even indulged—by so many of their compatriots. In the meantime, their neighbors went missing. Why were the expats in Bocas del Toro so slow to react? What—if anything—was it about Panama that made it the type of country where this sort of crime could happen?
 
 
Copyright © 2016 by Nick Foster. Excerpted from The Jolly Roger Social Club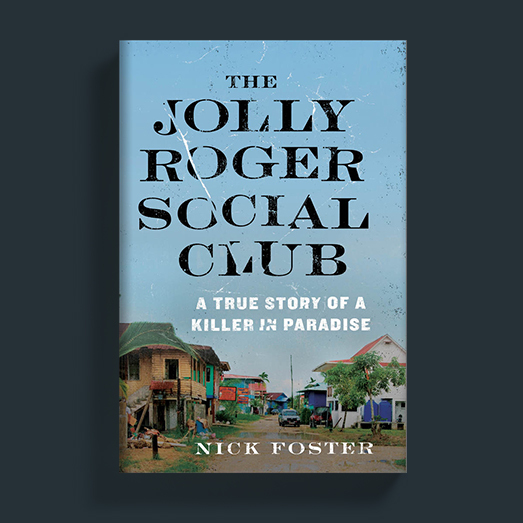 Nick Foster was born in Liverpool, UK in 1966, and educated at University College London. He worked for several years as a European Union diplomat, and as a stringer working out of Caracas, Venezuela, filing news stories and research to the UK's broadsheets. He now writes features for the Financial Times and the International New York Times, among other outlets. He is also producing a documentary film on France's highest-profile cold case. Foster is married with two young sons and lives in Belgium.
Read more at Thought Matters. Sign up for originals essays, interviews, and excerpts from some of the most influential minds of our age.
Calling all HuffPost superfans!
Sign up for membership to become a founding member and help shape HuffPost's next chapter