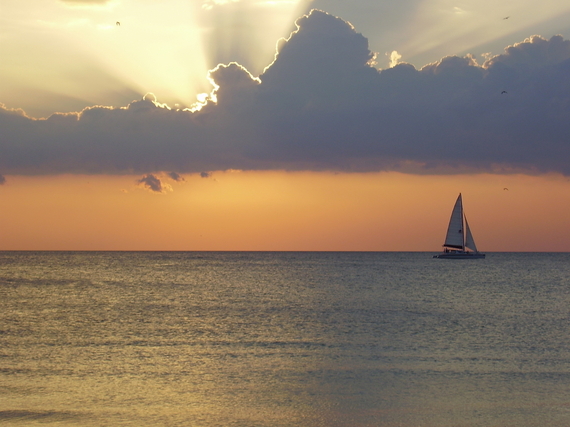 To change the trajectory of your life in a big way, you probably think you have to drop whatever you are doing to have a complete change in your life. Thus, your journey of enlightenment begins.
Many people in whatever their profession or circumstances in life have an inner dialog going on inside their head thinking... there has got to be more to life. What is the meaning of life, why I am here, how can I be fulfilled are the big questions we often ask ourselves?
Like Elizabeth Gilbert, author of Eat, Pray, Love, you pack your bags and head off to an ashram in India. You may decide to go to a Buddhist monastery, a yoga retreat in Costa Rica, or visit sacred places like Machu Pichu in Peru. You could even go on a long hike like Cheryl Strayed, who wrote the book, Wild: From Lost To Found on the Pacific Crest Trail. Strayed said she was hoping for a transformational experience that would "make me into the woman I knew I could become and turn me back into the girl I'd once been."
On your journey, you take time for inner reflection, meditate at these sacred places, walk in nature, and hopefully come back with a renewed vision of life and the answers to your questions. However, many people are not in a position to suddenly drop everything and take a soul-searching trip to some far off distant land.
All Seekers Find Their Answers Within
Fortunately, to answer the big questions of life or to begin the journey of inner enlightenment you do not have to travel anywhere. The ironic lesson all these searchers realize is that the answers to their questions and fulfillment lie directly inside them.
The journey of enlightenment begins not by going anywhere, but by unfolding what already exists inside of us. At the depth of the heart and mind of every person on this planet is an unbounded oasis of calm, peace, love, and bliss. This state is the transcendental level of our Being. It is the most silent level of our consciousness.
Tap Into The transcendent
We just need to tap into this level through meditation and day-by-day the evolutionary qualities of the transcendent will blossom in our daily life. When we hear the word meditation, many of us think, there is no way I can sit still for even one second. I genuinely felt sorry for Elizabeth Gilbert as her beginning days of meditating seemed excruciating difficult. Fortunately, after several weeks in the Ashram she did have some positive experiences.
I was fortunate to learn the Transcendental Meditation technique as taught by Maharishi Mahesh Yogi in 1972. Right from my first meditation I settled down in a natural and effortless way to the most peaceful silence I had ever experienced. Without ever having thought about the possibility of enlightenment, in my first meditation I knew my journey of enlightenment had begun. Experiencing the transcendent within was so profound that it unexpectedly changed the trajectory of my life 180 degrees!
The Self Unfolds Itself, To Itself, By Itself, Within Itself, For Itself.
Enlightenment is the full blossoming of the transcendental, cosmic universal value of our Self, along with developing the full potential of our unique individual values.
Just by taking 20 minutes twice a day to experience this expanded, silent level of ourselves, we come out of meditation feeling refreshed, renewed, and with a broader vision of life. All the qualities of the transcendent--peace, calm, love, fullness and an unbounded state of awareness grow day by day in whatever we are doing in our lives.
Going away somewhere may give you temporary relief of what you are going through in your life. Also, just getting away for some rest and relaxation always helps you to come back home feeling renewed and refreshed--until the daily grind quickly overtakes you again.
Start your journey of enlightenment now by taking a first class trip to the ultimate luxury of the pure silence of your soul. Travel the royal road to the boundless joyful state of your being, which will bring joy and freedom to all the boundaries of your life. Walk the pathless path through the doors of your cosmic dwelling and live in that house forever!

There are many roads to take,
many directions to go,
many skies to fly,
many oceans to row.

There are many hills to climb,
many paths to follow,
many rivers to cross,
but their ends are shallow.

Take only one path--
one joyous road,
let all travel converge
into Self's heavenly abode.

Let go of outer direction,
let Self be your guiding hand--
purpose of any journey
is to end in God's land.

You will end up there
after many mountains crossed,
cut short your long journey
on useless paths getting lost.

The way is simple, effortless--
faster than a jet plane.
Let your compass point you within
to Heaven's domain.

Never swerve from your path--
always stay right on course.
You will arrive in a flash,
in heaven, your own silent source.

Ann Purcell is an author and has been teaching meditation around the world since 1973. In addition, she has worked on curricula and course development for universities and continuing education programs. Her latest book, The Transcendental Meditation Technique and the Journey of Enlightenment was released on March 13, 2015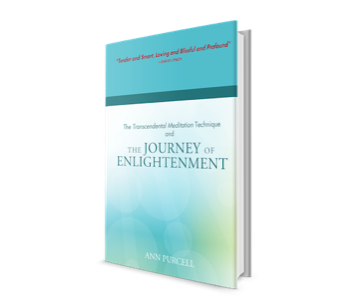 Support HuffPost
The Stakes Have Never Been Higher
Related
Popular in the Community