The nation's 65+ demographic, which currently accounts for 13 percent of the overall population, is expected to more than double by 2050, reaching over 89 million. To put that in perspective, that's 20 percent of the population, according to the U.S. Census Bureau. As our senior population grows, so does the senior housing industry. With more diverse housing options becoming available, finding and choosing the right one for an aging loved one can be not only exhausting for families, but also stressful and overwhelming.
According to recent data gathered from the A Place For Mom network, many Americans are not knowledgeable enough about the senior housing and care options available today to make the most informed and confident decisions. In fact, two of the most commonly used online search terms among people looking for senior living are "nursing home" and "retirement facility." However, in a majority of cases, these types of care aren't always the most appropriate for their needs, which results in a longer, unnecessary search process.
Out of every 100 families who search for senior care options, only 21 actually move a loved one to a nursing home. The remaining families find more suitable alternatives for their needs.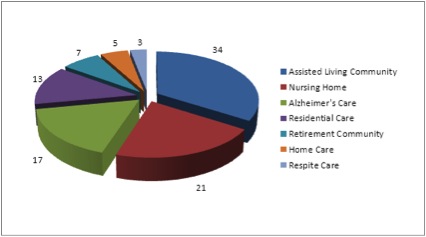 A Place for Mom, 2012
Whether a result of denial, limited personal resources or a lack of desire to plan ahead, these numbers indicate a clear misconception among Americans of the choices available today. Here are some tips to help understand the variety of senior living options and how to assess which ones may be best suited for your loved one.
First, it's important to note that not all senior housing is created equal. Over the past ten years, there has been a significant increase in the types of care available. A diverse selection of senior living options exists today, ranging from senior apartments that offer a more independent living style to assisted living, residential home care and memory care, which provide various levels of care and services based on need, including medication management, help with daily living and specifically catered environments to help reduce wandering.
To begin identifying what's most appropriate for your loved one, start by asking these three basic questions, which will help you develop a clear awareness of the current needs as well as long-term preferences:
1. Does your loved one need help with activities of daily living, such as getting dressed, bathing or using the bathroom?
What are their medical care needs? Do they require occasional help or daily assistance?
Has there been a diagnosis or are there signs indicating dementia or Alzheimer's disease?
2. Where geographically does your loved one want to be and what type of location is preferred?
In their current city?
In a new location that has warmer-weather?
In a city that is closer to family?
In a downtown setting?
In the suburbs?
3. What types of services and/or amenities are most important?
The ability to have a pet?
Dining experiences that cater to dietary needs, religious requirements and/or general preferences?
The opportunity to participate in activities that match personal interests, such as gardening, travel, outdoor experiences, games, etc.?
It's important to proactively engage your loved one in a discussion about their needs and wants, as it will help a great deal as you begin your research and planning. The more you know before you start planning, researching and visiting communities, the more targeted and productive your senior living search will be.
For further information, there are a variety of resources available to you including your local Area Agency on Aging and Senior Living Advisors within your community that can take into account an individuals' emotional, physical and financial health and help a family arrive at the best option available.
REAL LIFE. REAL NEWS. REAL VOICES.
Help us tell more of the stories that matter from voices that too often remain unheard.