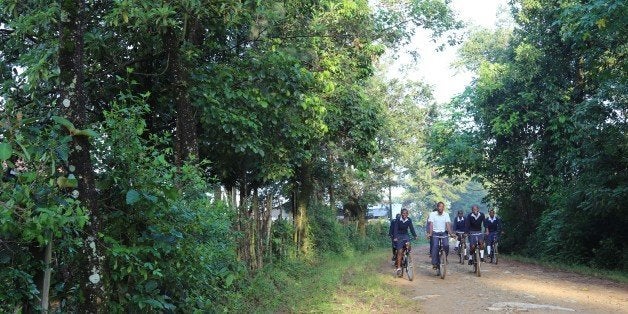 When I was in second grade, my gym teacher, Moshobane Moruthane, told our class about his childhood in South Africa. I learned that it was common for children to walk long distances to school; Mr. Moruthane's walk was over five miles each way. Even though school was their only opportunity for a better life, many kids didn't have time to walk the long distances to get there because of the chores they had to complete at home. I learned about kids all over the world needing vaccinations and mosquito netting. I learned, for the first time, about the children who were hungry. It all felt so overwhelming. I wanted to do something, but I didn't know what. That Christmas, I wrote to Santa asking him to deliver medicines and a fresh water well to a village in Africa.
When my Mom told me about World Bicycle Relief (WBR), an organization that provides bicycles for students in rural Africa, I was filled with hope. I was excited that there was something I could do to help the children who were growing up in villages just like Mr Moruthane's. I was only nine years old at the time, so I didn't really know how to fundraise. I decided I would ride my bike to school every day to raise awareness for WBR. I believed I could do this and I felt that if I just started riding everyday, people would notice and eventually want to donate to my cause.
Some days, it was very cold, the wind would blow and there would be snow and ice on the roads. I started waking up earlier in the morning just so I had time to get on all my winter cycling layers, including snow pants, ski helmet and ski goggles when it was really cold outside. Even when I was freezing for the entire ride to school, it felt good to be on my bike and know that I was doing something. I was making a difference.
Sure, it was hard sometimes, but I always knew that if I didn't bike, I could take the bus, get a ride from my parents, or even walk the couple miles to school. That's not the case for most kids in Africa, who don't have any alternatives to walking the many miles. Over the year, I received donations from classmates, the crossing guard, my school, my parents, and our community in order to raise enough money to send 22 bikes to Africa.
Now I'm 14 years old and my commitment to WBR continues. I'm older and understand more about the world, and it continues to feel good to be doing something that is making a difference. I'm committed to raising enough money to send 100 bicycles to Africa this year.
I've never forgotten the thank you letters I received from students who received Buffalo Bicycles. Reading those letters, it was clear to me, even in third grade, they made a big difference. The distance to school was no longer a barrier for those kids who received bicycles and their futures were brighter. Raising money for World Bicycle Relief has given me the opportunity to touch lives and to make a difference in the world.
This post is part of a series produced by The Huffington Post and the #GivingTuesday Team at 92nd Street Y, to celebrate #GivingTuesday. #GivingTuesday is a global giving movement, and the series (which will feature content throughout November) aims to celebrate how people are giving back around the world. For more information about #GivingTuesday, visit here. And to join the conversation on social media, use the hashtag #GivingTuesday.
REAL LIFE. REAL NEWS. REAL VOICES.
Help us tell more of the stories that matter from voices that too often remain unheard.