When it comes to my children, I fear the last time: the last time my daughter will ask me to play with her in the bath before she's too embarrassed, the last time my son will hold my hand on the way to school or sit on my lap after dinner (before he literally crushes my ribs), and the last time any of them will agree to be seen with me in public, ever.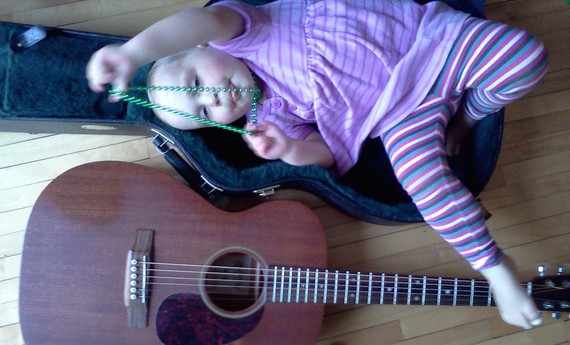 But without the passing of time, each moment would not be as precious. That's one of the great mysteries of life. We so much want the lifetime guarantee on everything from our kitchen counters to our kids. But it's the fleeting impermanence of every moment that makes it special. We live life in a muddle of contrasts and expectations. A sunny, spring day feels so good in Minnesota after a cold winter. But the same temperature is frustrating on a beach in Florida after you paid a thousand dollars to get there.
Kids are the best teachers when it comes to embracing the fleeting moments, from fun to challenging, happy to sad.
It recently struck me that I could quantify how many opportunities I have left with my kids. For example, if I only get out to the ice rink to play hockey with my nine-year-old son two times in a winter, on average, then I may only have eighteen chances left in my life (assuming he'll even want to play with his old man when he's sixteen or seventeen). It's a sobering thought. But it's also a good motivation on those cold days when my son walks into the office with his hockey stick and a big smile, and my gut reaction is, not right now.
But quantifying everything can be downright scary, and emotionally dangerous. It encourages a clinging mentality, like that old friend who now spends all your time together telling those back-in-the-day-when-things-were-more-fun stories.
And speaking of clinging, for years my wife and I have joked about freezing our daughter. She's our last of three, and she is sometimes just so sweet and cute and perfect (don't tell her older brothers) that the thought of her even growing another day, let alone a few years is unbearable (Dear Lord, can she skip being a teenager?). We want to keep her this way, right now, this moment, forever.
Unfortunately, we've talked with doctors and cryogenic sleep experts, but can't come up with any viable options. She keeps growing. We can't stop it. And each new day, week, month is equally challenging and beautiful, and we say, again, that this is the day, let's freeze her now. But we can't. Time passes. And this could be the last time. But without this last time, how will I know what amazing firsts are yet to come?
My wife wrote an amazing song, which says this all much better. Our band, The Falderals, just finished recording the track, along with a very personal video. We're excited to share it. It's the first in a series of songs we've written for a forthcoming, kid-friendly folk album about the fears, pains, joys, and wonders of growing up. Check out "Baby's Breath," and let us know what you think.
This post originally appeared on Tall Tree Grows Deep, a site devoted to creating and sharing resources that inspire contemplation, creativity, mindfulness, deep-thinking, compassion, and (awe)someness in young people of all ages.
Related