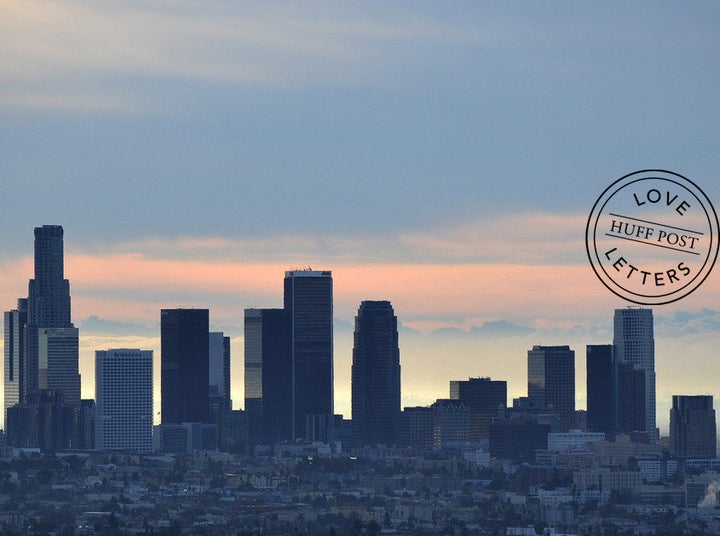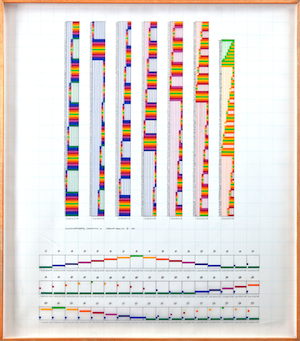 Sonakinatography Compositition 16, 1987. Plaka on Mylar. Image courtesy the artist. Photograph by Joshua White.
Part of the pleasure of seeing a survey show of contemporary art, such as the summer show "Made in L.A. 2012," currently at the Hammer Museum, lies in the joy of discovery. There may be artists whose works you recognize, but the WOW! of finding an artist you never knew existed but whose work is fully realized, of-the-moment yet timeless and blows you away, well that is worth the price of admission. And that is what I experienced upon seeing the work of Channa Horwitz.
Imagine my further surprise to discover that Horwitz is, at 80, the oldest artist in the show and that her studio is nearby, in West L.A.
At first blush, Horwitz's work featured in "Made in L.A. 2012" appears to be an intense, even compulsive exploration of a grid taken to the nth degree, forming large-scale patterns that appear both naturalistic (like a diagram of DNA) or man-made (computer switches or circuits) and suggest a mathematical algorithm. The images are both minimalist and conceptual, yet clearly the product of intense craft and artistry. Horwitz, as I learned during a recent visit to her studio, sees her works as exercises in logic, explorations of questions that have arisen out of her past work, as well as her artistic history, and out of the graph paper that she uses.
Horwitz was born in Los Angeles. Her grandfather was Orthodox, although her grandmother did not keep a kosher home. Her parents rebelled against their parents' strictures, embracing the Jazz Age and dancing the Charleston. However by the time they were raising Horwitz, their lives had become conventional: Her father was an appliance repairman, and her mother sold bread.
From an early age, Horwitz wanted to be an artist, something so foreign to her parents, that she said, "they didn't know where I came from. No idea." Life drawing was her passion, and, in 1950, she enrolled in the Art Center, a commercial-art school, that was then located on Third Street (today it is the Art Center College of Design in Pasadena). Horwitz recalled her greatest academic training as being a class on "the structure of a shadow."
"How many people have had a class like that?" she said. However, Horwitz got married and left the school. As she put it, "I left art." For the rest of the decade, she stayed home and raised her three children, until she could afford to purchase oil paint and start painting again.
In 1960, she enrolled in Cal State Northridge's art program, which she described as "a phenomenal experience," largely due to one teacher, artist Connor Everts. Everts was "an exciting man," Horwitz said, not so much as an art teacher, but because he taught her "to climb mountains. Literally." By 1963, she discovered that she "no longer wanted to answer the teacher's problems. I wanted to create my own." When told she could not use two motifs in a single painting, she said, "Why not?" and went on to create a painting with motifs of deep space and flatness. "I became very excited about pursuing the questions in painting flat." She left the Northridge program.
In 1968, the Los Angeles County Museum of Art invited submissions for a prestigious "Experiments in Art and Technology" program pairing artists with scientists and engineers. Horwitz's application included notations for a proposed sculpture called "Suspension of Vertical Beams." As Horwitz recalled, "I was suggesting that eight beams be controlled by magnetism; that they would be lightweight beams with a top and cap made of metal, and that they would start out at a base and move to the mid position between the top and the bottom and then each one move according to a plan. But not all at the same time. Each of the eight beams were programmed individually." Her submission was initially accepted for the exhibition, but it was the only piece in the show that was never built. To this day, Horwitz sees it as a lost opportunity for the world of art and for science and technology, as her project prefigured mag-lev trains. "Actually, if they had followed me then and taken me dead seriously, we would have had a bullet train," she said.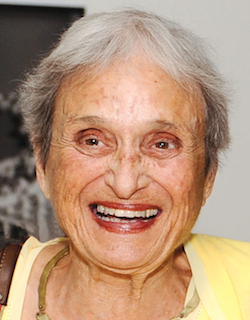 Channa Horwitz. Photo by Stephanie Keenan
That all the other artists in the show were men, caused an outrage. A feminist movement sprouted up around Horwitz; she joined it. This act changed how she felt about other female artists and about being an artist herself. Beforehand, Horwitz freely admitted, "I disliked all women artists." However, getting to know some of her contemporaries, including June Wayne, was, Horwitz said, "so influential in my life. She taught me how to be an artist, a woman artist that's equal to a man. We both have brains. The only thing that the women didn't have was confidence and belief in ourselves."
In 1969, Horwitz divorced her first husband, remarried and moved to a house in Hidden Hills. For much of the next four decades, Horwitz remained hidden there, pursuing her art.
"I retreated," she said. "I had so many questions to ask. And such an incredibly beautiful place to live. What an incredible studio!"
Horwitz said that part of the reason she cut herself off was a "lack of trust in myself." Calling herself a "thief," she said that seeing others' work would be too strong an influence. "I just had to have blinders." The downside was the loneliness.
"With the great freedom to sit on the top of my hill and watch the birds in the thermals it was also lonely. I would create something in the studio and jump for joy, literally jump in the studio and go YIPE! YIPE!" She once got so excited about a finished work that she dragged the female letter carrier in to see it. They became friends.
Not that the art world was totally ignorant of Horwitz; her conceptual pieces were highly regarded, and intermittently her work was included in exhibitions. A little more than five years ago, a gallery owner in Berlin fell in love with Horwitz's work, and he organized exhibitions, visits, talks, leading the art world to reacquaint itself with Horwitz. Michael Solway, who had a gallery in Chinatown, exhibited her here (Solway has since closed his gallery).
For her part, Horwitz said she is less wary of the art world now. "I'm not interested in anything that's happening out there."
When "Pacific Standard Time" was being organized, she was asked to revisit some of her earlier pieces, which she did gladly, feeling that in her old work there was plenty of inspiration for the new. At 80, she said she finds the trip from bed to studio somewhat more treacherous, but once there, her passion for making art is undiminished.
"I'm interested in still pursuing my questions," she said.
Anne Ellegood, Hammer senior curator, first saw Horwitz's work at Solway several years ago. "I was very struck by the work for its incredible detail and beauty coupled with conceptual rigor," Ellegood explained recently. "Channa happened to be there, so we spoke about her work, and I learned that she lives very close to the Hammer. She gave me her number, and soon thereafter I called her and we scheduled a studio visit. I have since been to her studio several times. I encouraged the other curators of 'Made in L.A.' to also visit Channa in her studio, and some of us went together. We then decided unanimously to invite her to be in the biennial."
Horwitz said she was happy to be included in the show, but she is still skeptical about her reception. "No one is going to give me a retrospective," she said. Perhaps the response should be the same as what Horwitz once said to her art professor so many years ago: "Why not?"