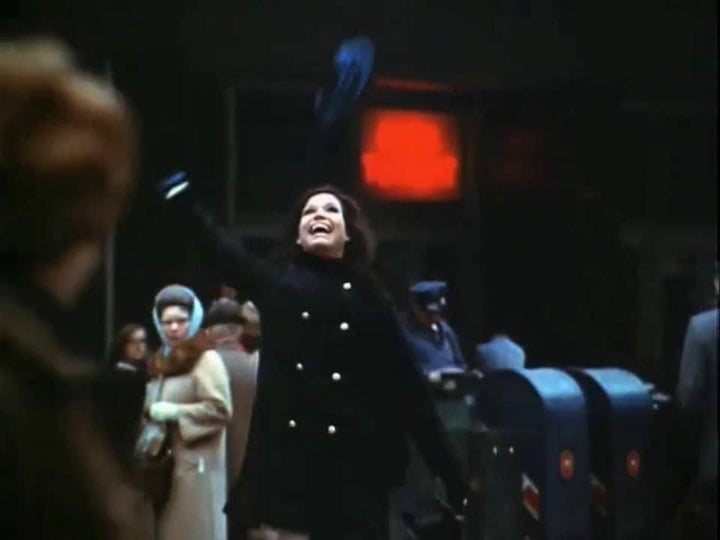 "The Mary Tyler Moore Show" is my all-time favorite television show.
It is only four months younger than I am, so I was around for every episode when they first aired. I'm sure I was watching from one of my parent's laps many a Saturday night, but my memories of watching episodes "first run" are likely limited to the sixth and seventh seasons... and particularly the very last episode.
When I was that young and the show would end, I was always confused as to why my favorite characters had to go away for another week.
Part of me actually didn't like when I'd see Mary and her "date" (actually her real life husband at the time, Grant Tinker) walking in the Minneapolis dusk during the end credits and the MTM cat would "meow," because I knew it meant no sight of Mary, Rhoda, Lou, Ted, Murray, Sue Ann, Georgette or Phyllis for another week.
I liked Bob Newhart and loved Carol Burnett, but week after week, it was Mary I looked forward to the most on Saturday nights.
I was only 6.5 years old, and I vividly remember the joy of Rhoda and Phyllis returning to Mary's life (since they'd both been spun off into their own shows) in that last episode.
I also vividly remember the moment Mary turned back for one last look at the WJM Newsroom, put her head on the door, sadness crossed her face, and then a brief chuckle ― an acknowledgement of all the years of laughs in that newsroom ― changed her whole expression before she shut off the light and walked on.
I have tears in my eyes writing about it. For years, before shutting the door on any apartment I have moved out of, I've always turned back and given one last look, just because that's what Mary did.
Those final moments have always been haunting to me, and were the first thing I thought of when I heard the news that Mary had left us. Only now, I am "Mary," having that feeling of sadness that an "era has ended" and something is going away, then having a smile cross my face remembering all the love and the joy I had when it comes to her and that show.
I smile thinking about an uproarious early episode ("Support Your Local Mother") with Nancy Walker as Rhoda's mother. In the opening scene, Phyllis shows Mary how to age a table by whipping a chain at it, and Mary feels ridiculous doing it. Each time she whacks the table, she starts laughing ― and it's contagious.
I smile thinking about my personal favorite episode (after "Chuckles Bites the Dust") called "Mary's Insomnia."
For reasons I won't go into for people who have never seen the show, Lou, Murray and Ted essentially bust in on Mary while she's taking a bath, and the hilarity that ensues is one of the greatest laughs the show ever produced. (and in seven years, the show produced a tremendous amount of laughs).
I smile thinking of Mary's disastrous dinner parties.
I smile thinking of Mary "threatening" Sue Ann into stopping an affair with Phyllis' husband Lars.
I smile thinking of the episode where Mary's life "suddenly gets crummy" and everything that can possibly go wrong for her does.
I smile thinking of "Love Is All Around," the show's theme song, and how it is one of the most joyous pieces of music in existence.
I smile thinking of the comfort this show always provides. I have memories of being home sick from school, and one of the only things that would make me feel better was that I got to watch "Mary Tyler Moore" reruns while eating the chicken soup my mother made for me ― drowned with oyster crackers, of course.
I smile thinking of how that show's theme of friendship remains powerful, summed up with Mary's beautiful delivery of these lines in the final episode...
"What is a family anyway? They're just people who make you feel... less alone, and really loved. And that's what you've done for me. Thank you for being my family."
"The Mary Tyler Moore Show" is like "family" to me, in the sense I will always connect it to childhood and family. The show is an intrinsic part of who I am.
I paid attention to Mary Tyler Moore beyond the show. I remember both ill-fated variety shows she did a couple of years after "The Mary Tyler Moore Show" ended. Anytime I would see her on television, her very presence and lightness of being made me so happy.
One memory I have is being in my grandmother's kitchen around Thanksgiving 1979 watching "Mary" (the variety show) and "Rhoda" on a teeny black and white TV while everyone else in my extended family was in another room watching "Battlestar Galactica."
Mary's autobiography, After All, is one of the best I've ever read. Her self-doubt over her ability to keep a straight face so the pay-off to the "Chuckles Bites the Dust" episode would work is a terrific memory. On a more serious note, the story she tells of her son's untimely death, and looking to the sky after scattering his ashes and screaming, "You take care of him!" is something I've never forgotten.
I have even more great memories of her connected to "The Dick Van Dyke Show," "Thoroughly Modern Millie," "Flirting With Disaster" and, of course, "Ordinary People."
Of late, I feel like I have become an accidental "celebrity eulogist." It is a shock to the system that over the last nine months, I have written four pieces on artists that deeply affected and touched my life. The others are Prince, Carrie Fisher and George Michael.
The loss of Mary Tyler Moore has hit me on a much more primal and emotional level. When weighed with the others, it feels as though my "innocence" is being chipped away at every few months, if not weeks. This loss, even if I never knew her personally, hurts.
I was watching CBS's tribute to Mary late Thursday night. When Gayle King mentioned hearing from young people who didn't know who Mary Tyler Moore was, I immediately wanted to form a "Mary Tyler Moore" class, where I would invite the uninitiated over to my house and "teach them" about her, and particularly, "The Mary Tyler Moore Show."
I'm grateful to have all the seasons to watch again and again. It doesn't matter how often I watch and know what's coming, I still laugh... and laugh...
After the first season, the opening lyric of "The Mary Tyler Moore Show's" theme song is, "Who can turn the world on with her smile?" Before I fell asleep the night we learned of her departure from this plane, I thought about how smart and prophetic that lyric was ― because Mary Tyler Moore literally did just that.
Calling all HuffPost superfans!
Sign up for membership to become a founding member and help shape HuffPost's next chapter