"Making a painting is like playing the saxophone. You hit the note and it comes out." — Julian Schnabel, artist/painter/musician/filmmaker/sculptor/dreamer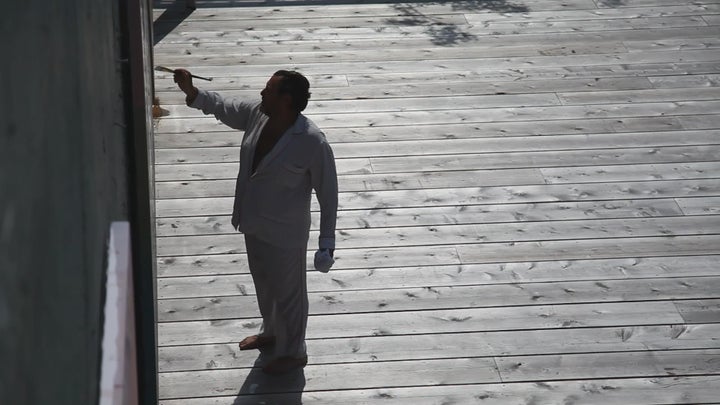 Why the intrigue? Maybe it's because, like Julian, the "jazz" painter, I love the saxophone. Or because, whenever I paint a watercolor, I feel like I've hit the sweet note. Or maybe because, like myself, he's all about memory.
Yes, I remember bumping into a rather pensive Schnabel one twilight eve after a Hudson river jog. Schnabel was paused in front of his precious Palazzo Chupi (the color of the rose pink Playdoh from my childhood). We had a most intriguing chat about our beloved parents and their mutual heritage: Brooklyn. I was particularly melancholy about missing mine, Harold and Anne; he shared some nostalgic thoughts about his, Jack and Esta. It was a remarkably spontaneous exchange of memories.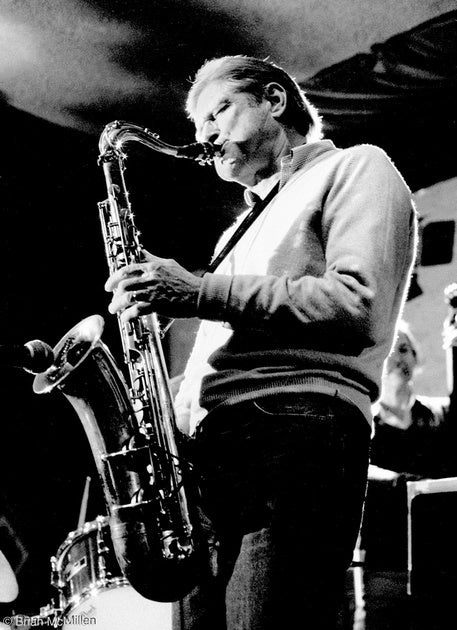 Maybe it's because I often dream about my darling father Harold, a jazz painist and painter, who once spent a treasured October afternoon patiently demonstrating how to mix assorted shades of greens.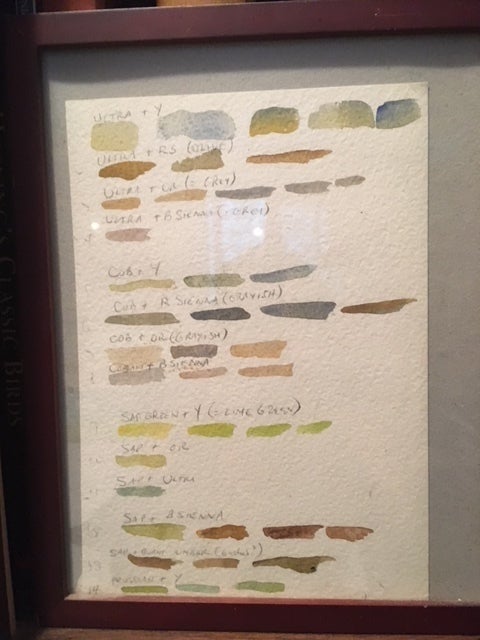 Needless to say, one of my favorite Schnabel paintings is the poignant Harold is Always Saying Goodbye.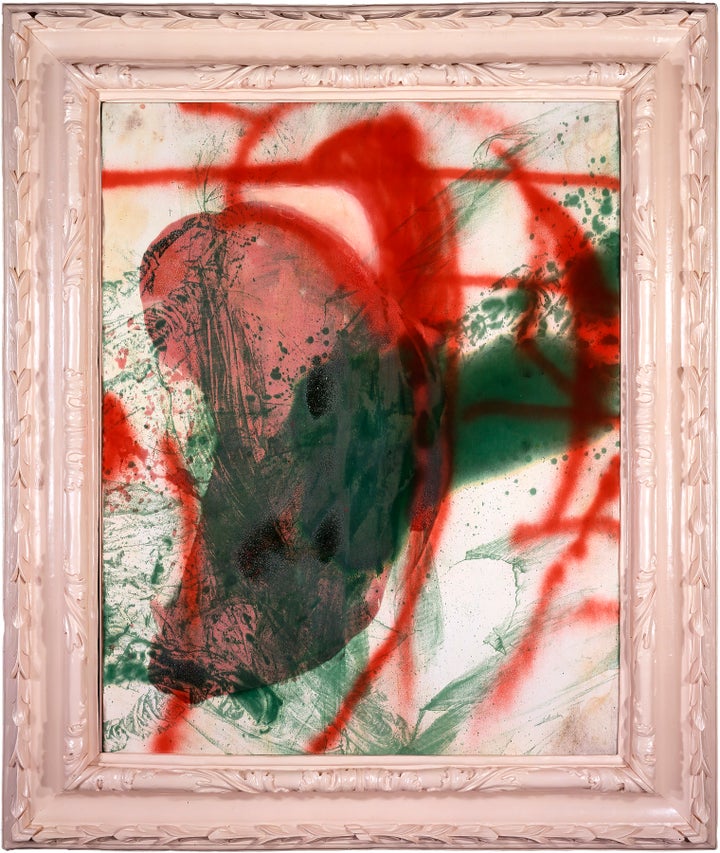 Or maybe it's because of the profound pull of Montauk, my sacred retreat, where Schnabel spends so much time surfing and painting: "[when I was a kid]...I'd say my religion was more surfing than Judaism."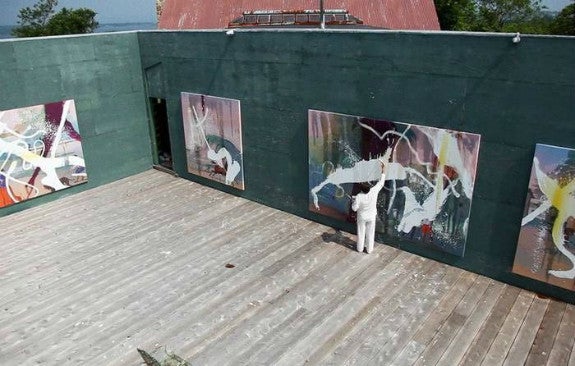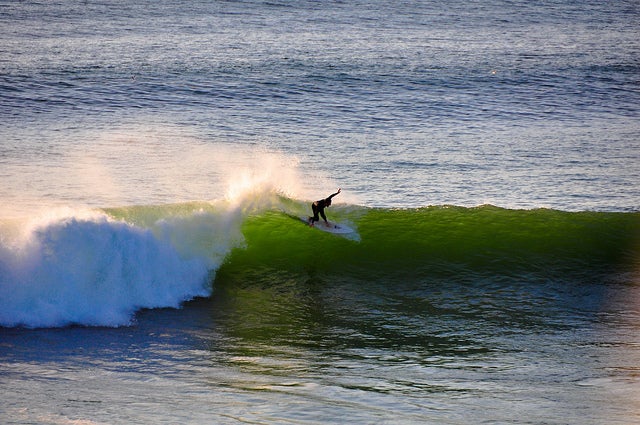 ZEN AND THE ART OF OCTOBER
Regardless of the reason, Schnabel seems to keep hitting the note... and it comes out strong.
Let's s face it. We're all so weary of cable news pundit babble, disputes over landmark statues, Knee-gate, talk of tax cuts, the NRA, GOP, DNC, and DMZ; and Hollywood mogul harassment, that we are desperately craving something meaningful in our lives. What better form of enlightenment is there than Art?
And what better moment to explore art, dreams and memory, than today, October 25, International Artists Day. In fact, October's the month so many noble, gargantuan artists were born, including Julian Schnabel (October 26) — from Bonnard to Millet, Lichtenstein to Giacometti, Picasso to Vermeer. Not to mention Dizzy and Zoot.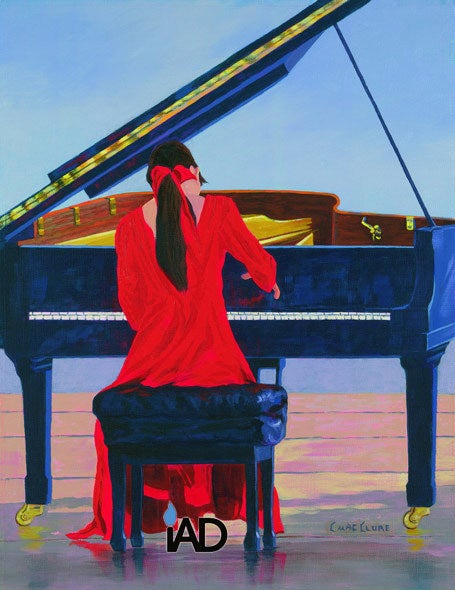 REMEMBRANCE OF THINGS PINK, LAVENDER & PLAY-DOH
Yes indeed. Schnabel, like Proust, is all about emotion, places and remembrances — the canvas is his madeleine. I, too, am on that reminiscent page. On my walks past Schnabel's majestic Palazzo Chupi — which rises like a rose-colored monastery elegantly decorated with medieval turrets and terraces — I slide right back in time. One glance at the Pink Palace, and I am suddenly transported to l' Abbaye de Sénanque, amidst the lavender fields of Provence, playing the recorder with lutes and Renaissance music ensembles.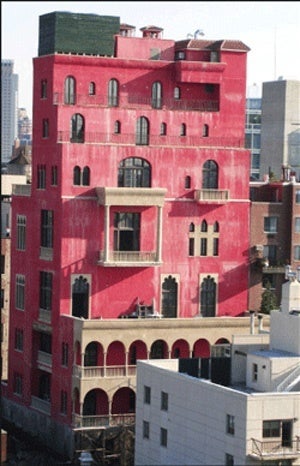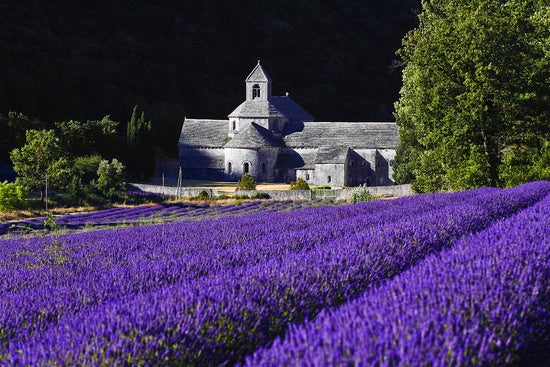 My mind quickly races back to that crisp October day on campus when my Renaissance Art professor introduced me to the Harmony of the Spheres and the inspiration of Della Robbia (another October baby). I flash back to a conversation, decades ago, with my dear friend, professor, art historian Ken Lindsay, speaking rapturously about his muse, Wassily Kandinsky, explaining the correlation between the artist's studio and a chemistry lab.
So, in honor of memory, Montauk, International Art Day, Jack and Esta Schnabel, Brooklyn, and Julian's birthday, it seems the perfect time to observe Julian Schnabel: the man and his art.
VENI, VIDI, VICI, VINCENT
"If you hear a voice within you say you cannot paint, then by all means paint and that voice will be silenced." ― Vincent Van Gogh
For both Vincent Van Gogh and Julian Schnabel, the inner voice is the reality, whispering "I must paint."
"Painting is like breathing to me. It's what I do all the time." — Julian Schnabel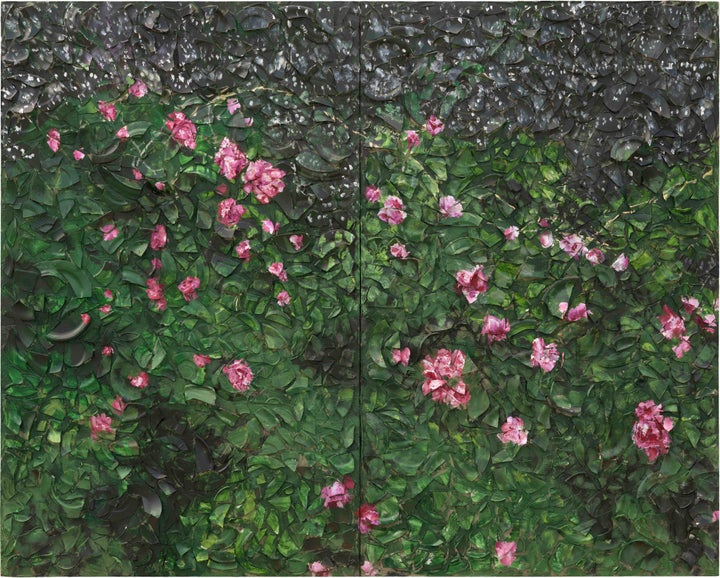 Vincent and Julian share that infinite drive for artistic expression. The recently released film Loving Vincent (www.lovingvincent.com), filled with 65,000 stunning frames of animated oil paintings on canvas — explores Van Gogh's extraordinary life force ... and his heartbreaking, mysterious death. Van Gogh, who painted 77 paintings in his last 70 days. Van Gogh, the passionate artist, who invokes the spirit of Schnabel.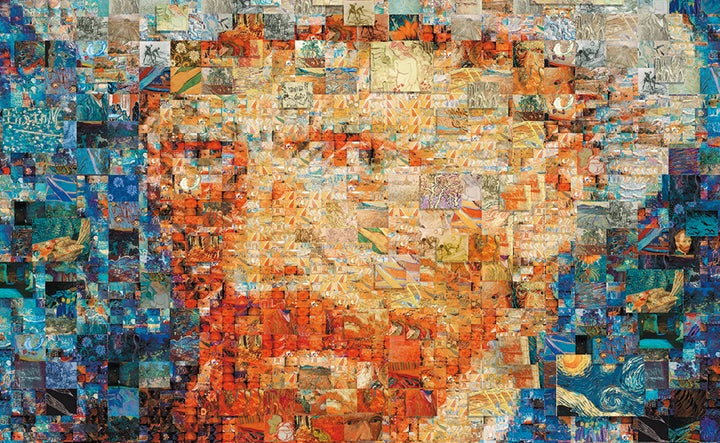 Schnabel, like Van Gogh, evokes the enigma of art, perseverance, and painting as sublime expression. In the words of Loving Vincent director Hugh Welchman, "..although Van Gogh had been written off by his family... had failed in love, in careers...he still had the passion to emerge from a deep depression and become an artist…and in eight short years, transformed the art world forever."
Art offers a soulful way out of the mundane, an exhilarating path beyond the bleakness. Van Gogh and Schnabel hover on the same dreamy page. And just think: DREARy is just one letter (or painting) away from DREAMy....
LIFE IS A DREAM...OR IS IT REAL?
Maybe Van Gogh got it right: "I dream my painting and I paint my dream." So, with apologies to 17th century playwright Pedro Calderon, and a nod to the English nursery rhyme "Row Row Row your Boat gently down the stream," life may indeed be "but a dream," but it's one that can be brushed to life.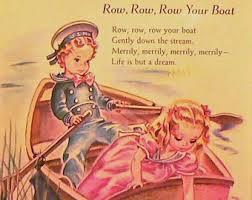 We've got I-phone 7's Portrait mode; self-portrait; Portrait of a Lady (Henry James); the Portrait of The Artist as a Young Man (James Joyce). And now, thanks to Director Pappi Corsicato, there's Julian Schnabel – A Private Portrait, a film about a man of passion, improvisation, and gargantuan energy.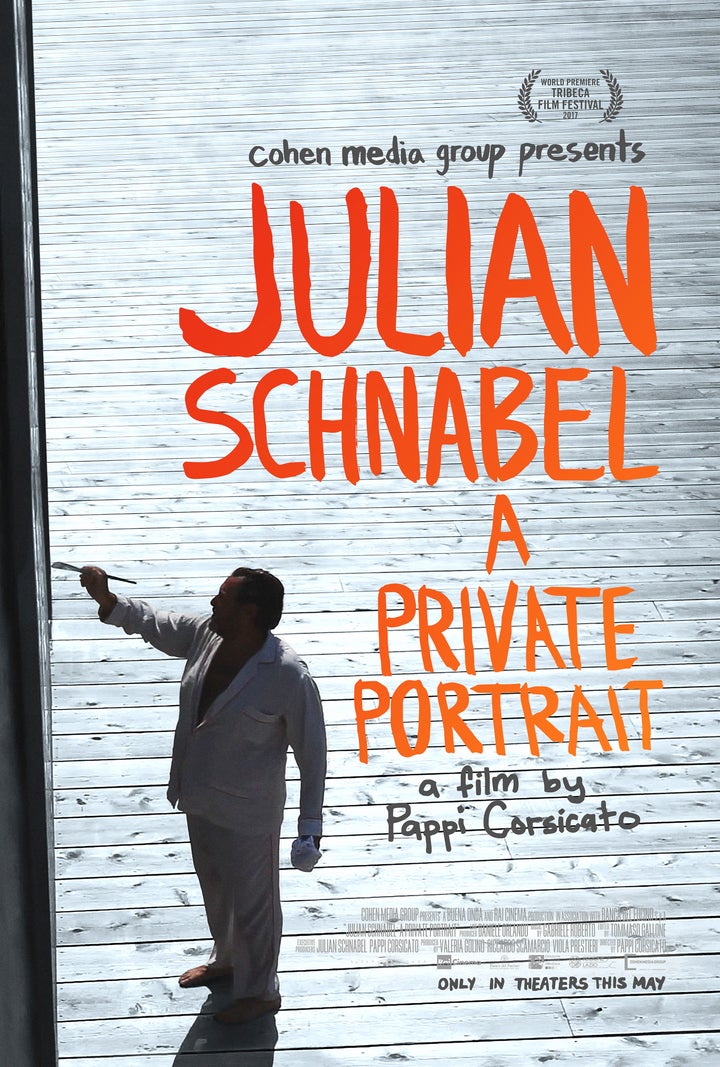 In the film we hear the distinct voice of a determined artist, from boyhood to manhood. Schnabel's huge persona is swept across the vast cinema screen canvas, his essence painted in wide brushstrokes of violet, siena and turquoise.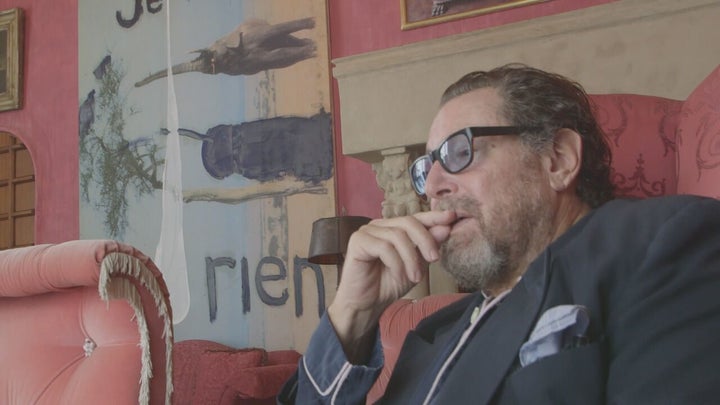 Director Corsicato opens up the private Land of Schnabel to the public, assembling home movies, stills, surfing footage, interviews, pensive insights and observations from friends, family, ex-wives, artists, comrades, and colleagues — all weighing in about a man of purpose, perseverance, and of multiple slivers of sensibility.
Trailer: Julian Schnabel A Private Portrait — Courtesy of Cohen Media Group www.cohenmedia.net
Yes, it's as if Julian 's enormous artistic persona enveloped the entire film crew, his exuberance transforming Pappi from filmmaker into cinematic painter in one fell swoop. Which is ironic, since Schnabel is the reverse — a painter turned filmmaker (Basquat, Diving Bell & the Butterfly). After all, filmmaking, painting, diving, sculpting, decorating, learning, surfing, and fathering are all parts adding up to the whole...of life.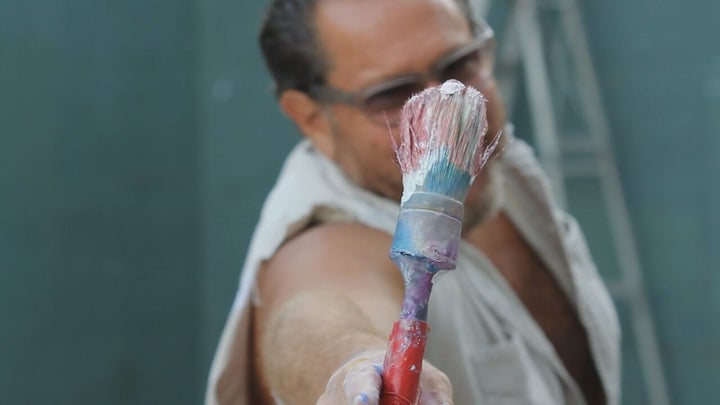 And yes, Aristotle, if there's anyone whose whole is greater than the sum of all his parts, it's Schnabel.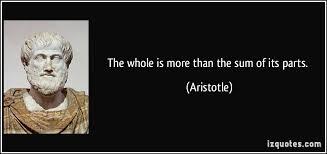 For anyone skeptical of the E. of S. (Enormity of Schnabel), let it go. Take it from Julian's delightful and endearing friend, the late Brazilian filmmaker Hector Babenco: "Schnabel is huge — larger than life.... like a character from a Balzac novel." Or Bono, who describes Schnabel as the essence of the child within us all.
A Pablo Neruda, Jackson Pollock and Gaudi devotée, the University of Houston grad (BFA '73) displayed wit and whimsy from the beginning. Schnabel's application for the NYC Whitney Museum Independent Study Program included a slide sandwich — complete with two slices of bread. A taste of things to come.....
ALL IN THE FAMILY - (LIKE FATHER, LIKE MOTHER, LIKE DAUGHTER, LIKE SON)
Sister Andrea (Fassler) described the tender mother-son bond. Esta (née Greenberg) was his best friend; early in his childhood, she invoked the free-to-be artistic persona. The comfort and support he felt from his mother is something he apparently seeks in romantic partners...and in life. Schnabel remarks that [once you] "get attached to someone, you find your mother in their arms."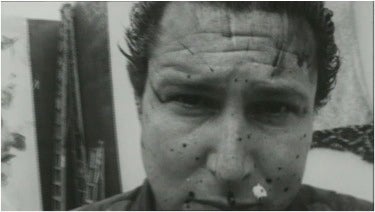 And then there are the kids. Art dealer/son Vito reminisces about growing up with his unusual father ("there was no basket ball, [no] walks in the park...but I was ok with that"), explaining that they spent "real one-on-one time together" surfing in Montauk, way back when, before the oceanic hotspot went yupp-ville. Poet/actress daughter Stella confides: "I knew he wasn't like everybody else's parents...for me it wasn't shocking." And filmmaker/ painter daughter Lola confirms that there are no boundaries separating Julian's life, work and art....it's all one big ball of fire. Splat. Schnabel (aesthetically) throws actors at the camera like paint at canvas."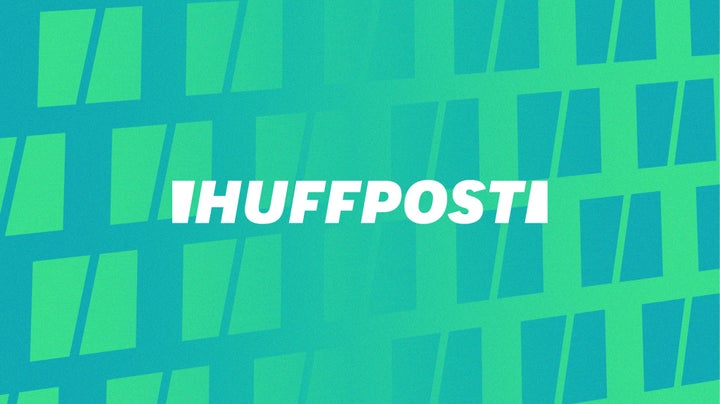 HOME IS WHERE YOU HANG YOUR PAINTBRUSH
Inevitably it all begins at home. As a little boy, we learn, his mother Esta was his muse. She was his best friend, accompanied him to the museum and gave him art lessons. After a difficult October birth (he's a Libra, so balance is key), he always wanted what he didn't have. According to his sister Andrea, "If they were giving watercolor classes, he wanted to do oils. If they were giving oil painting, he wanted watercolors."
DIVING INTO LIFE — STILL WATERS RUN DEEP
From the very first moments of Julian Schnabel: A Private Portrait, watching Julian's silhouette dive into the depths of soft cerulean waters of Li Galli Islands, against the sultry Gabriele Roberto soundtrack, one feels the pulsing exuberance and tenacity of the man we're about to explore in depth. In fact, the "Schnabel effect" is like a gigantic wave whooshing onto shore.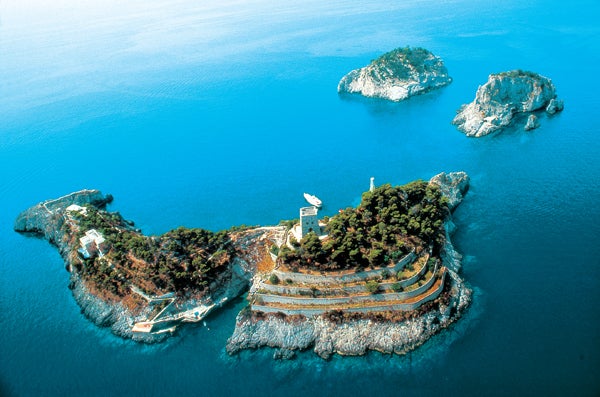 P.Q.R.S. Plunge Quest Risk Seek
From that opening silky dive, the theme that emerges from the Schnabel persona is risk. Schnabel is all about the plunge. He has a staunch core, an almost uncanny confidence that seemed never to veer off the journey of the artist. It's an intuitive sense of art as the only way to cope with the world. Daughter Lola reveals that whenever she had a problem, her father would advise her to "just go and paint." In fact, both Julian and daughter Lola are partial to purples and fuchsias. Could it be that the letters in L-O-V-E are found in the word VIOLET?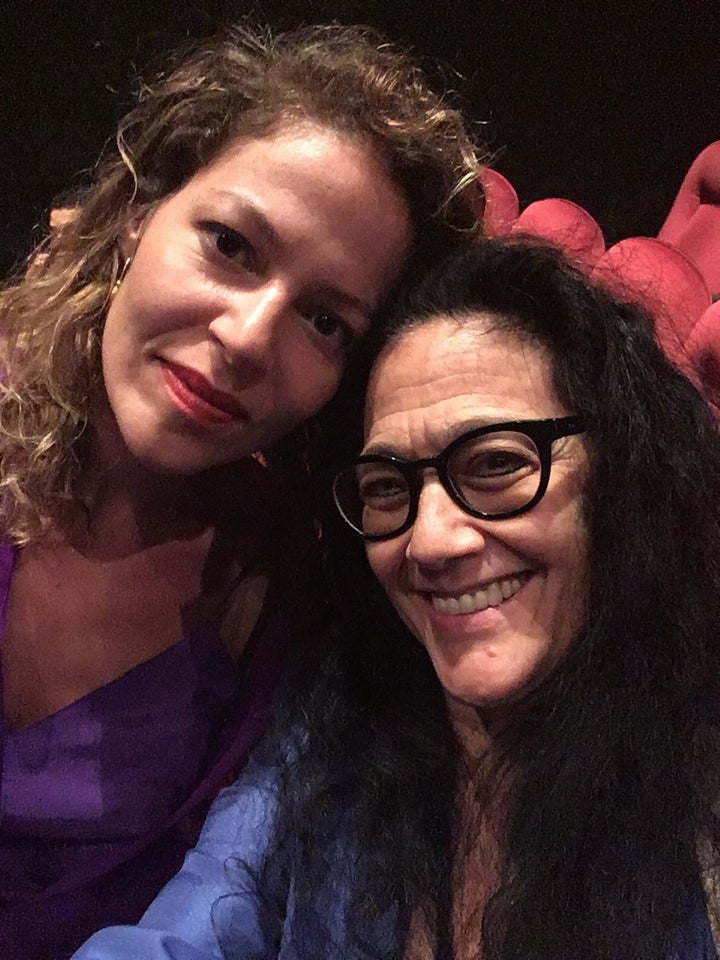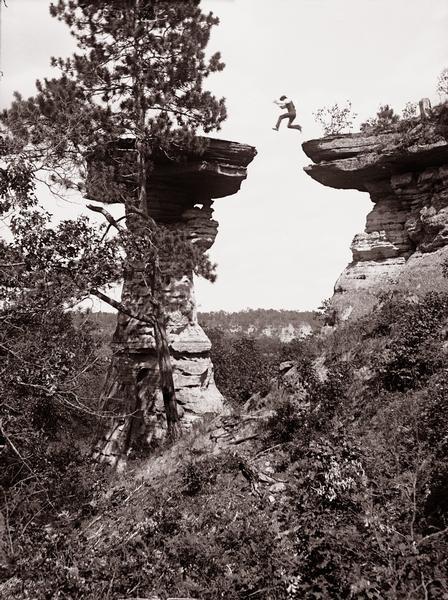 AN ESPRIT GROWS IN BROOKLYN
You can take the guy out of Brooklyn, but you can't take the Brooklyn out of the guy. Savvy, wise, street smart, young Julian moved with his family to Brownsville (Texas, not Brooklyn). Guess Nietzche was right — what doesn't kill you does make you stronger. Julian's desire to do art simply accelerated. He never wavered off the path, taking survival jobs as a chef and cab driver to support his art. (Hector Babenco even insisted that Schnabel's risotto was the best in the world).
H2O, by hell or high water, plays a sweet and oddly solid role in Julian's life. Water is often the subject and material of his paintings. Maybe it was birth itself — an embryo surrounded by fluid; or the fact that paint itself is fluid, or maybe it was being landlocked in Texas. Whatever the reason, water seeped into Schnabel's veins. It seems an essential part of the Schnabel persona. Whether he is riding a wave, diving on some tropical island, or painting a sail, Julian's canvas topics are often water-centric.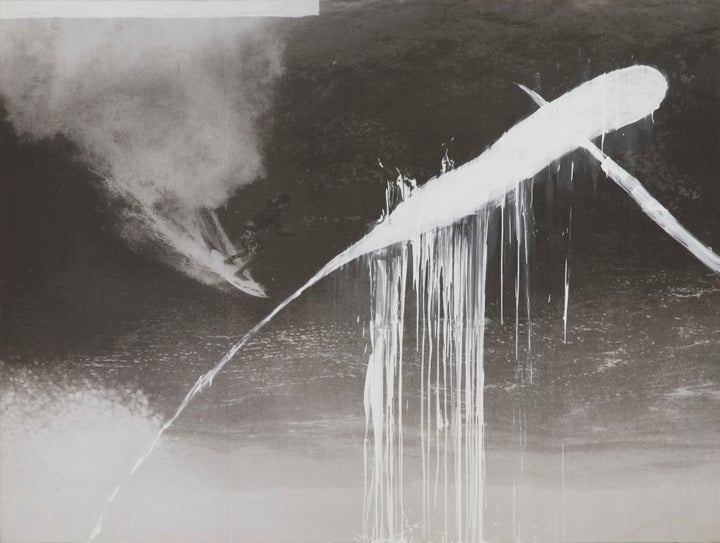 TAO of T.ruth, A.rt & O.ptimism
Forget about Confucius, Tao, Zen, Rabbi Nachman and the Dalai Lama. One might think he'd trekked to India to follow the Maharishi Yoga. Nope. Instead, seems that Julian has developed Schnabel-ism, marching to his own Julian-esque artistic drum. He uses found objects and nature — in his Navigation Drawings the wind blew sand into paint and Julian mixed it right into his paintings. He retreats to the silent coves of Li Galli (aka "the Cocks") — an archipelago of small islands off the Amalfi Coast of Italy, known as the Sirenusas. Remember the song of the Sirens, those Greek bird-like seductresses who beckoned sailors from their rocky sea perches?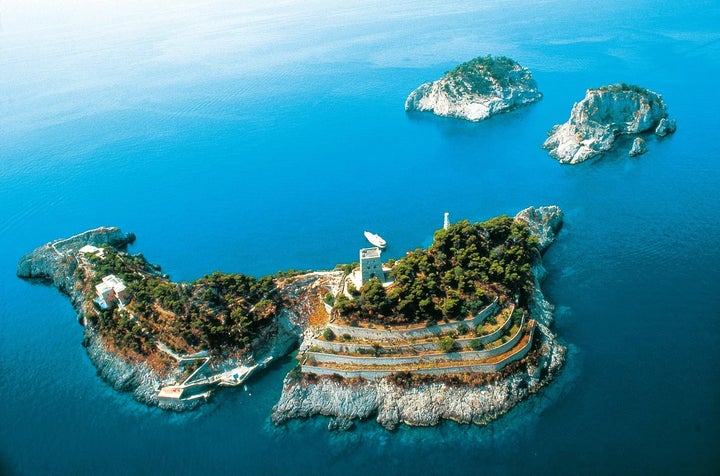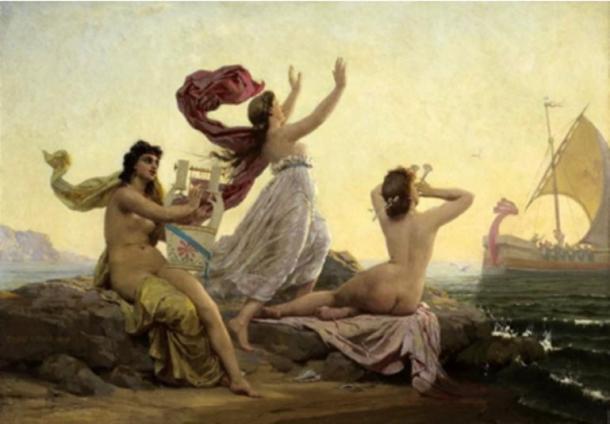 With a nod to Socrates ("know thyself"), Schnabel seems to have a positive attitude, an uncanny knowledge of his deep self, an unquestionable trust in one's own passion, insisting one must have an intuitive, "...infinite belief in whatever it is you are doing that is not rational....it's blind faith."
True, Schnabel owns an uncanny quiver of truth, mystery, confidence and undeniable belief in himself. And yet he evokes his own double-edged sword, both fragile and indestructive. Schnabel appears a dichotomy — a contrast in himself — a maestro of ying/yang; a mix of bliss and melancholy. One moment he is Brooklyn-tough, conquering the voluminous Montauk surf like a rodeo cowboy...or taking on the art world of the '80s, tackling Mary Boone in his Schnabel-ish schmooze charm style, loudly expressing his desire to be shown in her gallery.
In another moment, Schnabel is vulnerable, admitting he feels like "a broken vase," ...explaining how filmmaker friend Corsicato put him back in one piece, assembling him into one cohesive conglomerate. (I've often wondered if his plate paintings were inspired by those "broken vase" emotions).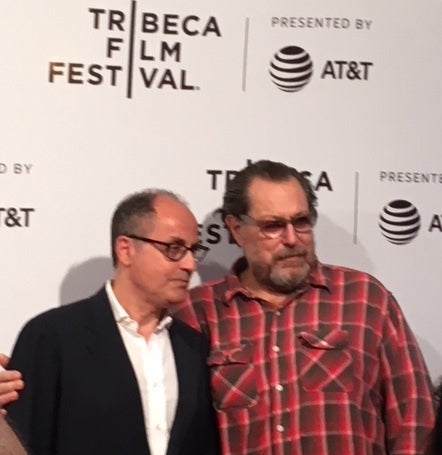 The film — like the man— is a sort of collage of rich snippets schmeared onto the cinematic pallette. We hear an assortment of voices from the life of Schnabel — a compilation of commentaries from himself, friends, comrades, lovers, wives, children and colleagues. There's Al Pacino thinking aloud in a huge rose pink armchair; and Laurie Anderson's soft-spoken slice-of-life, direct-to-camera thoughts; from Jeff Koons and Bono to daughters Stella and Lola and ex-wife/designer Jacqueline Beaurang.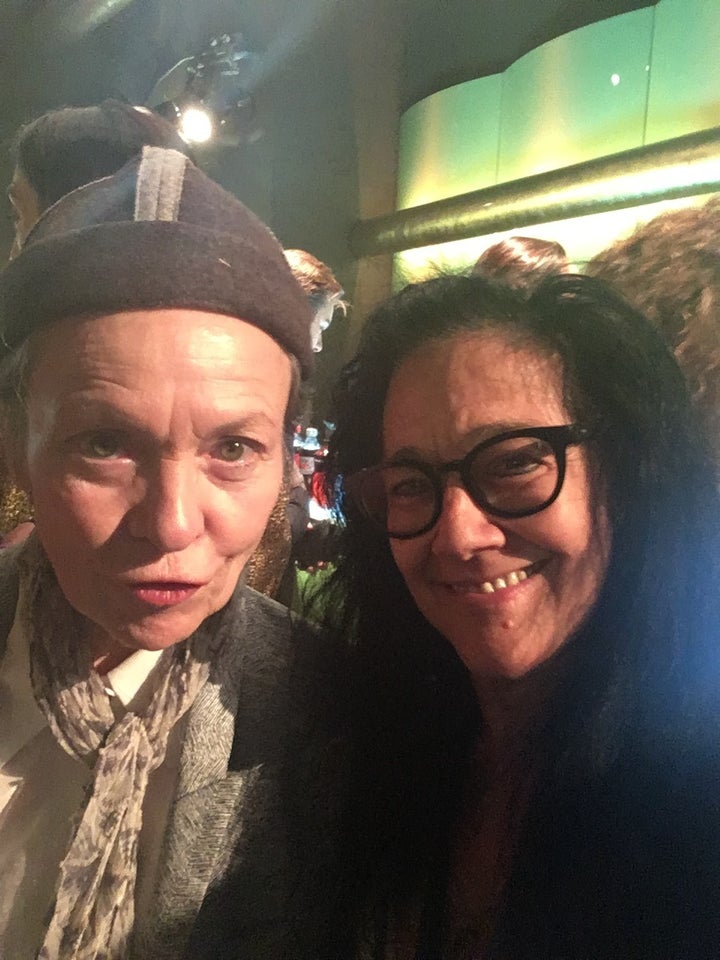 The film, like the artist, is about contrasts – from the footage itself, alternating between black and white early home movies and vibrant colors of paintings and nature. Julian as a young dashing teen-ager transplanted from Brooklyn to Brownsville (Texas); and as an older buoyant, established artist.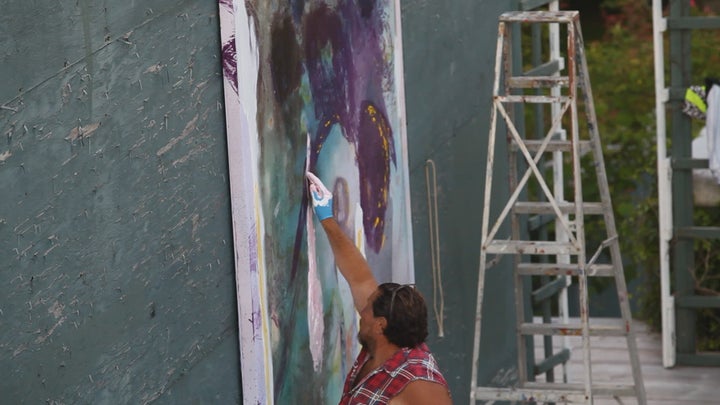 In one frame he's a boisterous young artist, pouring fluid paint onto huge canvases, perched on a crane, directing his painting like a film director; in another, he confesses to heartache and loss, just like the rest of humanity.
One of those irreplaceable losses is musician Lou Reed. Connected both geographically and spiritually, Schnabel and Reed — both passionate artists — are fast confidantes and comrades. They appear joined at the hip. Or the hip hip. The album BERLIN — a rather woeful testament to star-crossed romance, lost love, complicated pieces of partnerships — was a huge influence on Schnabel. In fact Mr. Schnabel filmed a tour Mr. Reed did in 2007 to revive his classic 1973 album and rock opera of the same name.
In Corsicato's film, we learn that Berlin was a sort of soundtrack to much of Schnabel's life. Once again, we see another, this time sentimental side of Schnabel, apparently moved by memory. He reminisces over sad times, of loves lost, which is reflected in Berlin: "Caroline says as she makes up her eyes /You ought to learn more about yourself think more than just I ..."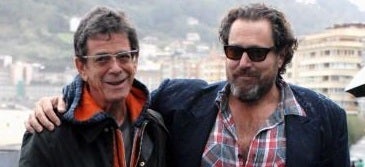 WHEN IN ROME....VENI, VIDI, VICI, inVINCible
The name Julian is derived from the Roman Julianus, and Julis, the name of the last pagan Roman emperor. It also means youthful…from IULIS, the first down on the chin. The name was also given to several early saints, including Saint Julian the Hospitaller. Those 'disciples' of Julian (Julian Assange, Julian Bond, Jules Verne) all seen to be "go-at-your-own" rhythm, leaders, innovators, and independent thinkers.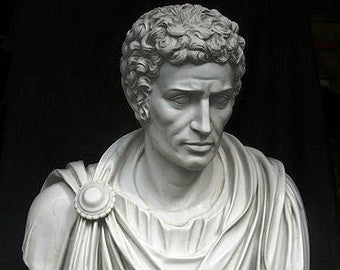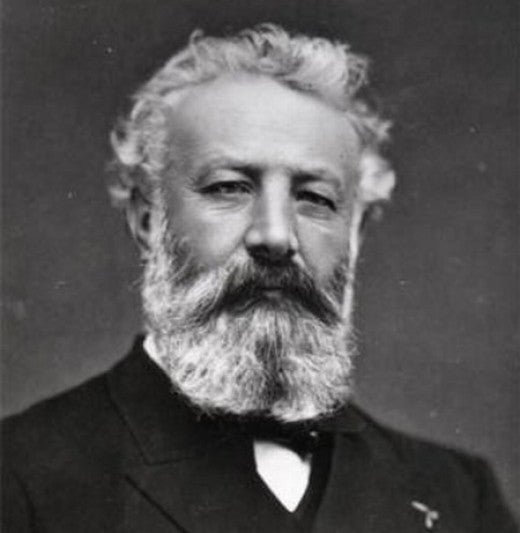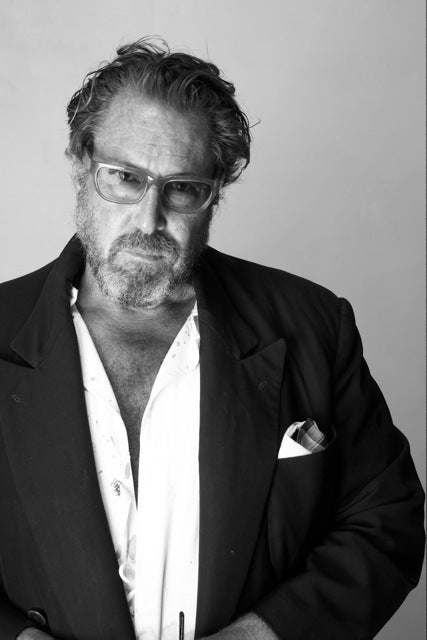 If Nat King Cole sang Unforgettable, Schnabel's theme song should be Unstoppable. As daughter Stella explains, "Schnabel goes out and gets what he wants." We hear an anecdote about Julian literally grabbing art gallery owner Mary Boone at one her openings and declaring he wanted her to show his art. "I'm not Mary Boone - she's over there." Julian nabbed the real Boone, who was viscerally attracted to his work. Schnabel predicted he'd be on the cover of Art Forum in five years. It happened in three (1979). Schnabel hung out at 60's NYC hot spot Max's Kansas City, a sort of musicians' and artists' salon, where he befriended mentor Bob Williamson. His oceanic haven for surfing and painting? Always Montauk.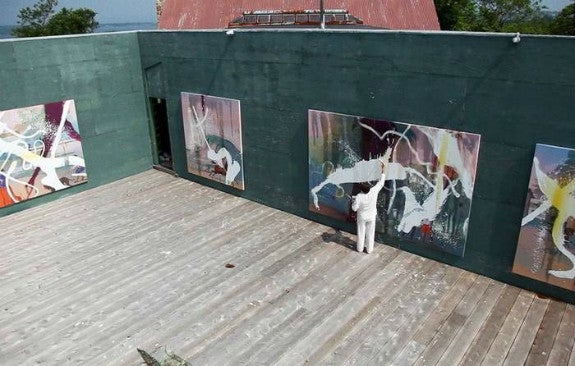 Schnabel is nothing if not colorful, dramatic, vibrant, expansive. He crosses the globe as fluidly as he glides across the canvas. Brazilian filmmaker, friend Hector Babenco (Pixote) calls him "irreverent... he embraces you like a character from a Balzac novel." As for his favorite films throughout the years? Less Pasolini and Visconti. More Coppola and Kubrick. Nothing subtle like Rocco & His Brothers. Nope. Schnabel's are more brazen choices like The Godfather and Spartacus.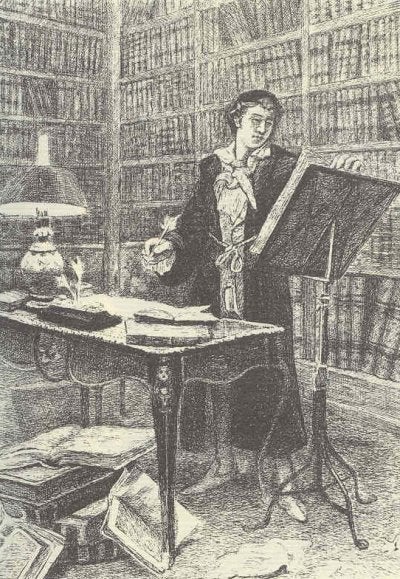 "Paintings have a life of their own that derives from the painter's soul." - Vincent Van Gogh
Yes, Schnabel has huge canvases, huge movements, a huge presence and sensibility. And yet, his is a sensitive soul. We hear Javier Bardem speak about seeing Schnabel cry during the filming of Backstage Before Night Falls, his film about Cuban poet Reinaldo Arenas. The beauty, the music, the power of the trees....it's the sentiment of what Brazilians call Saudade... longing, passion...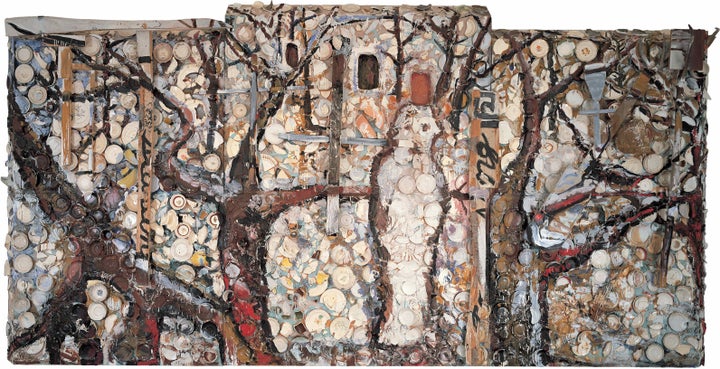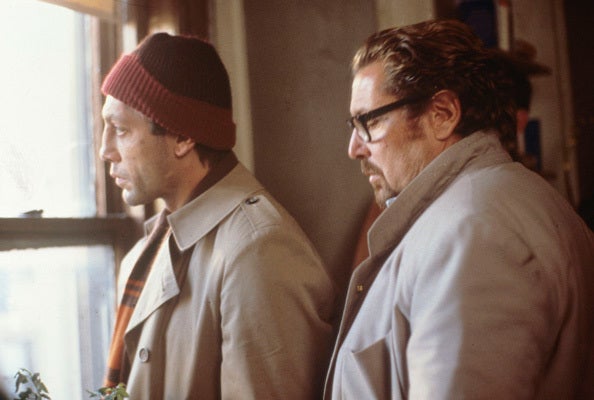 A poetic blend of rebel James' (James Dean, James Joyce, James Cagney), Schnabel seems a combination of two substantial Jacks – Jack Nicholson and Jack London -- the out-of-the-box, outrageous, outlandish outfielder. One, the passionate, outspoken writer (Call of the Wild), the radical literary and social advocate Jack London.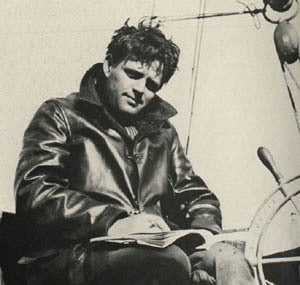 The other, the outlandish, charismatic actor, often portraying the "eternal outsider" Jack Nicholson.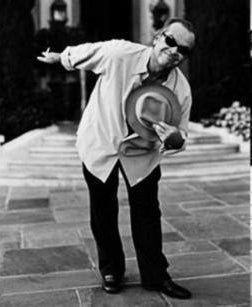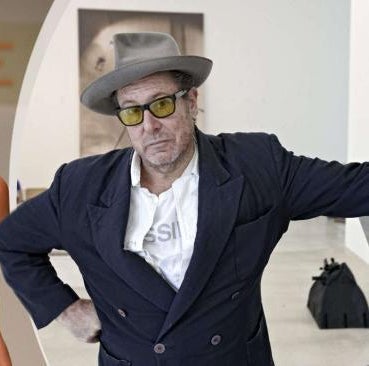 Beneath the veneer of a boisterous, wild child life, there seems to be a tinge of sadness. Perhaps it's what we spoke of when we first met — the absence of his mother Esta, his "best friend." Her sweet tradition of taking young Julian to the museum could certainly have been the seed for his artistic career arc.
The melancholy seeps in amidst the crevasses of effervescence….when he talks about love, Schnabel reveals he is not one of those who loves to be alone…he prefers the warmth and comfort of being attached..and when he finds the right woman, it's like falling into love….and yes, "finding your mother in their arms."
"Color is the keyboard, the eyes are the harmonies, the soul is the piano with many strings. The artist is the hand that plays, touching one key or another, to cause vibrations in the soul." — Wassily Kandinsky
Schnabel appears the philosopher, speaking about the significance of things "beyond language – sound, gravity, nature." Aristotle may have had his dialogues, but Schnabel considers the pull of "things beyond logic," insisting we look for the poetic, the "Whitman-esque." In the middle of an interview, he quotes poet Pablo Neruda:
"In some lost location of summer we stand with parched lips possessed by thirst beneath a rain of kisses."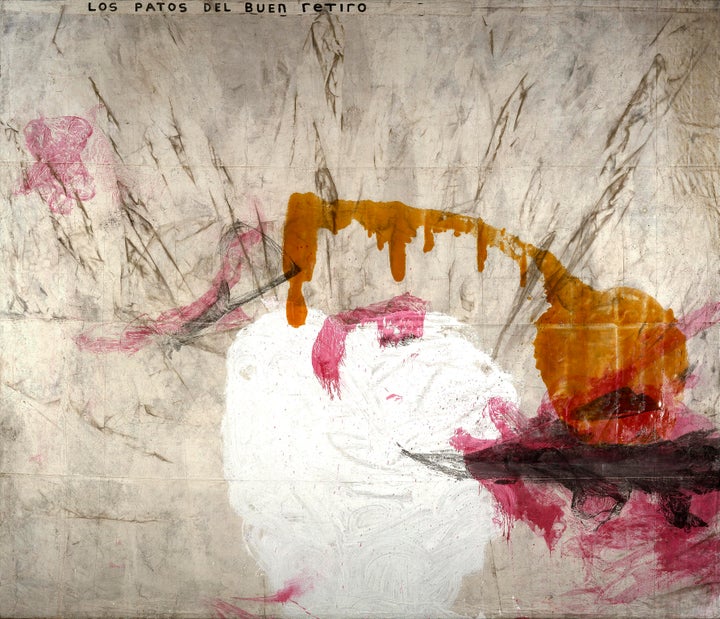 "There may be a great fire in our hearts, yet no one ever comes to warm himself at it, and the passers-by see only a wisp of smoke." — Vincent Van Gogh
Guess we've come full circle..."I dream my painting and I paint my dream." Vincent and Julian seem joined at the artistic hip — from their affinity for violet (Vincent's October 16, 1888 letter to brother Theo describes the latest sketch of his bedroom: "the walls are of a pale violet…the doors lilac") to their desire to paint their dream.
Julian's dream? Painting and filmmaking. And now, it turns out, Julian is inking a script for Eternity at the Gate, starring Willem Dafoe, based on the life of the tormented Vincent Van Gogh. The dream continues....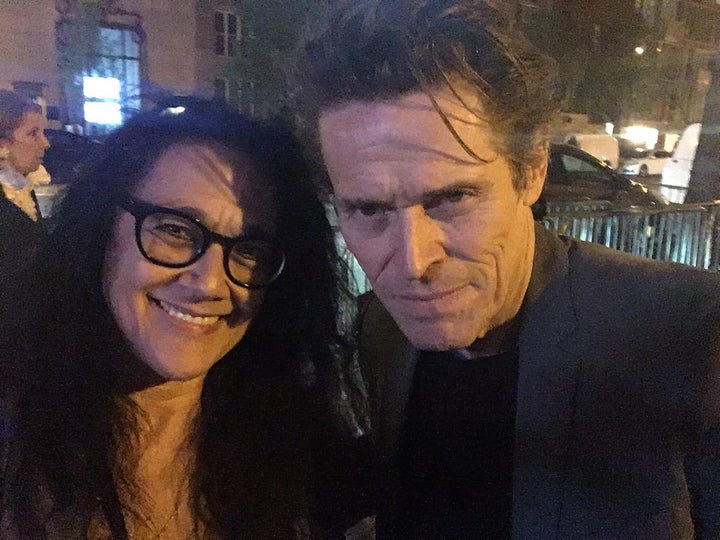 "I do dream about art, and images come to me in dreams. I am definitely hoping to be in touch with my subconscious. I expect a call any minute." — Julian Schnabel
I myself just had a dream plump with vibrant cobalt and violet images. So I'm expecting a call from Julian Schnabel any minute.
------------------------------------------------------------------------------------------------------------------------------------------------------------------------------
Note: Julian Schnabel, whose birthday is October 26, is actually a Scorpio, not a Libra.
Related
Popular in the Community