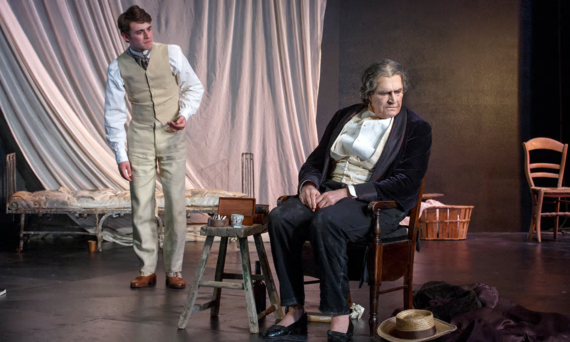 REVIEW
One of the most celebrated authors of his time, Oscar Wilde spent two years in jail for "gross indecency." When given the option to flee London or go into exile in Paris, he preferred waiting for the police while dining on lobster at the discreet Cadogan Hotel. It was his lovers' father, the Marquess of Queensbury, who in response to a libel charge Wilde made against him, who set the law upon Wilde, promising to produce innumerable young male lovers in court, which sealed Wilde's fate. Though the Marquees son, affectionately called Bosie, Lord Alfred Douglas, several years younger than Wilde, saw no prison time.
Rupert Everett's performance is superb, not to be missed, though a little rushed in the first act. While Mr. Everertt is a striking looking man, all angular, slim and sharp, Wilde's oval face and soft, fleshy looks don't match up. In an effort to make him corpulent, Everett padded his Wilde well and made him a bit sulking looking. I am not sure if it works, but Rupert Everett is so good in the role, it was a minor irritation. In all the pictures I have seen of Wilde, he never seems that stout or sulking,more large, brooding,and thoughtful.
While his friend and what seems to be his former lover, Robert Ross (Cal MacAninch) desperately urges him to run before the authorities come, the kindly servants of the hotel wait with concern; angels standing by, to handily see off their generous master to an unforgiving fate.
Bosie played by Charlie Rowe, is channeling the spirit of his character, excellent in his portrayal of this well-spoken and egotistic young man. He reflects nothing but selfishness with the nuances of humanity fading in and out like pollen to an allergic gardener.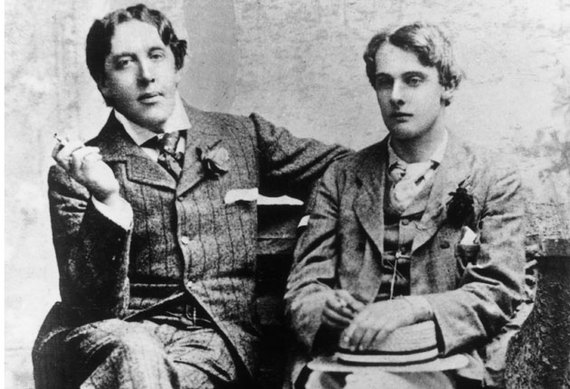 By the second act, Wilde has been to jail and is living in Italy; penniless,and so warn down, getting up takes monumental effort. He and Bosie are living together in a shabby flat in Naples with handsome guests coming to entertain, but cash has run out... Wilde has had the life drawn out of him, Bosie is ready to abandon ship and Ross has come on behalf of Wilde's ex-wife to take whatever is left of his fortune from writing-- though that seems contradictory to the characters feelings for Wilde. For the most part, David Hare has done a wonderful job portraying these historic figures in The Judas Kiss, while Director Neil Armfield has fleshed out their frailties and strengths successfully.
Popular in the Community