Neil Parikh wants to be a doctor who is also solving problems--big, weighty, global problems. He's attending Brown University medical school and building a non-profit organization. But it's not just any non-profit; it's one designed with that most elusive of 21st century attributes: sustainability.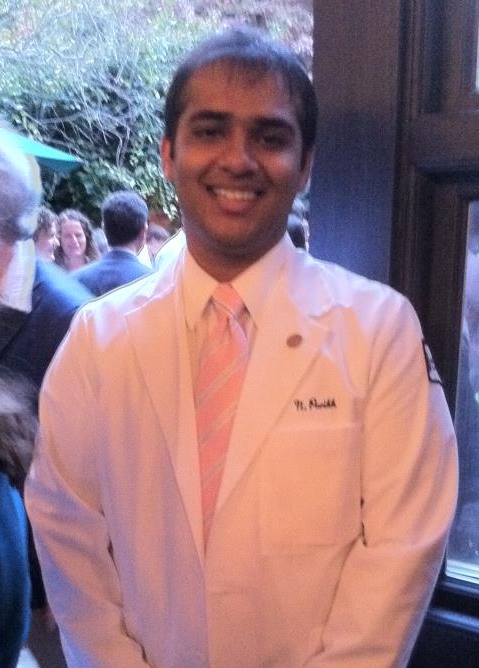 Parikh is part of Brown University's innovative "Liberal Medical Education" program where top high school students enter an eight-year commitment at age 17 and then are already accepted to Brown's small, exclusive medical school. Then, their education is not filled with the usual pre-Med requisites but in addition to those courses these student/doctor/entrepreneurs take others in Engineering, Technology and Entrepreneurship to diversify their interests and resulting careers.
Eight years later, an attention-grabbing, hybrid doctor emerges: one that might just as well find a cure for cancer on their own and build the Microsoft of med-tech companies as they might return to their small town to be the local doctor.
Parikh already received his B.A. in Commerce, Organizations & Entrepreneurship and has even worked in robotics; at NASA on Lunar and Mars landers; and in biotech on water technologies. Slated to graduate from medical school in 2015, he isn't waiting until then to get cracking.
So what is Neil Parikh doing besides the usual all-encompassing med school activities? Nothing much ... Parikh is only pursuing a passionate quest for solving a massive world problem: human access to clean water.
It makes one wonder what Parikh does in his spare-spare time.
Parikh's solution, along with a number of other young friends with a mission to change the world, was to create an entrepreneurial, franchise-type platform using water filtration systems as the product and third-world entrepreneurs as the delivery system. WaterWalla is that platform. ("Walla" means "provider of" in Hindi.)
An unsettling moment in this video about WaterWalla is when a man in a slum in India is asked, "What do you think of when I say the word 'water?'"
"Fear," was his frank response.
I won't list the sheer number of water-borne or water-rleated diseases which kill or maim people here, nor will I try to estimate the number of people around the world who die from simple thirst. What I will do is say that the number is vast and infuriating.
If one wanted to solve many of the world's big problems such as famine, hunger, war, pestilence and others, the problem with water is a good place to start. This is so because many other serious troubles are improved or removed with consistent access to clean water.
And the economics of it are all so maddeningly selfish: if we can afford to pay $8.49 for a new Brita water filter every few months, then how can it be that a slum resident in India cannot afford the one-time $40 fee for clean water forever? Or better yet, how can we make it so they can afford that $40 expense?
So Neil Parikh's story of WaterWalla starts with his parents in Mumbai, India; Parikh's parents grew up in India's largest city. And this gave him a strong sense of connection and duty to the land of his parents' birth.
Back at Brown in 2010--we'll be doing some switching back and forth between slum and the Ivy-League university to highlight the economic contrast--Parikh is centrally involved in conversation with four other Brown and Rhode Island School of Design (RISD) students about solving this water problem insidious to the underdeveloped world. I didn't know this but Brown and RISD "have been connected evermore," Parikh told me and share College Hill in Providence, Rhode Island.
"We asked ourselves," began Parikh, "how do we build a retail system in a slum which has never been done before?" They decided water was a good 'first product' or more specifically, a simple, inexpensive system like Brita for water purification. This was the genesis of Water Walla.
So Parikh and his merry band of 'water providers' decided a good education was in order--for themselves. They began a six month long research sojourn where as Parikh says, "we were absorbing everything we could learn on water in the third-world."
Then, a pivotal moment: "We we talking regularly with Professor David Bloom at Harvard," Parikh recalled chirpily, "and he finally said, 'you should be speaking with Jennifer O'Brien.'"
Now Jennifer O'Brien is a young hard-charger just like Neil Parikh who has worked in the developing world. Apparently over time, O'Brien felt the connection to Parikh's mission and she is moving to Mumbai this Thursday to work for WaterWalla, as Chief Development Officer.
Along the way, Parikh also developed a strong relationship with Aswin Bhadri, who just happens to head up business relations at Equinox Labs, one of the largest water-testing facilities in India. Charitably, Bhadri arranged for all the initial WaterWalla water-testing gratis.
Dharavi is one of the largest slums in Asia with a purported 1.5 million people in an area the size of Central Park.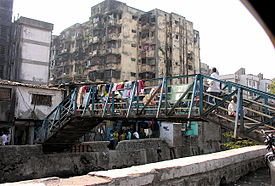 One of the entrances to Dharavi
Dharavi is also the first place Parikh and his troop of intrepid world-savers decided to put their first WaterWalla retail store which opened in 2011. One main reason: "The people of Dharavi," Parikh asserted, "are great entrepreneurs; a high percentage start their own small, very small businesses."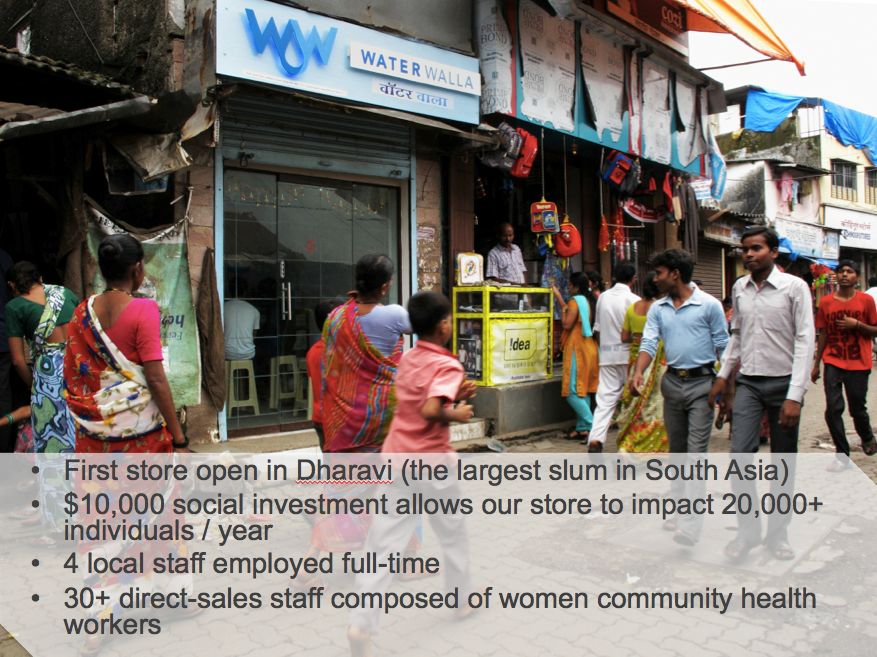 Dharavi was the perfect Petrie dish for the WaterWalla experiment. "How can we find a way to invent sustainable entrepreneurship in an urban, not rural third-world environment," Parikh held, "the urban water situation is getting much worse and nobody's paying attention."
WaterWalla offers five water technologies--products which filter water affordably for the poor--in partnership with big Indian industrial companies such as Tata, Bajaj, and Eureka Forbes. When will Brita come in? (Are you listening Brita?)
Using what Michael E. Gerber called in his best-selling book "The E-Myth" a "franchise prototype" model, Parikh & Company built a painstaking system for the very same slum-dwellers who would benefit from cleaner water to sell the systems to each other and create an economy of scale. Their duty was to create a sustainable business for poor people.
I thought of some strong similarities between WaterWalla's entrepreneurial focus, somewhat on women, and 2006 Nobel Peace Prize laureate, Professor Muhammad Yunus with his 'micro-lending' genius. The only difference is Parikh's product--water--is life-giving.
And so now my story ends; even while Parikh's continues.
What the future holds for WaterWalla is anybody's best guess. But personally, I hope it's great things.