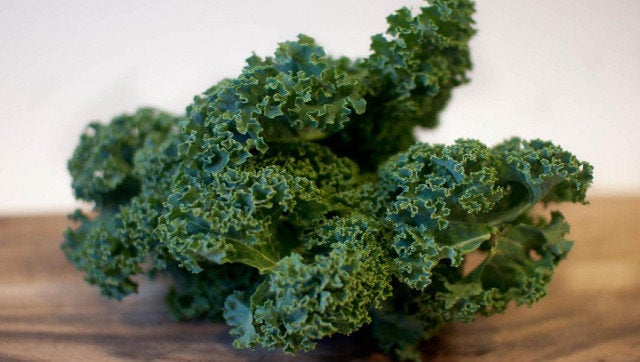 "Chou Plume," "Chou Noir de Toscane," "Chou Frisé,"kale has a million names in France but no real identity. All that will change, however, if Kristen Beddard succeeds in her ambitious enterprise, The Kale Project.
With The Kale Project, Beddard is leading a movement to implant this leafy green in France, her new country of residence. The American, who moved to Paris a year ago, adapted quite well to her new host city, but found that there was one thing missing: kale. She quickly became fascinated with this veggie that is so famous in her homeland and almost unheard of in Paris.
Determined to heighten kale awareness and equipped with her debutant level French, Kristen Beddard launched The Kale Project and set out to convince local farmers to plant the new-to-them cabbage variety. Fortunately, a hand full of open-minded growers accepted Beddard's offer of seeds she had imported from England. Currently, she is working with two farms in the Ile-de-France region and is constantly seeking to increase the number of farms involved in the project.
Kale, known for its nutritional value, is a favorite among vegans and vegetarians, which are few and far between in France. However, this moldable menu item can easily be included in traditional French fare to thedelight of omnivores. Any gratin, ragout, or potage could benefit from a bit of kale, and that's what Beddard is banking on when she proposes that local restaurants include kale on theircarte du jour.
Fellow Americans Laura Adrian and Braden Perkins, who own the trendy restaurant and bar à vins Verjus, welcomed kale with open arms when the hosted the rising star of the légume world's debutante ball in September.
The evening was organized around the guest of honor; with dishes commemorating the great kale unveil in the French capital. Artichaut de Paris served with kale mayonnaise, mozzarella de burratawithkale salad, and kale and ricotta raviolis were just a few of the featured items on the menu. A receptive audience gathered in the small wine bar in the Palais Royal neighborhood, intent on learning more about the vegetable and its origins. Beddard had carefully prepared envelopes containing kale seeds for the green-thumbed in the crowd.
Kale's Parisian "coming out" proved a success and the growth in followers of both the project's Facebook page and Twitter account has since been impressive. Beddard has big plans for her project and with more and more markets, restaurants, and farmers getting on board, kale has a chance of becoming the next plat du jour par excellence in Paris!