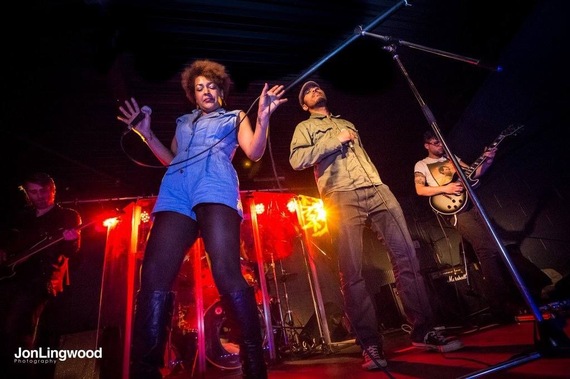 The Kaptivators are a Manchester-based 6-piece. In theory a live hip hop act, the band fuse their varied influences - from funk to punk to rock & roll - and the result is a typically upbeat but complex sound that makes you move. I interviewed Kevin Harris, who fronts the band with his sister Susie, about the local music scene, and the undercurrent of disenfranchisement that affects many in the UK for Impolitikal.com.
Manchester has a pretty good live scene, is it quite hard to crack into, or easy enough if you're from here?
I'm actually not originally from Manchester, but I've been here about 10 years now. The band was formed in Manchester. I moved up here for city life, from down south, Northampton. I've always been a lyricist or a rapper on my own, and been into hip hop as long as I can remember. When I moved up to Manchester I met a lot more likeminded people, musically, and that's how I started making more actual, proper songs on the production side. When my sister was visiting, from Brighton, we went and saw a live hip hop band, and they asked if anyone in the crowd wanted to get on stage and do any MCing or singing. I got up and started doing something, and then the next thing my sister gets up and started singing. So we're both doing this impromptu freestyle and rapping and singing thing onstage. Everyone was buzzing off it, so straight after that I said, you know what? This is what I want to do, form a band.
What was it that drew you to Manchester in the first place? Why here, not London, or one of the other cities?
Basically, I went to university in Wolverhampton. I met a lot of people while I was there, and a lot of them were from Manchester. It just happened that when I was back in Northampton I used to come and visit these guys in Manchester, and liked the vibe. It felt like a bit more of a community vibe, and it was easier for me to break into that community as well, with having a lot of friends up here. I liked the scene a lot and gradually decided to move up. Once I did it was no turning back basically, it was a really good decision. Culturally it just suited me, Manchester. You don't get lost as much as London, there's a lot more crossing over of boundaries and genres. We've played a lot of gigs, and there'll be a metal crowd or an indie crowd, and they'll be listening to our music. It's a slightly different vibe to some parts of London, where you've got your specific crowds and specific types of music.
What do you think about the Brexit outcome? Was it a big deal for you?
I didn't think I would care that much, and then when I saw the result the next day I felt a bit sad to be honest. Because it felt that we'd just sort of deserted a lot of what the EU stood for. Which was an inclusive, collaborative approach to a lot of the dangers, and also the benefits of a collaborative society with all of our European neighbours, and it seems we have given up on it based on a few things that may or may not be true. I didn't think that people were voting with the full information, that's what I felt. I can see that there could be benefits of leaving as well, but my heart is more in than out. I think unfortunately people were scared of a lot of things, like immigration and the EU didn't seem to be wanting to be flexible on certain issues, so maybe that's why people voted out in the end.
I think the campaign was really mismanaged and misinformed, both campaigns were to blame really. It was quite easy to manipulate, because there was already a bit of a feeling towards things like immigration, so the Leave campaign played to the strengths of Ukip and all those sorts of organisations were popular for. They sort of cut through a bit more than what David Cameron's Remain argument was cutting through. It's just sad that we've left this organisation after 40 years. I don't know if they actually will leave it though, it might become too much of a mess to leave. I don't know what's going to happen next. Everything's just gone up in the air, hasn't it, now.
I guess it highlights as well the fact that the fears the Leave campaign tapped into are strong, and have been building.
Well yeah, I think it's been simmering along a little bit, especially maybe with the rise of Ukip, and those sort of organisations. It's a worrying time, I guess. I hope that everything settles down, and we manage to work out how we're going to move on from Brexit, because these things that you hear about attacks and things like that is not cool. I have a lot of friends that are not from England, they're all worried about what's the future for them. There's so many people that live here from abroad, they're all feeling a bit marginalised.
Whether or not it actually plays out that way is another story. It might just be a really massive wake-up call for the government.
Yeah, I'm kind of split on it. I think there was a problem with the EU, with the way it's run, and this is why it's come to this. But my heart says that we should stay in the EU, because we want to be able to collaborate and be involved with decisions that affect Europe, not just Britain.
Does this sort of thing motivate you when you're writing music?
I just try and get a feeling from a beat normally. Most of the stuff that I've written has been quite positive, uplifting stuff, or just genuinely stuff that I experience. We've got one song called 'The People', which I wrote after the riots - about two or three years ago. It was based loosely on the riots, the feeling that the people were feeling at the time, and it's just about people gathering together in opposition to wrongdoing by the powers that be.
So that affected Manchester a lot too? I heard plenty about the London riots.
Yeah, it affected quite a lot of places. Manchester, we had looting and riots. So I wrote that because I was seeing the stuff going on in Manchester, and people were rising together. Young people especially were disillusioned, feeling that this government doesn't give a shit or whatever. They were taking to the streets about it. Obviously looting's not the way to go about it, but they were uprising. I just remember getting a feeling for it, about why are people coming together, why are these people all gathering together in revolt? This song is about how people feel when they are gathering together in revolt. What drives them to the edge.
REAL LIFE. REAL NEWS. REAL VOICES.
Help us tell more of the stories that matter from voices that too often remain unheard.