There is little doubt that November 22, 1963 is one of the most important dates in American history. The day before, the United States of America was awash in the happy, bemused mindset of the fifties/early sixties. We would never be that trusting and guileless again. Looking back now, it felt like a washed-out pastel-toned home movie was forced to give way to the brutal grainy black and white frames captured by Abraham Zapruder's camera of the presidential motorcade in Dallas.
Just a few hours into November 22, in the split seconds that it took for the bullets to end President John F. Kennedy's life, much more than the death of one man took place. A country's innocence also died, gasping for help, crying brokenheartedly for its mother. The zeitgeist of the world prior to that day would never return and we were catapulted ahead into an age where, eventually, deluded souls would think nothing of mowing down roomfuls of first graders in their classrooms, or barricading women and children in a shopping mall, or blindly attacking those unlucky enough to be staying in a certain hotel, or turning a plane into a missile and using it as a weapon to take down the iconic emblems of world trade. Was there pure evil before that day? Of course there was -- how else could the Nazis exist, for instance -- but it was not the day in and day out color of our lives. Not yet.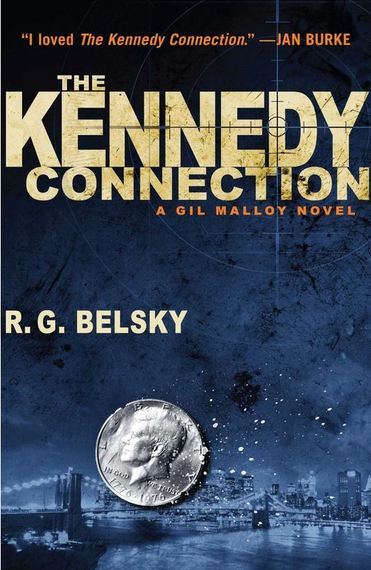 Novelist R.G. Belsky has brilliantly chosen the dark day of November 22, 1963 as the launch pad of his newest thriller, The Kennedy Connection. "A moment in time," as he puts it, "that changes you and the world you live in forever." As with the best mysteries, Belsky's novel is a fascinating character study of disgraced journalist Gil Malloy, on the hunt for a serial killer who may very well be in possession of a long-buried secret that could reveal the rotted, corrupt truth behind the Kennedy assassination. We meet Malloy as he tries repeatedly and unsuccessfully to rehabilitate a tainted writing career in the frantic heady newsroom atmosphere of The New York Daily News.
Through an old contact Malloy hears about the unknown son of Lee Harvey Oswald, who of course has changed his name due to his infamous father, and Oswald's plan to clear his father's besmirched name. I can't go any further with the plot line so as not to ruin it for readers, but suffice it to say that this book is a roller coaster ride that veers back to 1963 and forward to the present day and provides plenty of chills and thrills.
"There are no coincidences," Malloy is advised by an old newspaperman. "There's always a reason for everything. Coincidence should be your last option for an explanation - after you've tried everything else and still can't explain an event or series of them. You go to the facts, the facts never lie."
R.G. Belsky is uniquely positioned to write this excellent novel. Currently the managing editor of news for NBCNews.com, he was previously managing editor for the New York Daily News, the metropolitan editor of the New York Post, and the news editor for Star Magazine. He's been there, done that, and has the T-shirt to prove it. To quote Pulitzer Prize-winning veteran journalist and author Jimmy Breslin: "Who better to tell the story of a newsman in disgrace - than a man from the New York tabloids, where disgrace was a badge of honor. Belsky has the news man's gift. He tells his story well."
Belsky's writing is wiry and taught, and the entire time you're immersed in this story it's pretty much all you can think about until you can pick it up again to see the next turn of events. Ultimately, as all great stories are, it is at its heart the extremely well-written tale of good vs. evil.
The Kennedy Connection is published by Atria Books and is available at retailers and also Amazon and other online sites. See R. G. Belsky's website for more information.
Related
Popular in the Community