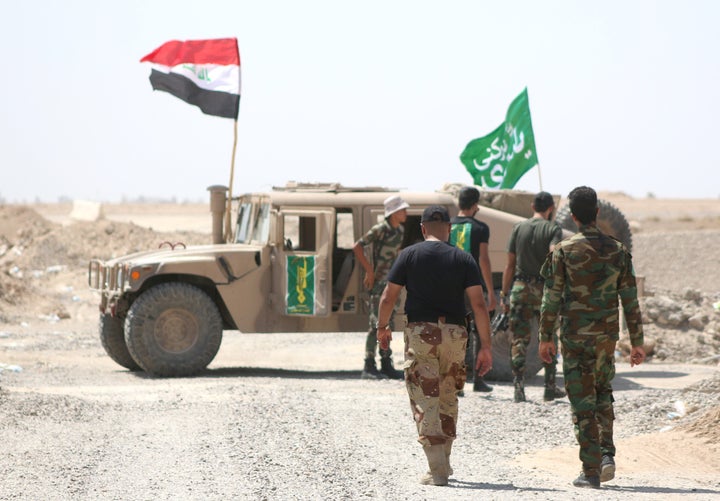 WASHINGTON -- Iraqi prime minister Haider al-Abadi quietly supported a Qatar-sponsored effort to bring together Iraqi Sunni leaders that failed earlier this month in Doha, American and Gulf officials have told The Huffington Post.
The revelation is the latest sign that Abadi is willing to pursue even potentially contentious channels to reconcile Iraq's Sunnis and Shiites.
Such reconciliation is central to the battle against the brutal Islamic State group, which thrives on driving wedges between the two Muslim sects. Mistrust between them allowed the extremist organization to recruit thousands of Sunnis in Iraq and Syria, Sunni-heavy nations ruled by Shiite-friendly governments.
The U.S.-led coalition to defeat the extremist group, also known as ISIS, has spent months urging sectarian unity for the sake of the region's future. In its view, Sunni Arab fighters should take the lead in retaking Sunni-dominated territory from ISIS -- and prove in the process that the terror organization does not represent Sunni interests.
Abadi's ascension has been seen as the chance to make amends, but he's had limited success. Though he has worked closely with Sunni politicians like the speaker of Iraq's parliament, he has also given his blessing to vicious Shiite militias battling ISIS, many of whom are closely linked to Iran. The militias have often meted out harsh treatment to Iraqi Sunnis in areas they retake, and the U.S. has been careful to distance itself from them even as it supports the larger Iraqi effort against the extremists.
So the prime minister's openness to dialogue is an important sign. The revelation of his role in the Doha meeting comes on the heels of another indicator that he wants to change things: He's gained political space from united Shiite-Sunni protests against government incompetence, and is using it to streamline his government and remove sectarian-minded figures tied to Tehran -- with the support of Iraq's top Shiite religious leader.
But any hopes the Doha discussions would bear fruit were soon dashed, officials told HuffPost.
Officials in Washington who closely follow Iraqi politics say the public face-saving exercise was the result of both domestic pressure and poor planning for the conference.
Abadi had to publicly condemn the talks in Qatar after pro-Iran elements within the Iraqi government leaked details of them to the press, said a high-ranking congressional aide. Now, the aide added, "progress is a ways off."
Instead of being a direct product of Iranian influence, such sectarian actions are led by Iraqi Shiites who feel threatened by talk of renewed Sunni power in government and "see Iran as their biggest guarantee," the aide told HuffPost. The aide said Washington could combat these moves by providing greater political and diplomatic support to Abadi and other more conciliatory figures in Iraq.
However, doing so risks putting the U.S. in direct conflict with Iran, its tacit partner against ISIS in Iraq. Iranian media outlets linked to the government were quick to report on the Doha brouhaha. State-owned outlet Press TV highlighted Abadi's condemnation of the talks and took a jab at conference host Qatar by describing the Sunni Gulf state as a supporter of ISIS. And Iran's semi-official Tasnim news agency had already begun to cast aspersions on Qatar with an earlier report identifying Doha and Washington as supporters of the recent protests in Iraq that have helped weaken Iranian influence.
The Qataris' choice of invitees was an additional concern for Abadi beyond his fears of Shiite reprisals at home, The Huffington Post has learned. Among the Sunnis asked to participate in the talks were a number of "suitcase sheikhs" -- expatriates known for their constant movement between Sunni capitals like Ankara and Amman. They include former Baathist allies of Saddam Hussein, and Iraqi politicians who have fiercely clashed with Iran-linked Shiite politicians in the past, like the onetime vice president and current fugitive Tareq al-Hashemi.
Forced to eat crow over the failed conference, Abadi is likely now to focus on other efforts to engage Sunnis within Iraq, such as his policies of decentralizing power within Iraq and establishing a Sunni-run national guard force.
The U.S., too, remains confident in the prime minister, a State Department official told The Huffington Post -- even as he was quick to distance Washington from the Doha controversy.
"We were not involved with the organization of this conference and did not participate," the official wrote in a Friday email.
"The United States supports a federal, democratic, pluralistic, and unified Iraq and urges all parties in Iraq to continue working together toward that objective," the official continued. "We have seen the Abadi government work towards decentralization and unite with Sunni tribes and volunteers to push back [ISIS] to liberate their own areas. The continuation and expansion of those efforts will be very important to ensuring that, in the midst of the violence Iraq is facing, the country does not regress in a direction along sectarian lines."
Support HuffPost
The Stakes Have Never Been Higher
Popular in the Community