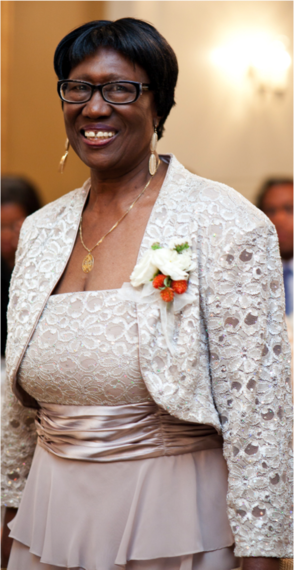 Perseverance is hard to teach. Only through experiences can you persevere, but I believe that other people's journeys can leave a lasting impression on you; You can glean snippets of how to persevere when life presses against you on all sides. My grandmother turns 87 today, although her flawless skin might make you think I'm lying by over 20 years. Her life and her fighting spirit should be inspiration for us all to keep fighting; she is the embodiment of perseverance.
My "Grandma Shine" was born Naomi Pinnacle on June 17, 1928. She came into the world with pneumonia, an almost death sentence during those days. Many people said that she wouldn't make it, and that her twin sister, Ruth, would be twin-less. Ironically, Ruth would die at the age of thirteen due to an appendix burst. Grandma Shine always tells me that Ruth's spirit continues to live in her, and that she has no doubt that she will see Ruth again in heaven. (I say - please, not yet grandma). She believes that when you lose a loved one, your will to go on should be inspired by their life.
My grandmother finished high school late because her family did not allow her to go to school until she was eight-years-old. Even with the late start, she skipped two grades because she was a hard-working and smart student. She played basketball, enjoyed learning, and eventually finished high school as Valedictorian with her eyes set on college. Her family, however, was poor; she and her siblings had to forgo their college aspirations to work and support the family. She did not stop learning because of circumstance, but rather, she pushed herself to get her education in the real world - she kept it moving despite the disappointment. More over, she would provide an environment for (and insistence on) her kids to pursue their education, and eventually live through their collegiate triumphs.
Two days after her high school graduation, Grandma Shine packed her bags and took the long bus ride to New York. She yearned for better employment opportunities than the Jim Crow South could offer. She landed in Harlem in 1949 with just a few dollars to her name and shared a studio apartment with a close friend. In 1950, my grandmother married Joseph Shine and gave birth to my mother, her first child of six. By 1954, a few of Naomi's other sisters migrated from the South to join her up North. She focused on her new family, leaving behind her past for the benefit of her future. She found her footing in an unfamiliar place and became her family's pioneer. Her determination, especially in the face of the unknown, is one of the distinguishing attributes of her perseverance.
In 1968, however, a building fire left the family's apartment completely destroyed and her family of 8 temporarily homeless, yet alive. As anyone might expect, the situation depressed her because her home was symbolic of all she had worked for since migrating to NY. They eventually re-settled in NYC's now gentrified Chelsea neighborhood, and let time heal their wounds. Grandma Shine always talks about the loss of that apartment, underscoring the importance of honoring hurtful moments in one's journey because they remind us of how far we've come.
She has continued to fight her way through changes in technology and grand historical moments. I've tried teaching her texting and video conferencing, but she's un-phased by the need to pick up the latest gadgets. I guess for someone who's lived through World War II, the Civil Rights movement, Vietnam, a walk on the moon, the invention of the TV, computer, 19 U.S. Presidents, just to name a few, innovation is second-nature. As I watch her, it is clear that she has learned to quickly adapt to change, another key component to a fighting spirit.
I lived with my grandmother for 15 months after I turned one-years-old, and being around her influenced me more than I realized when I was growing up. I thought she was so stern when I was a kid, but by the time I got to high school, I recognized that her demeanor was rooted in a fight to keep on living. She now makes our family laugh anytime we see her - she is the life of the party. It is hard for me to tell whether she has always been this funny or I whether I just did not see her as being humorous when I was a child. I'm sure it is the former. Nonetheless, she perseveres amidst all of life's challenges by letting laughter find its way into everyday life, even in crisis.
Grandma Shine stayed married for 46 years, and vowed to never marry again after my grandfather died in 1996. She has stayed true to her word despite the few suitors who she has "no desire to take care of and feed" in the best years of her life. All six of her children are still alive, and she now has fourteen grandchildren and six great-grandchildren with a seventh on the way. I truly believe that her faith provides a light for us all.
I now live in Chicago and only get to see Grandma Shine a few times per year. Her juicy kisses, which I wouldn't let come near my lips as a child, are now eagerly anticipated treats. She also fills me up with homemade food every time I visit her. Her kisses and meals are full of love - the ultimate ingredient to preserving oneself each day. She always leaves me with words of wisdom and I would be remiss if I did not share my top 10 favorites because they embody her will to keep going:

1. Life isn't over until it's over. You have to fight.

2. When I go to heaven, I will fight my way there.

3. Be nice to me and visit me when I'm living, and please no hollering and screaming when I die.

4. If I don't offer you anything, know that I don't have it.

5. When I see someone else down, I will pick you up if I can.

6. Don't say what you can't do. Do it for yourself. Do it for God.

7. A lot of people want things, but don't want to work for the prize. Life is all about being a go-getter. You got to work for what you get.

8. Why make your children's life miserable when you don't have to.

9. When your money starts to look funny, you have to stop giving to others and support yourself.

10. I use soap and water on my face, and that works like a charm.

I believe that this world is a little better because of the life of my grandmother. Her presence is one of the closest things I've come to seeing God here on earth. She readily gives so much love toward others without any expectation of love in return. Many people might have similar stories about their grandma, but for this day, Naomi Shine stands apart. She is our family's shero and embodies a life worthy of celebration for what she has given the world - her full self!
Happy Birthday, Grandma Shine - by living to this day in a manner that will continue to inspire many, you've persevered. I am so proud to be your granddaughter.
And I will borrow one last quote from you..."And that's it; that's the story!"
Calling all HuffPost superfans!
Sign up for membership to become a founding member and help shape HuffPost's next chapter