Co-written with Christopher Flakus, Musician and Freelance Writer at Blackheart Magazine and L'Allure des Mots.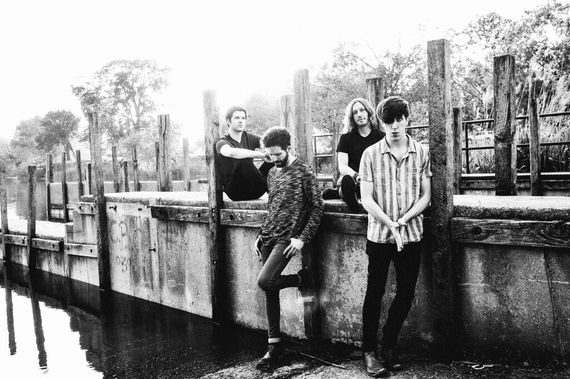 Craving new music? Check out The Kickback, an American indie rock band from South Dakota. The band, which formed in 2006, consists of Billy Yost (vocals, guitar), Eamonn Donnelly (bass), Jonny Ifergan (guitar), and Ryan Farnham (drums). They unleash their full-length debut, Sorry All Over The Place, this Friday via Jullian Records.
How did they make their first record? The band sent demos to Spoon's Jim Eno in Austin. He responded, brought the quartet into his studio, and produced guitar-laden, buzz-worthy music, earning raves from the likes of Rolling Stone and the Chicago Tribune. Recent singles include "White Lodge" and "Sting's Teacher Years."
Read on as Billy talks Sioux Falls, Infinite Jest, and trauma bonding.
In your bio, you mention Hunter Thompson, David Lynch, and other eclectic conceptual influences. Could you expand on that? Was Thompson's Gonzo aesthetic an impetus to leave South Dakota?
When I find a new song, I'll listen to it repeatedly. When "Dirty Work" popped up in American Hustle, I listened to it about 120 times in two days. When I found Hunter Thompson in high school, I ran for the local school board. I wrote, "Yost for School Board" on a white shirt and made sure everyone at the home game saw it. I didn't win.
But when someone is able to give you a view of the world that isn't your own stupid, selfish megalomaniac perspective for five or six goddamn minutes, it's a gift that you can't really adequately express thanks for. That's David Lynch or Mallrats or Wall Drug or a bathtub to me. Hunter Thompson opened up everything out of the gate for me, and I'm sure I'm only the six or seven-millionth white boy English major to make that bold declaration.

You've stated that you wrote and conceived a lot of your music in South Dakota, a very quiet and peaceful place. Is it easier to write in the serenity of small town America as opposed to the big city?
I'm from a small town called Beresford. Assuming the winds are blowing correctly, it's home to about 2,000 people at a time. When we first started working with Jim Eno on our record, he mentioned that one of the things he liked about the record was the naivete of it. I challenged him to a fistfight, but he then said he meant it as a compliment. I think that was the home shining through.
It was a really neat place to grow up. You could be the one guy who had the Misfits shirt and just be that guy for a while, the guy who then went home and secretly listened to Blink 182. I don't get too hung up on where I write. But a lot of the ideas on the record were developed while I was getting ready to move to Chicago and back living in my parent's basement. I was scared of moving and scared of not moving, and I think that made for a good place to write.
Sioux Falls was 30-minutes north on I-29 from where I grew up. I had five older brothers who all played in bands at some point, so I grew up with tales of how great the music scene used to be. Always how great it was never going to be again. I watched my brothers play a lot, and one night at a street dance they let me come up and play bongos. I was 12 or 13. I walked into [Catholic] mass the next day, convinced the sermon was probably going to be about how great my bongo playing was. My desire to play kept growing at the same pace as my apparently boundless ego.
What was the recording experience in Austin like? You've described it as "trauma bonding," sleeping body to body. Working under those conditions is something very admirable in a time when prima donna attitudes and big recording environments seem to cater to every little whim of the artist. It's great to see there are bands still willing to experience any discomfort to make their music.
We all slept in the same room for about 20 combined days. It was the practice room for one of our friends in Austin. So every night after we'd been at the studio, we'd lay out our sleeping bags and curl up about six-inches away from each other. We don't know any bands who have had the luxury of blowing their recording budget on ladies (or gentlemen) of the night and intravenous drugs. It's not the '80s and when you try and budget money for a costume mistress, you simply get outvoted. Nobody has money to record, so if you get to work in a cool studio, you better get down to it. You have to be your own Joe Jackson and kick your own ass.

You are a fan of the late, great David Foster Wallace, whose Infinite Jest provided the title for your album. He spoke of contrasts and layers in his book, which influenced contrasts and layers in your music. Could you tell me more about this literary connection to your music?

I went home to work a summer camp job in South Dakota after I had moved to Chicago and brought Infinite Jest with me. My parents wound up getting divorced and I was sort of stuck at home while it all went down. The book weighs, like, three paperweights and a German shepard, so I'm pretty sure that trying to avoid the divorce stuff was about the only thing that helped me get through it.
I'm sure a lot of other people have experienced [that situation], and I sort of became transfixed with Wallace's work. There's this hour-and-a-half interview he did on Youtube where he spends most of his responses either visibly frustrated at his own ability to express himself or mildly annoyed at the questions. He grits his teeth a lot and winces. It's sort of entrancing. He hurt a lot of the time and seemed like kind of a shitty person sometimes and was absolutely brilliant and fought the urge to be recognized for his work. I find a lot of our songs indirectly channel him and try to remember how sick he would be if some band he'd never heard of name-dropped him in their bio.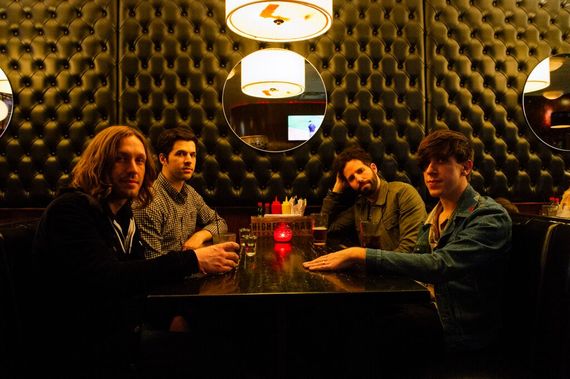 Speaking of life as a former graduate with a teacher's degree you say:

"It's a scary time after you graduate and it took me a long time to learn 'normal people' adult things."

What kind of things are you learning now, or have learned, which eluded you at the time? Is being in a band and being an "adult" mutually exclusive?

My friend Ken taught me how to grill meat recently. He showed me how to chop vegetables. That was big. I still have a very hard time doing things that I saw my parents do daily. I feel like a fraud and a disappointment because I don't know how to get in my AT&T account. Eamonn, our bass player, seems to approach being in a band as part of his life, which he seems to be in absolute control of at all times. I want to be more like him. Music is my life. It's what I (knowingly or not) built my entire thing around. "Don't ever grow up" is all the rage right now, but I don't want to be the guy with the really great inner child changing my oil. I want to be able to change my oil.
How different would your life have been if you had pursued teaching? Is it something you would still consider doing?

My two options, as I saw them, were to substitute teach to service a life built around music, or be the English teacher who snapped for seemingly arbitrary reasons and who did nothing but piss all over your dreams because he didn't pursue his. I love teaching and come from a family of teachers, but seeing that as a career at this point in my life just feels like I would be giving up on the thing that drives me. I always get the nagging suspicion people are going to look back at my generation and say, "Wow. Those kids really followed their dreams. What a bunch of poor morons."
Many thanks to The Kickback, The Syndicate, and Jullian Records for the great opportunity! Pre-order the album at iTunes, Amazon Vinyl, or The Kickback Shop. For more about the band, go to their official website. To learn more about the author, visit laurenkruczyk.com. Stream lead singles ("Sting's Teacher Years" and "White Lodge") below.
Calling all HuffPost superfans!
Sign up for membership to become a founding member and help shape HuffPost's next chapter