 On April 4, 2013, the world will mark the 8th annual United Nations International Day of Mine Awareness, a global observance designed to grow the movement to ban anti-personnel landmines, promote disarmament and clearance, and provide victim services. Lotus Outreach International, a 501(c)(3) nonprofit dedicating to enhancing education and economic opportunity for marginalized communities in Cambodia, is marking the occasion by drawing attention to the intergenerational effects of landmines on children in this war-torn nation.
Anti-personnel landmines -- which are specifically designed to explode upon contact with a person -- have killed or maimed an estimated 100 million people worldwide, with at least 63,000 victims in Cambodia alone. Cambodia's notorious landmine problem is the product of a civil war that spanned three decades, culminating in a genocide in the late 1970s that claimed the lives of up to three million people, or one-third of the entire population. Today, 40,000 people -- one out of every 290 Cambodians -- are amputees, the vast majority of whom are men and thus the traditional heads of household.
"Tragically, landmine clearance is an incredibly expensive and laborious undertaking," shares Lotus Outreach Executive Director Erika Keaveney. "It is estimated that a single landmine -- which costs just $3 manufacture -- will cost upwards of $1,000 to identify and safely remove. Even the most optimistic estimates suggest Cambodia won't meet its landmine clearance goals for another five years. In the meantime, thousands of families struggle to survive in the face of the devastation landmines have inflicted on their lives. Lotus Outreach is working to ensure these families can meet their most basic needs and keep their kids in school."
The intergenerational effect of landmines is profoundly evident in the life of 16-year-old Tuon Samphea, the sole caretaker of her father who stepped on a landmine while foraging for bamboo shoots for food. The explosion cost him several of his fingers and both eyes, and he lay bleeding and disfigured alone in a field for ten hours before anyone found him. Today Samphea, an only child, looks after his every need including preparing meals and bathing him. Despite these demands on her time, Samphea is able to continue to go to school each day as a result of a scholarship provided by Lotus Outreach's Girls' Access to Education (GATE) program. In addition to providing school supplies, uniforms, and tutoring support, the GATE program provides Samphea and her father with a large bag of rice each month to ensure they will not go hungry if Samphea attends school instead of working. "One of my main ambitions in life is to ensure my daughter can be educated. Without the scholarship and rice support, this wouldn't be possible," shares Samphea's father.
The father of Tum Sokpheak likewise lost his leg to a landmine while foraging for food to feed his seven children (one child since died of dengue fever). With Sokpheak's parents unable to work, the family survives on a $55 monthly pension and the $25 monthly rice stipend provided by the GATE program, which has enabled them to keep all of the children in school for now. "Education is very important to us but it is difficult to pay for the cost of schooling and get enough to eat," shares Sokpheak's mom. "We want our children to have a good future and will try very hard to keep them in school. The rice support is enabling us to do that now." A GATE participant for seven years, Sokpheak is slated to graduate high school this summer and hopes to enter a four-year medical program at Battambang University shortly thereafter. Despite her family struggles, she ranks third in her class of 47 students.
The severe penury confronting Sokpheak and Samphea is not exceptional among GATE scholars, who are selected based on a comprehensive criteria including income, family size, and parental disability. But households with landmine victims face unique challenges, foremost among them the constrained ability to secure food. Though a full third of Cambodians live below the national poverty line of $1.25 per day, households with a landmine victim are 40 percent more likely to face difficulty securing food than the population at large. This is not only the result of the lost labor of the landmine victim, but the lost labor of his or her primary caretaker which translates into higher opportunity costs for sending children to school. Further, 61 percent of landmine victims report going into debt to pay for their initial medical treatment, exacerbating their poverty trap.
By addressing the intersecting problems of food security and children's education for these families, Lotus Outreach is working to halt the transmission of poverty through future generations, thus bringing Cambodia one step closer to healing from the scars of the past. To learn more about Cambodia's ongoing legacy of landmines and other explosive remnant of war, visit http://www.cmac.gov.kh/.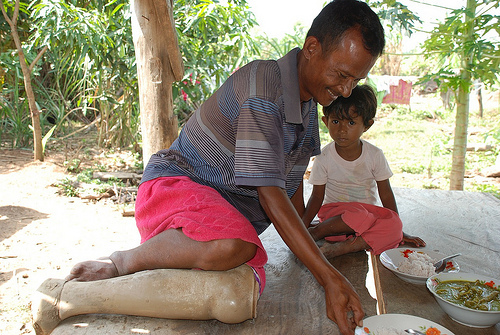 Sokpheak's father. Many NGOs in Cambodia provide prosthetic limbs to landmine victims, but they are still unable to engage in heavy manual labor or agricultural work, the main thrust of rural economies in Cambodia.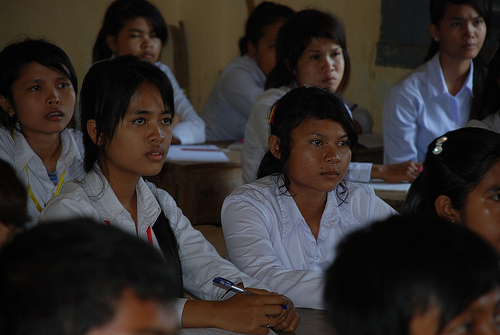 Sokpheak (center right) at school: Sokpheak has been in the GATE program for seven years. She will graduate soon, and hopes to continue on to university. She currently ranks third of 47 students in her class.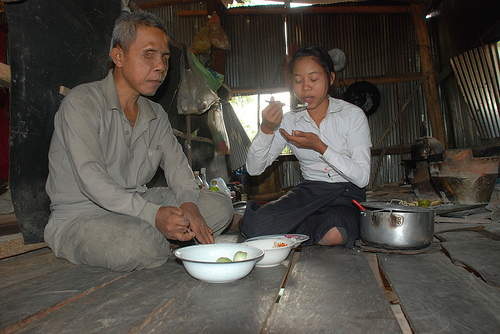 Samphea and her father: Samphea's father was foraging for bamboo shoots when he stumbled on a landmine. His leg was badly injured, he lost both eyes and his hand was disfigured. He was not found until 10 hours after the incident.
All Photos: Copyright Lotus Outreach
Watch a short video of Thuo Somphea preparing a meal for her father:
Lotus Outreach is a California-based 501 (c)(3) dedicated to ensuring the education, health, and safety of vulnerable women and children in the developing world. GATE is one of several successful development programs it operates in Cambodia today.
Related
Popular in the Community