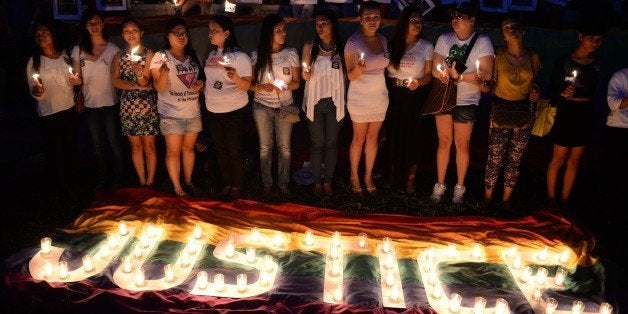 Co-authored by: Alexandra Minna Stern, Medical Historian at University of Michigan; Jerry Peterson, Executive Director of the Ruth Ellis Center; Jordon Bosse, University of Massachusetts Amherst
Amber Monroe
K.C. Haggard
India Clarke
Merecedes Williamson
London Kiki Chanel
Kristina Gomez Reinwald
Penny Proud
Taja Gabrielle DeJesus
Yazmin Vash Payne
Papi Edwards
Ty Underwood
Lamia Beard
Shade Schuler
Kandis Capri
Ashton O'Hara
Elisha Walker
Tamara Dominguez
Read these names, one by one. They are part of a growing list of transgender women and gender nonconforming individuals murdered in 2015. On August 8 at 5:00 AM Amber Monroe was fatally shot near Palmer Park in Detroit, Michigan. Amber was twenty years old, and in what certainly is an undercount, is thought to be the 12th transgender woman lost to homicide this year.
How can we make sense of Amber's death, and dozens more? The most prominent approach is hate crimes framing. A hate crime occurs when a perpetrator targets a victim because of some actual or perceived identity of the victim or victim's membership in a particular community or social group; otherwise known as bias-motivated crime. Yet to frame all killings of transgender women, especially black and Latina transwomen, as principally hate crimes, is an oversimplification in most cases - if not an outright misunderstanding. It individualizes acts of violence, obscuring the deeper structural conditions that play a role in these murders. Negative attitudes and beliefs about gender nonconforming identities and people alone cannot explain the unrelenting violence against black and brown transgender women.
Disproportionately, black and Latina trans women are killed in or around their home neighborhoods. All too often, their deaths are portrayed as almost inevitable occurrences in black and brown communities storied as hotbeds of transphobia in which the masculinity of black and brown men is challenged by nonconforming gender expression or identity. As the story goes, in response, these men feel compelled to take the lives of transgender women. Masculinities rooted in sexism and misogyny are quite germane to discussions of violence against all women and can be particularly revealing when considering trans cases. But there are much larger dynamics at play.
We submit there is a much longer list of conditions that set the stage for the murder of transwomen in urban areas like Detroit:
Employment discrimination
Anti-homeless laws (e.g., loitering and trespassing)
Prostitution and drug laws
Unsafe schools
Legal and Criminal injustice systems
Unaccepting faith-based organizations
These structural conditions are profound in cities around the country and are key determinants of violence experienced by transgender women. For example, Shelly Hilliard's murder on October 23, 2011 has been connected to her serving as a "confidential informant" for the police according to news reports. To avoid arrest, jail and/or prison time for marijuana possession, Shelly cooperated with police to set up drug dealers, according to a federal complaint filed by her mother that alleged police somehow divulged Shelly's name to the drug dealers. Three days later she was killed and dismembered.
Shelly's story exemplifies a toxic combination of drug laws, police coercion, failure to protect citizens and informants and dangerous jail and prison conditions for transgender individuals that intensifies the surveillance and vulnerability of transwomen. These structural factors leading to Shelly's death belies traditional framing of transgender homicides as primarily hate crimes, although the gruesome dismemberment characterizing her and other murders reveals a venomous dehumanization.
While not forgetting that individual bigotry is an important factor in violence, our community-based work with transwomen and gender nonconforming individuals in Detroit suggests that we need to shift the narrative from one focused on hate crimes to one focused on structural inequality. Through Detroit Youth Passages (DYP), a five-year Ford Foundation funded project, we have sought to examine and positively transform structural conditions contributing to vulnerability among black and brown young people of diverse gender and sexuality.

DYP came together to better understand and begin to address the relationships between economic crises, residential instability and violence, sexual and psychosocial vulnerabilities. In a venue-based survey we conducted of young adults 18-30 whose bodies were commodified in some way, of 73 mostly black transgender women, 51 percent said they had been shot or hit with a weapon, 78 percent said that they had seen someone else be shot or hit with a weapon and just 43 percent said they were currently working. In the same survey, 52 percent had been arrested after the age of 18 and 29 percent before the age of 18; and of those who transacted sex, the median number of exchanges they had in the past year was 20. Our research also shows the connections between being forced out of school, economic deprivation, prostitution laws, criminal justice system engagement and ways in which police are implicated in violence against transgender women (see here and here).
As we mobilize to stymie the epidemic of violence against transgender women, we need to foreground structural violence. We can honor and remember these murdered transgender women by responding with a new list of policies, institutions and decision makers that failed these women - that conspired toward their demise.
REAL LIFE. REAL NEWS. REAL VOICES.
Help us tell more of the stories that matter from voices that too often remain unheard.