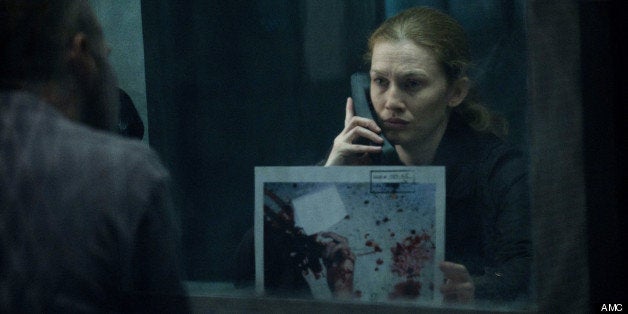 Note: Do not read on if you have not yet seen Season 3, Episodes 1 and 2 of AMC's "The Killing," titled "The Jungle" and "That You Fear the Most."
I have to admit that I was a little skeptical about this season of "The Killing," a show that I previously enjoyed solely because of the stellar performances from the main cast and not because of writing that only failed to include an alien abduction subplot in its everything-but-the-kitchen-sink approach to creating an addictive crime drama. But if last night's Season 3 premiere is a true indicator of what we can expect for the rest of the season, then I promise it'll be worth tuning in for the next few months.
When Linden was committed to the mental ward last season, we found out that she'd actually had a mental breakdown while working the Seward case, the case where a young boy was found with the week-old decomposing body of his prostitute mother. Adrian began drawing pictures to express his grief, and Linden obsessed over the one drawing of trees by water. Although that case was supposedly solved, when the father was arrested and successfully prosecuted, we're not so sure anymore. But we'll come back to this.
It's been at least a year since Linden left her job as a detective, and she's living on one of the islands surrounding Seattle, "working minimum wage on a ferry," hooking up with her hot, younger co-worker and force-smiling her way to fake happiness and contentment. Holder has ditched the hoodies for a suit and tie, is seven for seven at solving cases with his new partner, is preparing to take the Sergeant exam, and is dating a nice girl who buys him his own fancy toothbrush. Since Linden and Holder still have that brother and sister camaraderie (that I hope is never ruined by writers who think putting two damaged people in a relationship is the perfect ratings ploy), Holder goes to Linden because he wonders if his current case involving murdered street kid Ashley Kwon has any connections with Linden's old Seward case. Although both women had their throats slit, Linden insists there aren't any other similarities ... unless you count the finger broken post-mortem and the missing jewelry. OK, so maybe there is a connection.
And that connection is supposed to lead back to Ray Seward (Peter Sarsgaard in one of his creepiest roles). Seward has been transferred to death row and is set to die within a month for the gruesome murder of his wife. But rather than peacefully living out his remaining days, Seward is hell-bent on wreaking havoc. He savagely attacks the prison chaplain and manipulates a young guard into allowing him to place a phone call to Skinner, Linden's old partner that worked the case with her. And forget dying by lethal injection; Seward REQUESTS death by hanging. He acts like he's ready to pay for the heinous crime he committed, but when Linden visits Seward at the prison, she finds out that he can't convincingly answer what happened to his wife's missing jewelry. Maybe Seward isn't guilty, but he's certainly committed to atoning for some serious personal demons.
Going back to the drawings from the Seward case, Linden finally visits the location that she believes inspired Adrian's picture, only to stumble upon the dumping ground for numerous decomposing body bags. Ladies and gentleman, there is definitely a serial killer on the loose in Seattle.
And it's quite possible that a majority of those victims are some of Seattle's street kids, the lost children who have fled dysfunctional homes or fallen in with the wrong crowd. Although I'm not usually a fan of mouthy teenagers (i.e., Dana from "Homeland), Bullet is fiercely loyal and protective of those she loves, and so far, is the only person really concerned about Lyric and the recently-missing Kallie. She's a decent kid, and her brutal rape at the end of the episode by limping pimp Goldie had me hoping that Holder (or Linden) will dole out some vigilante justice. Or that Holder will just get trigger-happy again.
Random notes and thoughts:
Linden and Holder are the worst non-smokers ever. EVER.
I assume that Linden and Skinner probably had an affair, because the way that Skinner's wife spoke to Linden is how I imagine reconciled wives speak to ex-mistresses.
Haunting line of the night: "You don't know me. I break things." Sure it's a little emo, but Mireille Enos always manages to deliver lines like that without coming off like a whiner. Linden is a legit broken woman.
The Bible verse tattooed on Pastor Mark's arm is Ephesians 1:7 (NKJV): "In Him we have redemption through His blood, the forgiveness of sins according to the riches of His grace ..." Maybe it's too obvious, but I'm predicting that Pastor Mark has a shady past that's going to land him on the suspect list at some point this season.
Because of the show's violent, graphic nature, I've decided to try lightening up the recaps by holding nominations for the episodes' best Holderisms. This week's nominees include:
"'Cause even the Taj Mahal needs upkeep."
"I don't eat meat, bitch."
Actually, let's just nominate every line from the scene where Holder first visits Linden.
So what did you guys think of the season premiere? Do you like the season's darker tone? Let us know in the comments!
"The Killing" Season 3 airs on Sundays at 9 p.m. ET on AMC.
PHOTO GALLERY
Summer TV Guide
REAL LIFE. REAL NEWS. REAL VOICES.
Help us tell more of the stories that matter from voices that too often remain unheard.