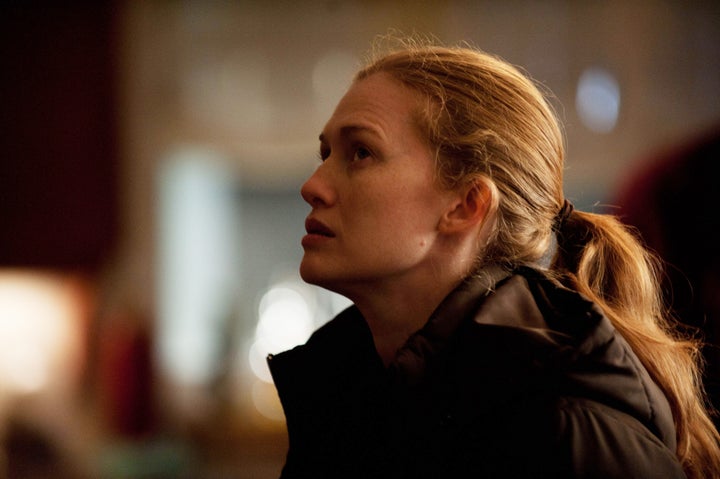 "The Killing" returned for Season 2 below its highest-rated Season 1 episode. Were you watching?
According to The Hollywood Reporter, 1.8 million viewers watched the Sunday night two-hour season premiere on AMC. When adding in encore broadcasts, total viewers went up to 2.5 million. The show took cable by storm when it premiered in April 2011 to 2.7 million viewers. The show ended Season 1 -- with a frustrating finale, according to most -- to 2.3 million viewers.
After not revealing who killed Rosie Larsen, the show faced backlash. HuffPost TV's Maureen Ryan said the Season 1 finale "wasn't just a bad ending to a poorly constructed, sloppy, disappointing season. It was a jaw-dropping instance of a show not just squandering its promise, but betraying its viewers."
Ryan's Ryan Season 1 finale review went on to say: "The tone-deaf arrogance of the writers and executives responsible for 'The Killing' is simply astonishing. And depressing, if you're a fan of quality television."
"I am not surprised that people feel so passionately about the show," she said in an interview on AMCtv.com. "I'm so grateful that, from day one, fans have responded to 'The Killing' the way they have, and I continue to be really grateful to our fans for all the passion and the conversation they bring to 'The Killing.' I am aware there's been both excitement and frustration around the twist at the end of [Season 1]. Our goal was not to mislead but rather to do something different, to take the time the story needs to fully unfold -- to explore who Holder is and what's happened to Richmond, along with who killed Rosie Larsen. I can promise viewers, you will find out who killed Rosie Larsen in Season 2."

Sud said the Rosie Larsen murder mystery won't be revealed until the end of Season 2.
Tell us in the comments below: Are you sticking with "The Killing"?
Season 2 of "The Killing" airs on AMC on Sunday at 9 p.m. ET
Calling all HuffPost superfans!
Sign up for membership to become a founding member and help shape HuffPost's next chapter
BEFORE YOU GO