Thursday night, the sold-out show at the 9:30 Club exploded into people's eardrums. They watched transfixed as American singer Alison Mosshart and British guitarist Jamie Hince stormed the stage.
Most people, me included, may not have heard of The Kills, except knowing Mosshart is also in The Dead Weather with rocker Jack White and Hince is recently married to supermodel Kate Moss. However, it's time people start tuning into this underrated band. Their first three albums are critically praised: Keep On Your Mean Side, No Wow, and Midnight Boom. They are currently touring in support of their fourth album Blood Pressures, released on April 5, 2011, in the United States. They are currently touring.
It's hard not to compare the musicians with other musicians. For instance how The Kills are only a two piece band, man and female like The White Stripes. During the show The Kills incorporated two men banging on drums. They almost seemed cartoonish, like The Blue Men Group or a drum corps or the drummers in Robyn's band. Robyn uses two drummers. The two drummers came out wearing bandanas over their faces and would hold the sticks up.
Watching Hince and Mosshart interact was interesting, which means they didn't seem to interact that much at all! They did hold hands and bow at the end of their first set and at the end of their encore. Hince stayed on the left part of stage mainly and didn't wander around much. Mosshart was pouncing all over the place like a feral cat, but mainly stayed on the right side of the stage. She did jump up on the higher stage to bang on the drums dramatically and play the keyboard.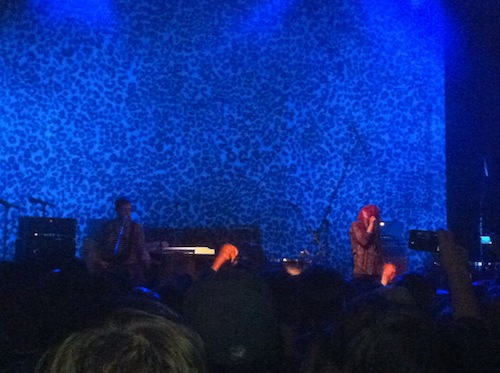 Mosshart has great stage presence. Her rock 'n' roll hair is glamorous and sexy cool. She knows how to use that hair. When she bangs on the drums, she jerks her whole body along with it. She is quite mesmerizing to watch. She is a tough rock gal without having to dress provocatively. Hince has a great stage presence too. He seems to love to whammy the guitar. The Kills have a unique sound with the whammy and only having two people in the band.
 No Wow
 Future Starts Slow
 Heart Is a Beating Drum
 Kissy Kissy
 U.R.A. Fever
 DNA
 Satellite
 Last Day of Magic
 Crazy (Patsy Cline cover)
 Baby Says
 Nail in My Coffin
 Black Balloon
 Tape Song
 Cheap and Cheerful
 Pots and Pans
 Encore:
 The Last Goodbye
 Sour Cherry
 Monkey 23
 Fuck the People
If you get a chance, check out The Kills live in a city near you. It's best to listen to their music first to become more familiar with their music before going. All their shows seem to be selling out, so try not to miss them!
Editor's Note: An earlier version of this post incorrectly spelled the name of The Kills' guitarist. The guitarist's name is Jamie Hince.
Popular in the Community