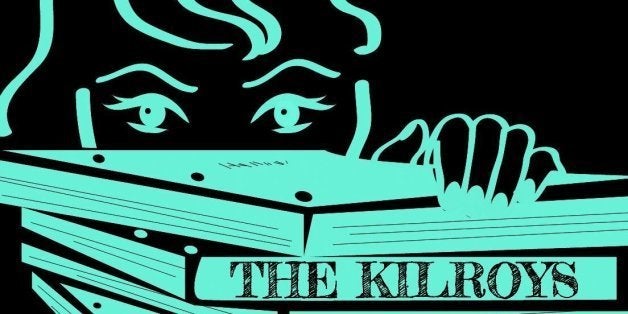 Where are all the women in theater? It's a question oft asked and debated, with little consensus and a lot of outrage.
The most recent advocates to pick up the discussion are the Kilroys. In a public document posted online, the "gang of playwrights and producers in LA who are done talking about gender parity" showcased a list of 46 female-authored plays that leave no room for ambiguity. Women are writing for theater, the group points out, and if producers don't want to find them they will.
"The List," as it's called, includes 46 un-produced plays (or plays that have had only one professional production) selected by a group of 127 new play leaders. It is meant as "a tool for producers committed to ending the systemic underrepresentation of female voices* in the American theater," as the methodology section explains.
This systemic underrepresentation, throughout the theater world, has been well-documented.
Women are missing from the Tonys and Broadway, Lynn Nottage asserted in The New York Times earlier this month. She correctly pointed out that not one of this season's Broadway plays was written by a woman (or a person of color, for that matter), and when it came to the bookwriters, composers and lyricists, only six out of 47 were of the female persuasion.
The season before wasn't much better -- only 10.7% of those shows had female playwrights behind them. If you delve further into the archives, a look at the last 50 plus years of Tony award winners casts a rather depressing shadow. In the category of Best Direction of a Play, there are just four women winners (Mary Zimmerman for "Metamorphoses" in 2002, Anna D. Shapiro for "August: Osage County" in 2008, Marianne Elliott for "War Horse" in 2001, and Pam MacKinnon for "Who's Afraid of Virginia Woolf?" in 2013).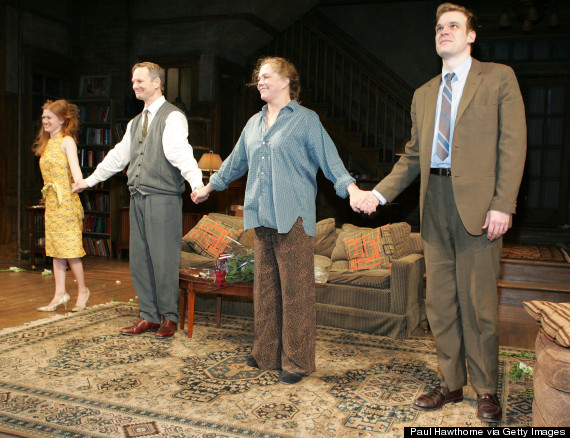 (L-R) Actors Mireille Enos, Bill Irwin, Kathleen Turner and David Harbour bow during the curtin call of the opening night of 'Who's Afraid of Virginia Woolf' at The Longacre Theater March 20, 2005 in New York City. (Photo by Paul Hawthorne/Getty Images)
Head to the Best Play records and female producers fared better, with an 11-year run (from 1993 to 2003) bringing a woman to the podium each awards ceremony. Alas, in musical theater, the Original Musical Score selection runs amok again. In that category, Betty Comden was the only woman to snag an award -- albeit multiple times -- from 1947 to 1997, after which only Lynn Ahrens, Lisa Lambert and Cyndi Lauper followed in her tracks.
These are, of course, but a few of the statistics available. The image of the typical playwright persists throughout though. As British writer Penelope Skinner pointed out to the NYT, female playwrights are "the exception rather than the rule," up against the stereotypical image of a "man in glasses wearing a suit jacket" writing all of our plays.
Theresa Rebeck, of "The Butterfly Collection" fame, reiterates. Playwriting "is NOT in fact a gene on a Y chromosome, and we are NOT losing women playwrights because they decided to run off and have babies," she said in a 2013 speech. "The reason we lost all those women playwrights is: we buried their work, and we sent them away."
The Kilroys seem to agree.
*The Kilroys recognize the complexities of gender identity, and the shortcomings of binary descriptors. They use this language as shorthand for the broad spectrum of female and gender queer identity.
CORRECTION: A previous version of this article incorrectly stated that Vivian Matalon, Tony award-winning director for "Morning's at Seven" in 1980, is a woman. He is, in fact, a man, making the statistic even grimmer.
Related