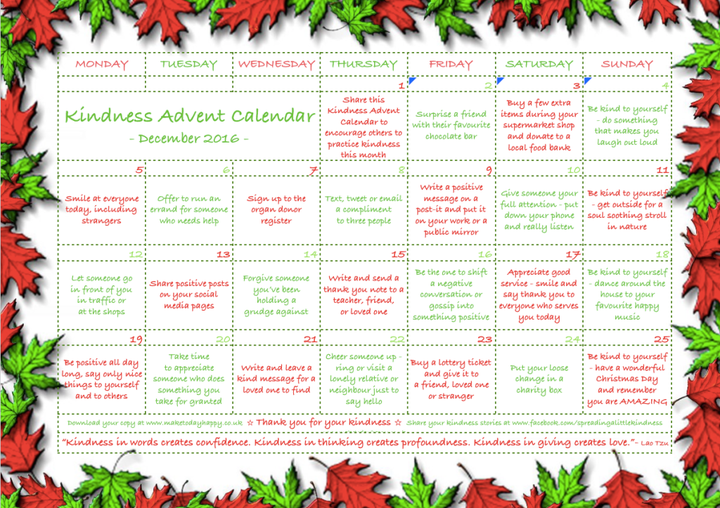 This year for World Kindness Day I decided to set up a group that focused on coming together to inspire countless acts of kindness. I called it The HumanKIND Community, which of course you are welcome to join. I also got up to lots of mischief doing what I've titled kindness adventures, which you can watch here.
The main purpose of the group is to promote Kindness, Compassion and Friendliness; I created this group to highlight good deeds in the community, and serve as a means for people to bridge the divides of race, religion, politics, gender and nationalities. We can start a ripple of inspiration, but only if we join together.
So far over 3000 amazing people have come together to help create a ripple of kindness in the world - and one of those lovely people is the lady this blog is about. Helen C Green joined the group almost from the beginning. A couple of days later I noticed she had created a wonderful kindness advent calendar which, since sharing, has gone on to be downloaded over 100,000 times. How awesome is that?!
I thought it would be really nice to ask Helen to tell us about the inspiration behind her calendar.
Hope you enjoy, and don't forget to download and perform your acts of kindness!
I was diagnosed with Chronic Fatigue Syndrome 3 years ago, and this debilitating, misunderstood health condition turned my life upside. But it's also been one of the best things to happen to me, as I've learnt the joy of the present moment. Focusing on gratitude, mindfulness and kindness, I started my journey to find my happy again and wrote about it in a blog: maketodayhappy.co.uk.
I soon realised how just one small act of kindness can really brighten someone's day, and also help remind people that there is still good in the world.
It also makes me really smile too: in my own personal experience the giver benefits as much as the receiver.
I wanted to do something extra special leading up to Christmas and thought a Kindness Advent Calendar was the perfect way to spread some festive cheer at a time when people are extra busy and feeling a little more stressed out.
My Kindness Advent Calendar works just like a normal advent calendar but instead of the usual chocolate treat, we are embracing the true spirit of Christmas by doing 25 random acts of Christmas kindness.
Each act of kindness easy, quick and cheap (well, mostly free actually), to show that kindness doesn't have to be big fancy gestures and so anyone and everyone can take part. And I've found it's usually the small acts that have the biggest impact.
I posted my first Kindness Advent Calendar on my blog (maketodayhappy.co.uk) in Nov 2015, and soon had just over 200 people joining me. I was over-the-moon and hoped that each kindness act would inspire another and have a ripple effect in our communities.
I found it a wonderful way to spread some festive cheer and boost my own spirits at the same time.
A few friends recently asked me if I was doing one for this year: absolutely, I replied!
Each morning when I check the number of downloads, I'm amazed at how the number keeps going up and up and up. I am blown away by the response and never imagined it would reach this many people. At the time of writing the calendar has been downloaded an astonishing 66,000 times.
I am deeply heartened at the thought of this huge ripple of kindness rippling out all around the world - over 220,000 people have already visited my Kindness Advent Calendar blog post from 172 countries. How incredible is that!
It reminds me of the Howard Zinn quote: "We don't have to engage in grand, heroic actions to participate in the process of change. Small acts, when multiplied by millions of people, can transform the world."
Kindness has become an essential tool in my healing tool kit and it has enriched my life in ways I could never have imagined.
Reading Helen's story it reminds me of a very powerful quote I love to share. "Too often we underestimate the power of a touch, a smile, a kind word, a listening ear, an honest compliment, or the smallest act of caring, all of which have the potential to turn a life around". Leo Buscaglia
Have fun with the calendar and don't forget to share any cool stories that emerge from this wonderful idea. And you're always welcome to leave a comment below! :)
Calling all HuffPost superfans!
Sign up for membership to become a founding member and help shape HuffPost's next chapter