In the late summer of 1978 I was sleeping over at my grandmothers, as I often did in those days. My mother was living in Oklahoma and my dad was off on one of his fishing trips. That night, a West Texas thunderstorm came through. It was one of those where tornados sprung up across the fields of oil derricks plucking them from the ground like carrots while lighting shot down from the sky setting the mesquite bushes on fire, only to have torrential rains put them out immediately leaving them smoldering.
Those storms always scared me. But they never scared me when I was at my Granny's. She was always so calm and if things got really bad we could always hunker down in her big storm cellar which was filled with cans of food, lots of toys and all manner of old boxes, pictures and odd collectibles that she and my grandfather had gathered over the years. I both loved and hated going down there. My older cousins called it "the dungeon" and would torture me by locking me down there. But with her, I always felt safe down there and found all kinds of treasures to amuse myself.
This particular night we did not go down there. She felt like we were safe on the main level. It was a sturdy ranch style brick house. It was built in the late fifties and built tough to sustain the harsh Odessa weather. The mortar between the bricks was so thick it would scrape you till you bled if you even brushed up against it. That house still stands and still houses my family. Honestly I think she just wanted to keep an eye on the livestock. My grandfather had only recently died so she was still running his farm at the time and was in way over her head.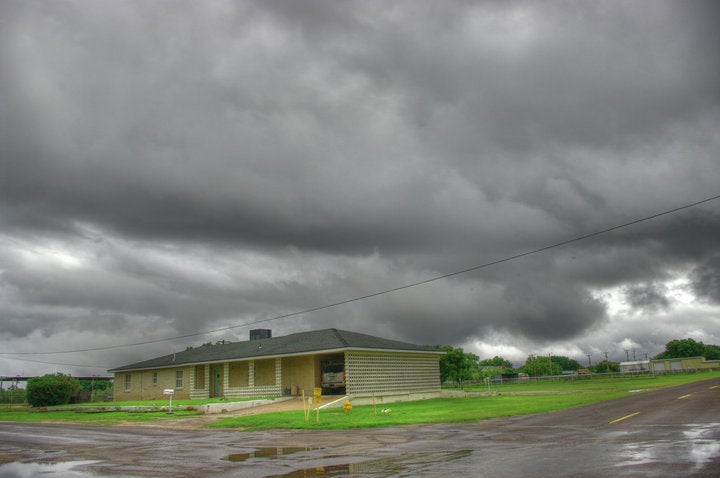 One of the sows had just given birth to piglets and in the midst of the raging storm we could hear one of them squealing. I was sure it was dying and was virtually inconsolable over it. So my ever patient grandmother dressed us both in raincoats and waders and out we went right into the heart of that big storm to check on the piglet. Sure enough, it was stuck under the fence and drowning in the mud that had come up around it's face.
My grandmother and I dug the piglet out, but that wasn't enough for me. I wanted to take it in the house to make sure it was ok. It is truly a testament to her character that in the middle of a tornadic lightning storm with the wind and the rain, debris flying all around us and sticker burs in our knees that she conceded and let me.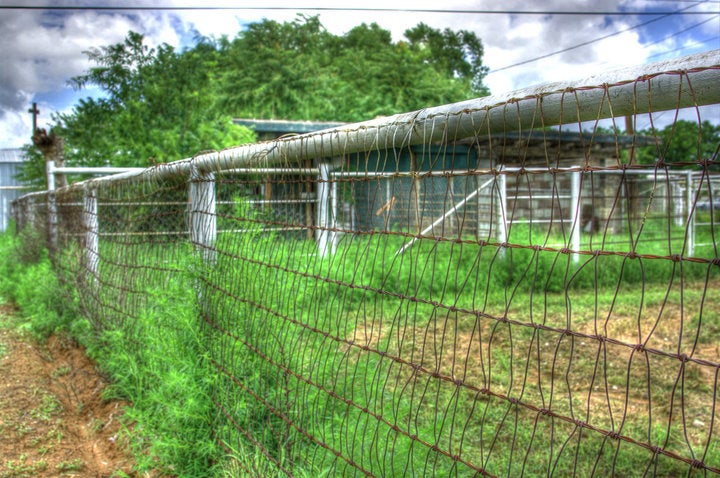 Once we got in the house, I took straight to work bathing and coddling the pig. I even wrapped it in my own little blanket and sang to it. I carried that tiny pink piglet to bed with me that night and slept with it. Somewhere there is a photo of me, ten years old, muddy faced, wet hair matted to my head, asleep with that pig.
I supposed I have just always been that way. I've wanted to help the helpless and give hope to the hopeless and love those who don't feel loved. Despair calls to me like my bluejay calls for his mate. It's loud, unmistakable and beautiful, but not ignorable. It is both a blessing and a curse.
I get so disappointed sometimes; I get down on myself and on others. And these are truly trying times. It feels like everyday another tragedy happens, another hammer falls on someone I love, or the world just simply feels cruel.
But somedays, there is the kindness of strangers. Sometimes it just takes a smile, sometimes people really go out of their way to help, every now and then people give money or donate services. Sometimes they just show up at the right time. And when those blessings are bestowed upon me personally, it gives me the strength and the faith to keep on fighting.
This year in particular, it has been the kindness of not only strangers but people I love who have surprised me. The people who have dug me out of the mud when I was drowning and bathed me and sang to me and taken me to bed... Those people have allowed me to do the same for them and for others.
And that is how the world works. You get what you give. This is a chaotic time on our little planet earth. There is a nasty storm taking place outside each of our windows right now. So I hope my little piglet story sticks with you. I hope that tomorrow when you walk out into the wind and the rain and the lightning that you find it within yourself to jump in, be unafraid & patient and help dig someone out.
Stacie Huckeba is a photographer, film-maker and writer living in Nashville TN. Her work can be seen in USA Today, Rolling Stone, Wall Street Journal, Vintage Guitar, Country Weekly, Sound on Sound, The Huffington Post, TNN, CMT. Her clients include The Rock and Roll Hall of Fame Foundation, The Americana Music Association, International Bluegrass Museum and Hall of Fame, Sony Music Group, Yep Rock Music Group, Redeye Distribution, Gold Mountain Entertainment, Miktek Audio, CBRE, SOHO Myriad and more.
Calling all HuffPost superfans!
Sign up for membership to become a founding member and help shape HuffPost's next chapter
This post was published on the now-closed HuffPost Contributor platform. Contributors control their own work and posted freely to our site. If you need to flag this entry as abusive,
send us an email
.