For many, The King and I is remembered as a lush, exotic, and large-scale musical about the improbable romance between a British school teacher and the King of Siam. The 1951 original Broadway production, the famous 1956 film, and the 1996 revival all went along with this conceptualization of the work; they all used a giant stage, a huge cast, and an unfathomably large budget to present the audience with a fascinatingly exotic and romance-filled depiction of "the far East."
But this musical is not about romance or love. In actuality, The King and I is a battle between sexism and racism (and no one wins). Yes there is some love and romance, but there is also slavery, murder, flagellation, prostitution, polygamy, and human trafficking -- not to mention the consistent degradation of women and racialized "other"-ing of the Siamese people.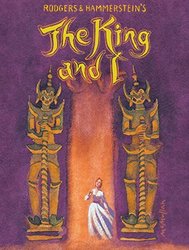 A new adaptation, with a new vision by director Barlett Sher, is however exactly what Rodger and Hammerstein's outdated and offensive text needed. This production, located at the giant and beautiful Beaumont Theater in Lincoln Center, takes The King and I in a completely different direction. The creative team, notably Michael Yeargan (set designer) and Catherine Zuber (costume designer), have thrown out all remnants of the older, famous productions and began entirely anew, this time with a sincere dedication to focusing on historical accuracy instead of mere exoticization and glitter.
Although the older productions were defined by what we now call "Orientalism," this new revival takes a very different approach; in this version the set and costumes are more period appropriate and more simple, all drawing from actual images of nineteenth century Siam. The director Barlett Sher stated in an interview that "In this production, we have to try to strike a sparer tone that reflects something truthful about the inner life of the people rather than just putting them in big exotic clothes for a king of dress parade or a gallery of exoticness." This production is based on what Siam was actually like, not what 1950s America thought Siam was like.
The 51-person cast, 29-member orchestra, 1200-seat theater, and seemingly endless budget may not seem "stripped down," but the show itself is less grand and glittery than the musical's previous incarnations. This time, however, the show uses its big budget to make a point about life and about theater. Not all big budget megamusicals need to by mindless droll full of flashy tap numbers and void of real themes.
Yes, this musical costs millions of dollars. Yes is has a giant boat onstage (for only one song). Yes there is a floor-to-ceiling gold statue of Buddha on wheels. Yes the costumes are intricate and plentiful. Yes there is a 15-minute ballet sequence. But unlike the original productions, this version of The King and I is not about spectacle, it is about the hauntingly universal and dark themes of the musicals: forbidden love, independence, identity, and the conquering of prejudices, be they racism or sexism.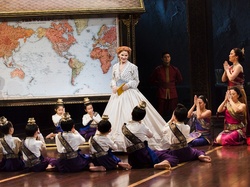 But it is not only the budget that achieves this, it is the extraordinary cast that captivates the audiences and teaches them what The King and I is really about. The stage goddess Kelli O'Hara is (literally) at the helm of the show, hoop skirt, corset, and all, guiding the audience on a journey about love and acceptance. It is often hard to step into an iconic role and make it your own, but Kelli O'Hara does this, and more; she has redefined Anna, making her more than a love interest for the King. In fact, in this version (thankfully) Anna never seems fully smitten by the King; unlike the original, this revival is not centered on their supposed romance at all.
In her rendition, Anna is a loving widow, a passionate school teacher, a protective mother, and a staunch feminist fighting for her rights and refusing to be treated as a servant. In her many touching songs ("Hello Young Lovers," "Getting to Know You," and "Shall we Dance"), she proves to audience that this show is worthy of a new life, of a second glance, of a new conceptualization--most importantly, she breathes new life into The King and I, and in doing so convinces the world that this musical has more depth than they ever realized.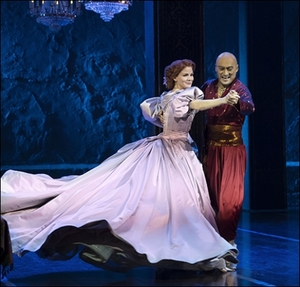 Although glamour and spectacle are no longer the point of the musical, this revival often shows that you can have it all: the glitter and the dark thematic content. No one represents this dual triumph better than Kelli O'Hara, whose beauty, grace, and ever-expanding dresses only add to her nuanced acting and skilled vocals. In "Shall we Dance?" she effortlessly floats about the stage in one of the largest ball gowns Broadway has ever seen, once again proving that musicals can use big budgets to make important statements and explore themes, all while earning endless applause from the audience.
Other accolades go to wonderful Ruthie Ann Miles (who like Kelli O'Hara, certainly deserves her Tony Award), who played Lady Thiang with such pain, sorrow, and majesty that no audience could forget her (though her part is not a memorable one). Ashley Park as Tuptim was not only extremely talented, but helped explore some dark themes about sexual enslavement; though Tuptim is usually remembered as the "forbidden lover" she is a sex slave who at any time could be killed for treason. Ashley Park put the sense of fear and urgency that portrayals of Tuptim were always missing.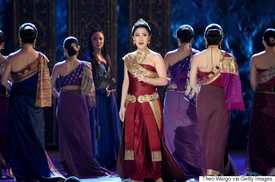 Although the production was visually beautiful, its more serious moments were the most evocative. The new staging often created a level a subversiveness that took The King and I in a new direction; no longer was this musical an offensive relic of the 1950s, but instead a modern critique of racism and sexism. This is best displayed in the song "Western People Funny" in which the Siamese women get dressed up in Western garb. This broken English song can be one of the most racist and offensive moments in the show. But in this revival instead of making the audience cringe, this song became a powerful anthem: when staged in a new way the song became a Siamese critique of the West: the line "to prove we're not barbarians, they dress us up like savages" never resonated so well.
This revival of The King and I, with is toned down staging and exploration of dark themes, has proved that this musical is so much more than feeling "sentimental about the Oriental," and successfully demonstrates that a big budget can be used to make a big statement.
Related
Popular in the Community