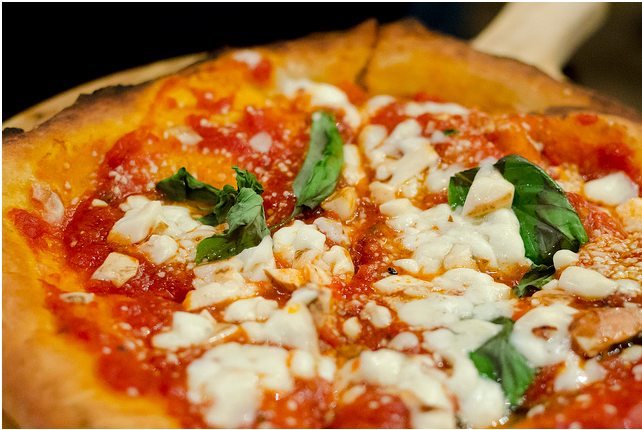 A Vittorio De Sica movie from the 1960s, called L'Oro di Napoli, features a young, voluptuous Sophia Loren sensually flattening discs of pizza dough while her cuckold of a husband drops them into a primitive vat of very hot oil. They promptly inflate and are sold without embellishment to be eaten as a snack, or as what today we call "street food."
The set for that movie was a real-life restaurant called Starita, where they've been baking or frying extraordinary pizza since 1910. But about 10 years ago, Antonio Starita, the shop's third-generation pizzaiolo, hit upon an ingenious third-step -- first frying the dough, then decorating it and popping the pie into an oven to warm the toppings and melt the cheeses.
Last summer in Naples, we forked over a fistful of Euros to a clueless cab driver while searching for this legendary pizzeria in the twisty-curvy district of Materdei. Like many pizzerias in Italy, it was closed for lunch. But a version of it recently opened on Manhattan's easy-to-locate West 50th Street -- and there he was, Don Antonio Starita himself, overseeing a grand parade of classically Neapolitan pizzas coming out of his wood burning oven and, oh, yes, out of his deep fat fryer.
His specialty is called montanara in New York and simply pizza fritta in Naples. The fried dough puffs into an amazingly soufflé-light disc and topped with an intense tomato sauce and imported smoked mozzarella di bufala known as provola, and then popped briefly into a volcanically hot oven. It is like eating an exceedingly flavorful pillow.
The secret? Palm oil. The palm oil is important because it can withstand the rigors of high temperatures without breaking down, adding a delicate crispness to the dough's exterior. The dough downright floats with a bearable lightness of being.
We were a party of six celebrating culinary maven Arthur Schwartz's birthday, (he is the author of the award-winning cookbook Naples at Table), and I can tell you that every dish was its own celebration. We began with a huge platter of angioletti, which are fried puffy thumb-sized strips of dough topped with marinated cherry tomatoes, garlic, excellent oregano, and arugula, which was, for me, one of the most original and delicious dishes I've had anywhere recently! Then onto pizzas chosen by Antonio, not all of them on the menu.
We went nuts over a two-layer affair stuffed with mix of sautéed escarole, pine nuts, raisins and ricotta, then topped with wafer-thin dough and fresh mozzarella. A splendid pie with grape tomatoes in tomato sauce with mozzarella and basil stopped all table conversation for a short moment. And for dessert there was a pizza slathered with ricotta, honey and almonds, punctuated with a lit birthday candle.
Fat be damned, you're looking at a trend here, mark my words. I've run across a sushi bar selling slices of pizza dipped in tempura batter and deep-fried. Fish-and-chips shops have been doing downmarket versions for years in (of all places) Scotland, but they've kept it a rather well deserved secret. Out in Denver, Marco's Coal-Fired Pizzeria has a montanara and a ricotta-honey dessert pie, but they'll also fry any of their numerous pies in the same manner as Starita, right down to using palm oil.
Of course if you pile some mozzarella, salami, ricotta and tomato sauce onto a round of pizza dough, and fold it into a turnover, then you have a makings of a deep-fried calzone -- which is what you get at Locanda Positano in San Francisco and numerous other pizza joints around the country -- but these miss the point of crisping all the dough's surfaces, making for an amazing depth of flavor.
In Naples where they've been frying dough for centuries, you get it Starita's way or occasionally you run across a decorated thin-crust pizza that's topped with a second layer of dough, the edges being pressed together and the entire affair gently submerged in hot oil. This is not an obscure product in Naples, but it sure has taken its time crossing the Atlantic.
Now a restaurant named after the dish itself, La Montanara, has just opened on New York's Lower East Side. There, Giulio Adriani, who owns a restaurant in Rome and two places called Forcella in New York, is serving only fried pies, but he's using sunflower oil.
Locating Starita in New York may be easier than searching the curvaceous streets of Naples hoping to find either Sophia Loren or great pizza, but getting in isn't easy since they take no reservations and crowds form early, often waiting on the sidewalk for one of the restaurant's 70 seats. Bring a bunch of friends so you can try several of the 70 varieties available. Or, you might consider that long-awaited trip to Napoli.
Tell them Don Antonio sent you.
Rozanne Gold is an award-winning chef and author of "Eat Fresh Food: Awesome Recipes for Teen Chefs;" "Healthy 1-2-3," and "Radically Simple."
Rozanne can be found on Facebook at www.facebook.com/RozanneGold.
Calling all HuffPost superfans!
Sign up for membership to become a founding member and help shape HuffPost's next chapter