Everyone loves a comeback. The 2015 World Series was rife with them, with lessons in redemption in every game. If baseball is a metaphor for life, then the Fall Classic stands as a roadmap for victory that can be applied to any aspiration. As we look forward to a new season, a look back at baseball's last championship gives us a recipe for success in any endeavor. The banners proclaimed the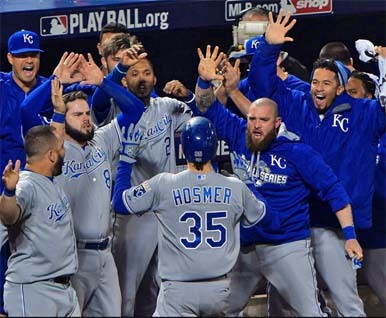 Kansas City Royals versus the New York Mets of Queens, and if that doesn't sound regal to you, then you don't know majesty. But in a contest of comebacks, only one monarch can rule. And so it was that MLB's two best teams went to battle for baseball's throne. Over five games, each would rally to overcome adversity, relinquishing and regaining the lead in often thrilling and poignant ways. With exhilarating results, each game shined a spotlight on a unique quality of character that makes a comeback possible. And as the Series highlights reveal, the one who masters the most rebounds is the one who reigns supreme:
"Sometimes you're the windshield, sometimes you're the bug." Losers resign themselves to that blown-in-the-wind saying. Winners get up and have another go. If anyone represents the resilient road to success, it's Alex Gordon, who hit a wall when he was held up and subsequently stranded at third base in the ninth inning of Game 7 to end the 2014 World Series. After the Royals went splat, controversy about whether Gordon should have been sent on to try to score the tying run carried over into the next season, crippling him with what-ifs, like the injured groin that benched him. But the ability to bounce back is what puts winners in the driver's seat. It wouldn't be until 2015, but in the very next World Series game he played, Gordon would pick up in the ninth inning right where he left off, and this time, no one would stop him from going home.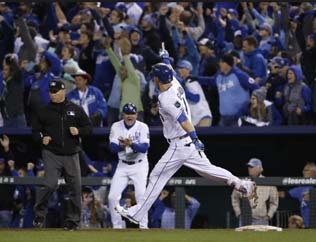 With the Royals trailing the Mets 4-3 in Game 1, Gordon crushed a 428-foot home run to dead center to score the tying run. As he rounded the bases, the roar of Royals fans was deafening. It was as if the cheer, like Gordon, had waited a year to explode and finally found its voice. But as his teammates joyously jumped him in the dugout, no one was more grateful than Eric Hosmer, whose error in the eighth inning allowed the Mets to score the unearned run that made Gordon's heroics necessary. But that was just one of the night's many bouncing balls.
It had been exactly 30 years to the October 27th date that the Royals had won their last World Series. But the Mets had taken the championship the very next year on the same date as well. Now, as the game wore on past midnight, it seemed like nobody wanted the day. It would become the longest World Series game ever played, passing the five-hour mark. Finally, in the 14th inning, after multiple lead changes and an extended FOX power outage, the winning run scored on a sac-fly by none other than Hosmer. And if the lessons in resilience weren't loud and clear enough, Gordon would score the tying run again the next night, as if just for emphasis. As Hosmer would say: "That's the beauty of this game. You always get a chance to redeem yourself."
"You learn from your failures and build on your successes."That was the philosophy of "The Professor," Hall of Fame pitcher Greg Maddux. Legendary for his insights into hitters' tendencies as much as for his pinpoint control, Maddux was known to take himself out of a game when he was mentally tired, whether his arm was done or not. To be a master of consistency, concentration is key. When it comes to keeping one's head in the game, Met hurler Jacob deGrom is a cut above. With long, tousled locks, flying with each pitch, he looked like a Major League Samson, and for four innings in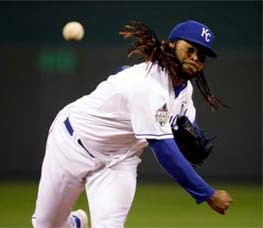 Game 2, he commanded the plate. But the Royals had Johnny Cueto starting for them, and his hair was longer.
Snipping away, hit by hit, Kansas City finally cut loose with a four-run fifth, bouncing deGrom from the game. "Once this team gets going they just don't stop," said FOX's Tom Verducci. "Give them an opening and they come storming through." And they never looked back, scoring three more in the eighth on their way to a 7 - 1 blow-out. FOX's Harold Reynolds, impressed by the consistent hitting clinic on display, put other teams on notice: "I just hope the baseball world has woken up and watched how the Kansas City Royals play baseball. They don't live for the home run. If it's there, they'll take it. But if not, they just put pressure on you by putting the ball in play. They just make contact. That's how they're winning ballgames. That's the way the game was meant to be played."
It's advice that extends beyond sports: If you do the little things, the big things will follow. Persistent productivity and continuously making new contacts can pay off. It's up to you to put the ball in play. Then, when opportunity knocks, answer it, no matter how many doors are slammed in your face. "Just try and take a chance and be aggressive. That's our motto," said Hosmer, whose 2-RBI hit up the middle put his team in the lead from which they never looked back. "It's been our game-plan since day one, and we've stuck to it ever since." In the end, Cueto consistently mixed pitches, changed speeds and hit his spots, keeping the Mets off balance all night. He would become the only pitcher to throw a complete-game two-hitter in a World Series since the Braves' Greg Maddux did it in their championship year of 1995. Now that's a success you can build on.
"Do you believe in miracles?" Al Michael's iconic 1983 call for the USA Olympic Hockey team could have just as easily been for the '69 Miracle Mets. Without the confidence that they could overcome seemingly insurmountable odds, neither team would have triumphed. But then, New Yorkers have always believed in superheroes. With Yankee Derek Jeter retired, they would need a new Captain America, but he would not come from the game's big brothers in the Bronx. Now, down by two games, Mets captain David Wright wasn't just battling the Royals, but spinal stenosis, and how can you carry a team when you've got a bad back?
As Wright stepped up to the plate in the first inning with a man on base, FOX's Jack Buck asked, "The question for me is what is New York gonna get outta this guy?" Wright promptly answered him by crushing a 96-mph fastball with a crack so loud, the Statue of Liberty probably ducked. In several majestic shots, FOX replays showed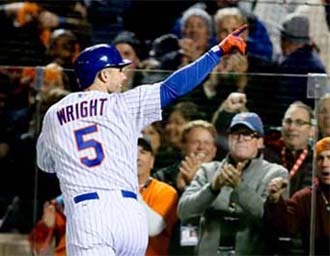 the ball soaring deep into the dark, cold New York night, and Wright, his face lit up with a megawatt grin as bright as the Chrysler Building, pointing at its ascent. As he rounded the bases, Wright's orange gloves and shoelaces made him look like he was literally on fire, while in the background, an orange "Ya Gotta Believe!" sign in the stands added fuel to the flames. It's no wonder that the Mets' mantra from '73, when the team went from worst to first, was coined by closer Tug McGraw who was known as "The Fireman."
But the Wright stuff wasn't only alight at the plate. Two defensive plays had Reynolds extolling Wright's "lightening quick hands." Before the night was over, Wright would add a bases-loaded 2-RBI hit and fittingly field the final out. "The name of the game is just forget about yesterday and worry about today," said Wright afterwards. "It makes me appreciate the road I've been on to get to this point." After a string of oppressive yesterdays, David Wright optimistically rose to the occasion and got New York's back. Call it confidence, faith or the law of attraction, but when you put yourself in the game, the ball finds you. Believe it.
"How do you get to Carnegie Hall?" Whether you're consulting a map, GPS, or ship's compass, the answer is always "practice." It may not make perfect, but the sharpened skills that come with the sheer repetition of dedicated training places one in the position of instinctively performing at a high level under pressure. Determination helps, but without preparation, there can be no perseverance. Game 4's many mishaps began when Royal outfielder Alex Rios's delayed throw cost his team a play at the plate. He'd mysteriously forgotten how many outs there were. It was Halloween, with a full moon, and anything could happen.
While the fans in the stands boasted more characters in costume than Comic-Con, the players also appeared to be getting into the spirit as both starters wore number 32, channeling their inner Sandys. But by the sixth inning, the contest of Koufaxes ended and the battle of the bullpens began. That's when things got really spooky. There were wild pitches and walks from relievers who suddenly couldn't find the strike zone. A pivotal grounder ghosted under Met Daniel Murphy's glove. (Karmic payback for anyone who ever gave Bill Buckner a hard time.) It was as if some unseen force put a spell on the field, causing baseballs and brains to go bump in the night. With the exception of Met rookie Michael Conforto, whose two homerun swings were ethereally captured by FOX's aptly named Phantom camera, the two best teams didn't play like it, trading the lead with each error.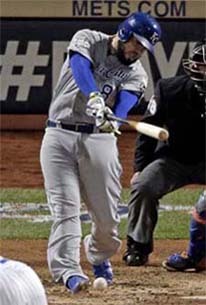 But everyone makes mistakes. How you deal with them defines your destiny. While the Mets became mired in physical and mental miscues, the Royals righted their ship, making waves amidst the mayhem. "We just gotta be able to battle back and find a way to win," said Mike Moustakas, whose RBI hit in the three-run eighth secured the lead. "It just starts with somebody getting on base." It also ended with somebody being caught off the bag. As New Yorkers watched helplessly in horror, a potential game-winning rally in the ninth was suddenly killed by a base-running blunder; the specter of Yoenis Cespedes being doubled off of first for the final out will surely haunt the Mets for Halloweens to come. Observed Verducci: "The game turned on a mistake and ended on a mistake." With the 5-3 loss, a montage of Mets fans was a collage of costumed misery. They should have heeded Pete Rose, who, in a FOX pregame show, insisted: "You've got to beat Kansas City. Kansas City isn't going to beat itself."
But the biggest comeback of the sports day was not in baseball, but in thoroughbred racing where American Pharoah, after having won the Triple Crown and the Haskell Stakes, came back from a disappointing upset at the Travers Stakes to run away with the Breeders' Cup Classic. The soon-to-be shoe-in Horse of the Year became the first to win both the Triple Crown and Breeders Cup ever. But the Royals still wanted a crown of their own, and their day would be next.
"Do or do not. There is no try." That little motivational bon mot is from Return of the Jedi, but you don't have to be Yoda to know that actions speak louder than words. No one ever sold sneakers with "Just dream it." You can do that without shoes, but to make your dreams reality requires action and strategy. It was do-or-die time for the Mets. The last team to come back from three games down in a World Series had been the Royals, 30 years ago. With the championship in their sights, they wanted to keep it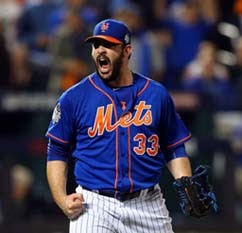 that way. But first they'd have to get past Batman.
Answering the call to the mound like a bat signal on high, the Dark Knight rose in the form of the Mets' Matt Harvey, whose arsenal of pitches put Gotham in charge. By the fourth inning, he joined "The Franchise" Tom Seaver as the only Met to strike out the side in a World Series. By the sixth, he had Reynolds raving "This is one of the best-pitched games I've seen all season." By the seventh, Buck proclaimed "This city is his tonight so far," as fans chanted his name "Har-vey!...Har-vey!...Har-vey! After eight, a hyped-up Harvey pumped his fist to the crowd's roars, taking a two-run lead into the dugout where a heated debate ensued. As manager Terry Collins attempted to take the ball, Harvey's adamant "no way" was underscored by the impassioned pleas of fans singing "We want Harvey!" And they got him.
But a tired arm plus too much adrenaline equals some serious overthrowing, and after a wild lead-off walk, steal and RBI double, Harvey was history, leaving fans to second-guess the decision to leave him in, forgetting it's what they all wanted in the first place. (Paging Pedro/Grady.) But for the Mets, the dark night of the soul was just beginning. With Eric Hosmer dancing off of third, a broken-bat chopper by Salvador Perez was fielded by Wright, who two-stepped Hosmer back, then threw to first. But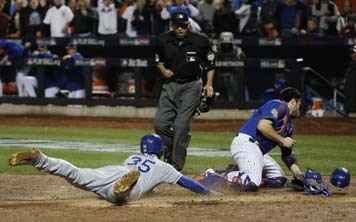 Hosmer took the aggressive chance that is his motto and raced home anyway, beating a wide throw to the plate to tie the game. In the Royals dugout, his teammates, who'd been waving "Take the Crown" towels and climbing the railing, erupted in jubilant triumph. By the time Salvador Perez began the rally with the hit that would become the winning run in the twelfth, the championship felt like a fait accompli. His MVP Award was just another redemptive done-deal, for it was Perez who had made the final out in the previous year's World Series, stranding Gordon as the tying run just 90 feet away.
When they say "baseball's a game of adjustments," they're not talking about the jock's cup. Like a great All-Star skipper, Royals manager Ned Yost made all the right moves, getting everyone in, giving each player a chance to play hero. It was, for example, Christian Colon, making his first postseason appearance off the bench, who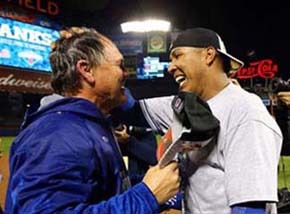 knocked in the clinching RBI. Read a sign in the stands: "The Royals have a plan: Win!" But nobody does it alone. Champagne showers take teamwork, while the most solitary performances shine brightest with support. (Even writers need champions to bring their words to light.) Yost summed up his team's winning mindset, one reborn from defeat: "I think the postseason experience last year taught them a lot and gave them a great deal of confidence. They just have a great belief in themselves and each other that, no matter what the situation is, they're gonna battle to the end and overcome it."
Will the Mets take a page from the Royals' book to become the next comeback team, or will a Royals dynasty repeat? Or will another team entirely be crowned? Whoever succeeds will have mastered the final piece of the championship puzzle: Be inevitable. Work and play like you expect to win, but do it with joy, because if you don't love what you do, success is either elusive or hollow. The best managers, like parents, gift that to their charges: "I just let them play," says Yost. "That's the fun part of it." Want to know how you can succeed in your chosen field? Forget the naysayers and start a new season: Kiss winter goodbye and step into spring, when the boys of summer play to make the Fall Classic. It's a renewable road in the cyclical quest to be the best. So if you're struggling to achieve something in your life, take a lesson on winning characteristics from the World Series champs, because like its best teams, baseball always comes back.

Directing Comeback: This article is dedicated to Bill Webb who took a break from his perennial post as director of the World Series for FOX Sports to fight cancer. Ever resilient, he will inevitably make his own comeback in the TV truck. To join the battle and honor Bill, or someone you love, please visit StandUptoCancer.org. Sitting in for Webb at FOX this World Series was John Moore who annually directs the Fall Classic for MLB International. Both Webb and Moore share their insights into the art and craft of making championship TV in Shooting Diamonds: Directing the World Series. For more historic World Series highlights, go here. For a celebration of America's Pastime, go here. For a tribute to Opening Day, go here. For tips on how to watch a game on TV, go here. Read more on Greg Maddux and other superheroes of baseball. For more on the author, follow Devra on Twitter @DevraMaza and visit DevraMaza.com.
Photo credits: Eric Hosmer and teammates rejoice, courtesy of NY Daily News; Alex Gordon home run, Mike Moustakas at bat, Hosmer slides home, courtesy of AP; Johnny Cueto pitches, courtesy of Reuters; David Wright points, courtesy of Icon Sportswire; Matt Harvey pumped up, Ned Yost and Slavador Perez celebrate, courtesy of Getty Images; Tug McGraw, courtesy of New York Mets; Victor Espinoza aboard American Pharoah in the Breeders' Cup winner's circle, courtesy of Santa Anita Park.

Are you Game? What's your all-time favorite sports comeback moment? Tell us in Comments.
Related
Popular in the Community