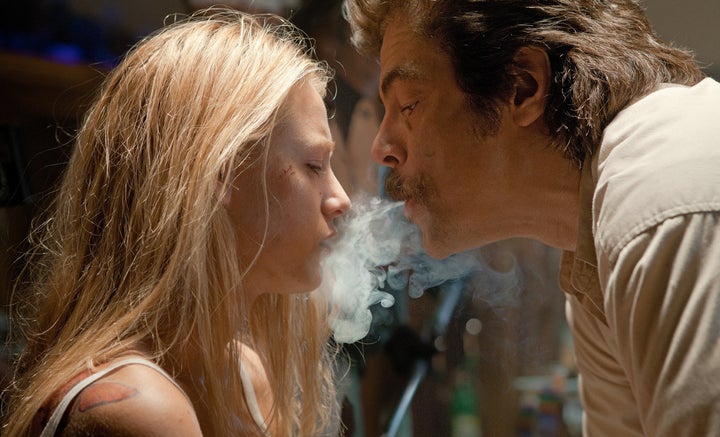 THE KINGS OF COOL *** out of ****
By Don Winslow
$25.00
336 pages; Simon & Schuster
With Savages, author Don Winslow transformed himself from an author into a franchise. Critics and fellow writers had enjoyed his playfully funny and brutal crime novels like The Winter Of Frankie Machine for years.
But Savages pulled out all the stops. Winslow rolled the dice on every level with sexy, smart characters; short, sharp, shocked chapters; dips into the screenplay form (because everyone thinks in terms of movies now); and even goofing around with punctuation and spacing, letting a thought
slide
down
a
page
until it hit the punchline.
Get it? Stephen King compared it to Butch Cassidy and the Sundance Kid (see, a movie!) and no wonder.
The story centered on two guys and a girl: Ben, Chon and Ophelia, aka O. Ben is a super-smart liberal, Chon an ex-military conservative, O a child of privilege and they're all living the high life. Literally.
Ben and Chon serve up primo marijuana in as many flavors as Ben & Jerry's, with Ben doing social work in Third World countries on the side for his karma and Chon always ready to dish out violence because turning the other cheek gets old fast in the drug trade. In Savages, they found themselves facing off against a Mexican cartel that not only wanted their turf but insisted the lads come work for them. It skittered to a memorable finale, and if the Oliver Stone movie is half as jazzed up on their sexy fatalism, it could be a blast and bring Winslow even more fans.
They would do well to start with this prequel, The Kings Of Cool, before reading Savages or seeing the movie. It has all the snap and savvy of Savages but with even more ambition and heart. Here we get the origin story of Ben and Chon and O, along with flashbacks to the '60s for the origin story of the drug trade in California. As is only hinted at in Savages, this involves their parents to a surprising degree.
Surfers, free love, messed up parenting, communes, therapy and more all combine to propel first the parents and then the children into drug dealing. Winslow also artfully shows how the game changes along with the drugs: the mellowness of pot slides into the trippy-ness of acid which burns into the stinging nastiness of cocaine. The money gets bigger, the stakes get higher and the violence turns from an off-screen flirtation into a live-in lover.
Savages was fun but The Kings of Cool has more emotional weight. Parents betray -- or, worse, simply fail -- their children. Children must decide whether their loyalty lies with biology or those they've bonded with. And the multi-generational arc of the story (we go back and forth in time throughout) shows Winslow's ambitions have risen along with his success. From watching Ben seduce a federal agent into becoming his paid informant to watching O literally seduce first one and then the other dude of her dreams, we are entranced.
Winslow even humanizes a beautiful gold-digger named Kim, showing the drive and determination it takes to leap from dismal trailer park to dissatisfied trophy wife. Winslow himself has probably just pulled off the same trick: graduating from well-reviewed writer to a name brand author who delivers the goods. Let's hope they don't share the same fate because in Winslow's world, ambition -- even ambition spiked with good intentions -- almost always proves fatal.
BOOKS I'VE READ SO FAR IN 2012
1. The Underneath by Kathi Appelt ***
2. Jack Holmes and His Friend by Edmund White ***
3. The Last Unicorn by Peter S. Beagle **
4. Fun Home by Alison Bechdel ***
5. Death Walks In Eastrepp by Francis Beeding ***
6. Luminous Airplanes by Paul La Farge ***/
7. The Professionals by Owen Laukkanen ** 1/2
8. Unterzakhn by Leela Corman **
9. The Child Who by Simon Lelic ***
10. Hinterland by Caroline Brothers ***
11. The Yard by Alex Grecian *** 1/2
12. The Alienist by Caleb Carr ***
13. On The Wings Of Heroes by Richard Peck *** 1/2
14. A Princess Of Mars by Edgar Rice Burroughs *
15. The Gods Of Mars by Edgar Rice Burroughs **
16. The Warlord Of Mars by Edgar Rice Burroughs ** 1/2
17. Undefeated: America's Heroic Fight For Bataan and Corregidor by Bill Sloan ** 1/2
18. Stoner by John Williams ****
19. The Sisters Brothers by Patrick DeWitt *** 1/2
20. The 500 by Matthew Quirk **
21. The Age Of Innocence by Edith Wharton ****
22. The Alienist by Caleb Carr ***\
23. Crispin: The Cross of Lead by Avi **
24. Rogue Male by Geoffrey Household ***
25. The Perks Of Being A Wallflower by Stephen Chbosky **
26. Traitor's Gate by Avi ** 1/2
27. Cogan's Trade by George V. Higgins ***
28. 2312 by Kim Stanley Robinson *** 1/2
29. The Twelve Rooms Of The Nile by Enid Shomer ** 1/2
30. Bring Up The Bodies by Hilary Mantel *** 1/2
31. In One Person by John Irving **
32. A Million Heavens by John Brandon ***
33. The Case Of The Deadly Butter Chicken by Tarquin Hall ***
34. Seward: Lincoln's Indispensable Man by Walter Stahr *** 1/2
35. The Kings of Cool by Don Winslow ***
36. The Case of The Missing Servant by Tarquin Hall ***
37. Savages by Don Winslow ***
38. The Case Of The Man Who Died Laughing by Tarquin Hall ***
39. Alif The Unseen by G. Willow Wilson ** 1/2
40. I Am Spartacus: Making A Film, Breaking The Blacklist by Kirk Douglas ***
41. Showdown At Shepherd's Bush by David Davis ***
42. The Trillion Dollar Meltdown by Charles R. Morris ***
43. The Age Of Miracles by Karen Thompson Walker ** 1/2
44. Mrs. Robinson's Disgrace: The Private Diary Of A Victorian Lady by Kate Summerscale ** 1/2
Thanks for reading. Michael Giltz is the cohost of Showbiz Sandbox, a weekly pop culture podcast that reveals the industry take on entertainment news of the day and features top journalists and opinion makers as guests. It's available for free on iTunes. Visit Michael Giltz at his website and his daily blog. Download his podcast of celebrity interviews and his radio show, also called Popsurfing and also available for free on iTunes. Link to him on Netflix and gain access to thousands of ratings and reviews.
Note: Michael Giltz is provided with free galleys and/or final copies of books to consider for review.
Popular in the Community