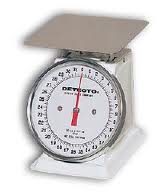 In the United States, we generally use cups and teaspoons/ tablespoons to measure our ingredients. However, using a scale to measure your ingredients is far more precise. Lately, a lot of people have been asking me about substitutions in my recipes either because they can't tolerate one of the flours that I work with or because they just want to experiment. I'm all for it. However, if you've ever tried substituting in baking, you may have found that you can't always successfully substitute one flour for another. This is because most flours have different weights, which affects the outcome of the recipe. So, I'm going to list a few of my favorite flours and their weights. Once you pick up a good kitchen scale, you can go to town playing with all of your favorite allergy-free recipes. Have fun!
1 cup sorghum flour= 3.9 ounces
1 cup millet= 3.9 ounces
1 cup Bob's Red Mill All-Purpose Baking Flour= 5.4 ounces
1 cup superfine white rice flour= 3.5 ounces
1 cup potato starch= 6.2 ounces
1 cup potato flour= 6.2 ounces
1 cup quinoa flour= 4 ounces
1 cup garbanzo flour= 4.1 ounces
1 cup tapioca flour= 3.7 ounces
1 cup buckwheat flour= 4.4 ounces
Calling all HuffPost superfans!
Sign up for membership to become a founding member and help shape HuffPost's next chapter