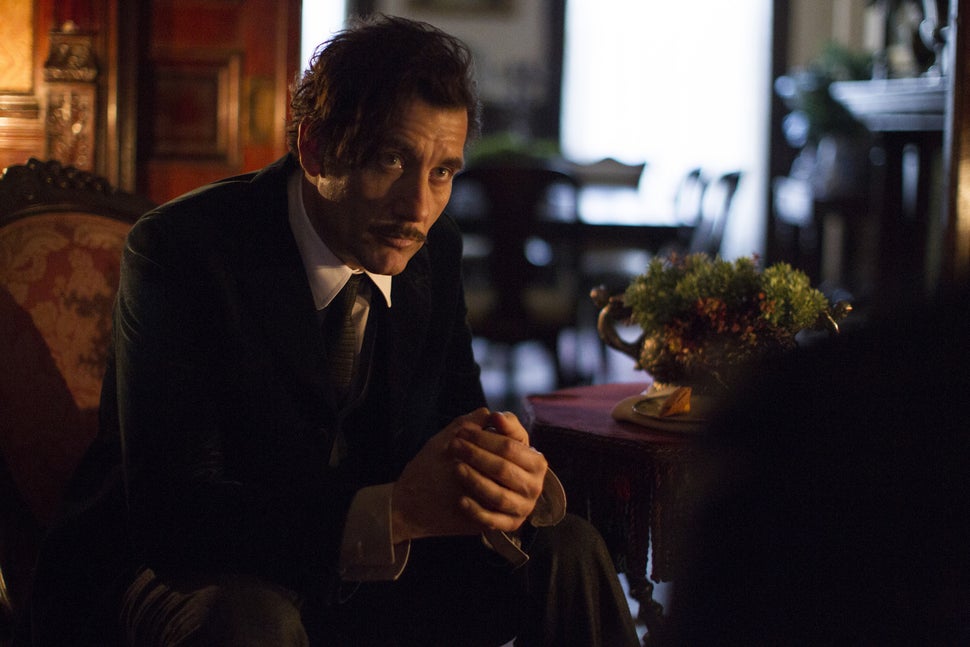 When we last saw the Knickerbocker Hospital, the year was 1900, the Gilded Age was in its final days and everything was in shambles. Botched experimental procedures, bloody street fights and an impending relocation all threatened the stability of the titular establishment in Cinemax's acclaimed drama, "The Knick."
But as the show's second season opens in 1901, a slight air of optimism has set in. The hospital's chief of surgery, Dr. John Thackery (Clive Owen), has landed himself in rehab for cocaine dependency, and African-American Harvard grad Dr. Algernon Edwards (André Holland) has assumed his duties. That shift alone has calmed Knickerbocker -- at least temporarily. 
"There are fewer deaths, they're making more money, they're able to see more patients, people are smiling at each other occasionally," Holland told The Huffington Post. "Things have been going great."
Things have been going great for "The Knick" offscreen, too. What began as a gamble for Cinemax quickly became one of television's most celebrated, if under-watched, series last year -- a victory for a network that built its identity by airing old movies and late-night pornography. When "The Knick" was greenlit in 2013, Cinemax had yet to lure the level of top-shelf film talent seen on network brethren like HBO and Showtime. But Steven Soderbergh, a three-time Oscar nominee best known for the "Ocean's" trilogy and the influential 1989 indie "Sex, Lies and Videotape," had just retired from making movies, which gave Cinemax its first resident auteur.
The bet has paid off. Soderbergh collected an Emmy nomination for his directing in July, and the cast was effusive when we sat down with them for a series of interviews in New York ahead of the Oct. 16 premiere.
Owen and his cohorts told HuffPost that the multi-tasking director -- who also writes, shoots, edits and produces every episode -- devised a peculiar method for making Season 1 that's back in action this year. Rather than prepare one week at a time, actors receive scripts for all 10 hourlong episodes at once (approximately two weeks before production begins, in the case of Eve Hewson, who plays Nurse Elkins). They then shoot the season based on locations, meaning everything is captured out of order -- a piece from Episode 2 here, a bit from Episode 9 there. Taking a cue from Soderbergh, Owen and Holland maintain boards where they plot out the shooting sequence. For movie stars accustomed to making two-hour films, "It's a lot to carry in your head," Owen said -- especially when your character is battling fluctuating degrees of intoxication.
Having medical adviser Stanley Burns on the set to confirm the show's historical accuracy helps, as does working for someone as meticulous and seasoned as Soderbergh, who rehearses with the actors and is known for capturing scenes in an impressively minimal number of takes. The set of "The Knick," filmed in New York City, is a 360-degree panorama built with practical lights and elaborate furnishings for heightened reality. It's the closest the actors can get to a functioning hospital, allowing Soderbergh to film coverage from any angle he desires via a handheld digital camera. The costume drama's lavishness is hardly the result of post-production work, either -- after all, the makers favor prosthetics to CGI when it comes to surgery scenes.
The actors swear the process isn't as maddening as it seems. "When we go to shoot, you've learned the script so much and you've thought about it so much that you know where your character is going to be mentally, so it's not that hard to jump in and out," Hewson explained. "You have to think of it like you're doing a play. Say you're playing husband and wife and you develop this history with the other actor where you've had this relationship before, but you only see it from the starting point of the play. If you're shooting out of sequence and you haven't shot some scenes that are leading up to that scene, you just have to use your imagination."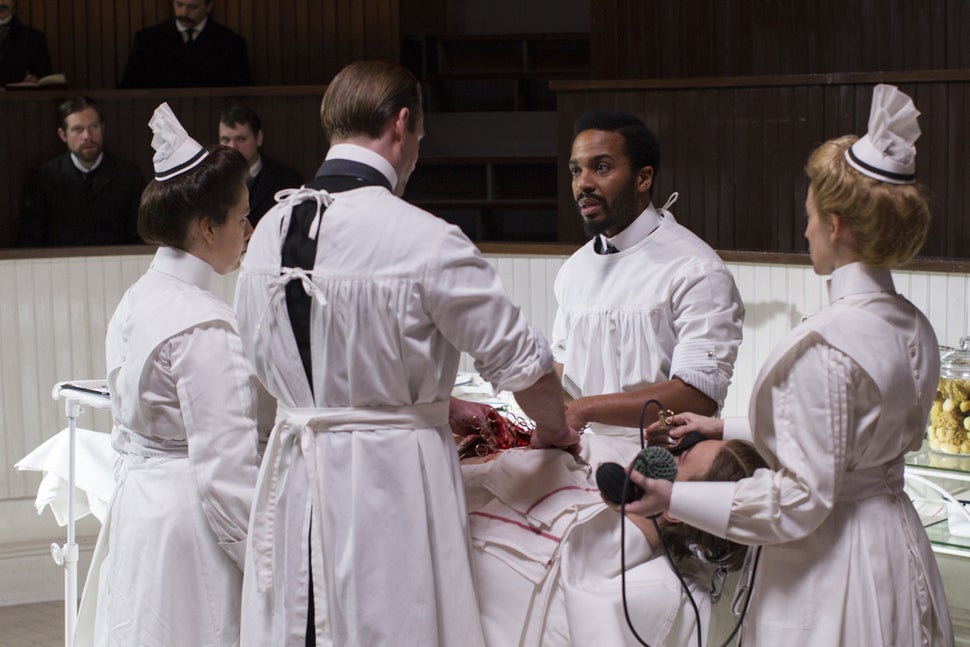 As swimmingly as things have gone behind the scenes, the bliss seen inside The Knick at the dawn of Season 2 is short-lived. Thackery is more strung-out than ever after his cocaine penchant is treated with heroin (then seen as an antidote), while the hospital's board is determined to find a more suitable (read: white) candidate for Edwards' position and the young doctor Bertie (played by Michael Angarano) must contend with his unrequited love for Nurse Elkins. Without being preachy, "The Knick" doubles as a constant reminder of how far medicine has progressed since doctors neglected to wear gloves and eye surgery required a needle straight to the socket, as seen in an early episode of the new season. And yet, the image of Season 1's race riots is a searing reminder that, in some regards, we haven't come very far at all. 
"It's sad that after the last 100 years, we're still here in 2015 dealing with this same shit," Holland said, calling it a "real honor" to depict the early 20th century's unrest. (His characters faced similar struggles in the Jackie Robinson biopic "42" and the Martin Luther King Jr. biopic "Selma.") "In Episode 7, there's a misunderstanding, let's call it, between a black man on the street and a police officer, which turns into a riot and ends with black people being hunted in the streets. And then you turn on the TV six months ago and we see things that aren't so different form that, with Ferguson happening and Baltimore and all over the country. Parts of this show could have been written tomorrow." 
Despite so much of contemporary popular culture probing h0t-button social issues, there may be no television program that does it with such a fine-tuned hand. The attention -- or lack thereof -- paid to women's reproductive rights is another of the show's most frequent undercurrents. It would nice to say we don't encounter such battles today, but Hewson, the daughter of Bono, noted that Ireland, her native country, still doesn't permit abortions, while a significant faction of our own government longs to defund Planned Parenthood.
"It's still a huge issue in the developing world, but just think: Women were dying while giving birth so much and so frequently," Hewson said of the time period depicted on the show. "The doctors were really just improvising at the cost of people's lives. It makes me think, 'Oh, God, are the doctors that I go to improvising?' They could, in 100 years be like, 'Those idiots had iPhones and they were frying their brains all day long and they had no idea.' It's terrifying when you think about that."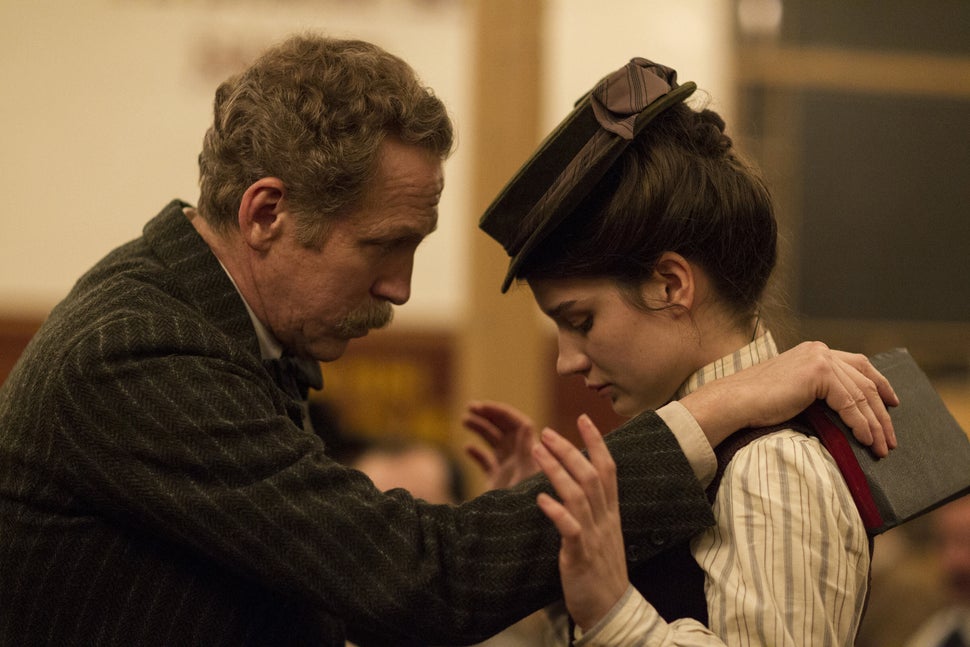 As for Thackery, we'll see him attempt to get clean this season. After leaving rehab, he has the idea to research addiction, a foreign concept in 1901 that has since morphed into its own unfortunate stigma. (Cue the requisite experimental lobotomy, Owen teased.) Surely scrutinizing the very substance that prompted Thackery's spiral can't end well for the erratic junkie. And anyway, is his endeavor slanted toward bettering society's afflictions or nabbing the Nobel Prize he's been eyeing? (What a Don Draper-ish question to pose, even if Owen said he hasn't watched "Mad Men.")
Amid grisly medical procedures (Holland promises one in the final episode will make Season 1 "look like a romantic comedy") and appalling identity politics, the new season of "The Knick" raises many of the same quandaries: altruism vs. fame, ethics vs. pragmatism, self-will vs. societal prerequisites. Even with all these disparate threads, it remains, at its heart, a character study centered on one man who, in Owen's words, has gone "from bad to worse" in spite of his immense medical skills. That structure aligns "The Knick" with "Breaking Bad," "Mad Men," "The Wire" and other dramas that have defined television since the start of the new millennium. We root for Dr. Edwards and Nurse Elkins throughout their oppression, but we're left to reckon with our feelings for Thackery, and that is when the series is at its most gripping. He is still unbridled arrogance -- and, to some degree, you love him for that. But you know things at The Knick can't get better, not entirely, given how entrenched they are in the period's naiveté. Thackery's road is dim in Season 2, but he'll find his own imprudent light to turn on. We have Soderbergh's enterprise to thank for that journey.
"The whole thing of playing him as a character is a high-wire act," Owen said of Thackery. "There's no question."
"The Knick" airs Fridays at 10 p.m. EST on Cinemax. You can catch up on Season 1 via MAX Go or HBO Go, as HBO owns Cinemax.
PHOTO GALLERY
Wild X-Rays And Medical Photos
For a constant stream of entertainment news and discussion, follow HuffPost Entertainment on Viber.
REAL LIFE. REAL NEWS. REAL VOICES.
Help us tell more of the stories that matter from voices that too often remain unheard.