In honor of Israeli Independence Day, some reflections on my search for an ancestral food in the Jewish homeland.
Israel, on my first visit in 1994, was teeming pitas, tomato-and-cucumber breakfasts and fresh-squeezed Jerusalem juices. (How did they pull milk from plump shriveled dates?)
At my cousins' house, Cohava shuttled cutlets and salads of cucumbers, beets and zucchini to the porch and introduced each dish in French, easier for me to understand than Hebrew. Her husband asked me questions about each branch of the family tree. Yiddishized words got untangled and enunciated. Family was not mishpoche, but mish-pa-CHA. Even coziness sounded gruff.
Outside the suburbs of Haifa, at Kibbutz Ramat Yochanan, I worked behind the scenes in the dining hall. The Egyptian-Jewish cook thumped smoke flavoring from industrial containers to a plastic vat of eggplant innards. More smoke flavor. More. More. Babganush, I later learned, was called hatzilim or eggplants in Hebrew, which sounded like haloutzim or pioneers. Each time I went back to Israel, the food and the people became less foreign. I learned words for soft cheese, pastries and drinks. Café hafouch, upside-down coffee, seemed to make the most sense: a foamy latte with a definitive band of white.
Still, I could not find a cornerstone of my culinary upbringing. The knish seemed to be as absent from Israel as the Yiddish language. Janna Gur, editor of the Israeli food magazine Al HaShulchan (On the Table), confirmed some of my suspicions in an e-mail:
"Indeed knishes are quite rare here. Your best bet would be Bnei Brak and Mea Shearim Quarter in Jerusalem, time capsules of the Eastern European Shtetl. There are quite a few delis that sell Ashkenazi classics, including knishes."
On a trip to Warsaw I found a through line to the Israeli knish. At the Singer Festival for Jewish Culture, I sat next to a Polish-born Israeli woman who told me her aunt had played the Yiddish theater in Poland and later baked knishes in Tel Aviv.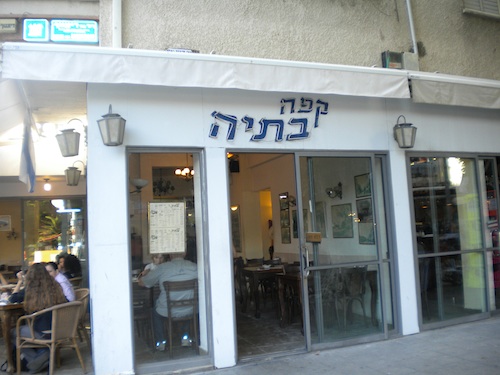 Bella Sherman, 87, arrived in Israel in 1948, and started working at Café Batya, an Ashkenazi-style restaurant that predated the founding of the Jewish state. She remembered that Batya's husband hid weapons from the Haganah (the Jewish paramilitary organization during the pre-statehood times of the British Mandate of Palestine) in cauldrons in the kitchen. Bella worked there for seven and a half years and remembered the knish recipe:
"The dough has to be elastic, if the flour is too dry, you add some water to it," she told me. "You knead the dough, make it as thin as a table-cloth, that's what we call it too, "a table cloth of dough" (mapat batzek in Hebrew) then you put the meat, not at the center but all around, then use a glass to press around it... the size depends on what you fill it with."
Guidelines and traditions that gave way to improvisation. And so my relationship with Israel: different forms, shapes, aftertastes and emotions that run the gamut from hot to cold to lukewarm. But, always, a gut feeling.
REAL LIFE. REAL NEWS. REAL VOICES.
Help us tell more of the stories that matter from voices that too often remain unheard.