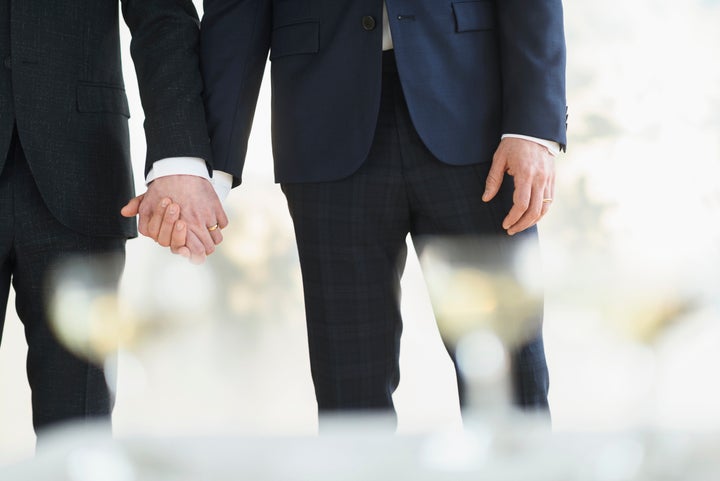 Texas couple Aaron Lucero and Jeffrey Cannon had just begun their wedding venue search when they got an unpleasant surprise: The owners of their first choice, The Venue at Waterstone, emailed to say they shouldn't bother visiting because a gay wedding would be against God's "plan and design for marriage."
While Texas law doesn't prevent discrimination based on sexual orientation, this refusal of service was still "like a punch to the gut," as Lucero told Out last week. The couple had made their list by searching popular wedding planning site The Knot, and the Venue at Waterstone did not indicate the owners' LGBTQ ban in its listing. Lucero and Cannon, like other couples who have experienced similar rejections, say they'd like venues and wedding websites to do more to protect them.
"Our prayer is that God will one day open your hearts as well so that you will be able to welcome all of His children into your beautiful venue," Cannon wrote in a reply to Waterstone owner Lyle Wise, which Lucero shared in a tweet. "It may not come until you have a loved one that is LGBT and is able to convince you that this is not a choice, as was the case with my family. Until that day comes however, we would petition you to please make your faith known to the public on your website and with theKnot.com so that other same sex couples do not have to go through the same rejection that we have gone through with you."
Wise shared his side of the story with the local NBC affiliate via a statement further explaining why he won't hold a gay wedding. "We are a family of believers. We love all people because Christ first loved us; Jeffrey and Aaron included. We cannot violate the convictions God has placed within us. In love, we would never affirm anyone in something that was to their detriment."
As a result of Lucero and Cannon's experience, The Knot removed the venue's listing. Last year, after the Supreme Court issued its limited ruling in favor of the Masterpiece Cakeshop, Mike Steib, CEO of The Knot parent company the XO Group, took to social media to reiterate the company's anti-discrimination policy, writing: "Our terms of service on The Knot prohibit vendors in our marketplace from discriminating against couples based on their race, religion, or sexual orientation. When we learn that a vendor has violated these terms of service, we will remove the vendor's storefront and refund his or her money. We love our couples, and all of our couples deserve a marketplace free of unfair prejudice."
Still, as Out reports, many people planning their wedding have complained that the site only takes down these vendors after people report being discriminated against. Lucero and others would like the site to take a more proactive approach, which would set an example for the rest of the wedding industry.
"Yes, they have these little badges for LGBTQ+ friendly vendors but you can't filter for that," Lucero told Out, also saying he cried all day after receiving the email from Wise and wound up canceling two other visits to venues who later disclosed their own anti-LGBTQ policies. "So the onus is also on The Knot because they can do something to change the experience for gay couples."
LGBTQ couples do have other options for their wedding search. Sites such as Love Inc., Rainbow Wedding Network and Pridezillas promise listings of vendors that support marriage equality. If couples want to go beyond those listings (something that might be necessary for people who live in smaller towns, for instance), Love Inc. founder Brittny Drye shared some tips on The Knot for sussing out whether a vendor is open to serving them. She recommended looking at photos of past client weddings, browsing their social media accounts for clues, and searching for gender-inclusive language on their site.
"Read their 'about me section' — are they speaking directly to brides who are marrying grooms, or is their language gender neutral?" Drye wrote. "If they have a form for you to fill out, does it give gender options or does one of you have to volunteer to be the bride?"
Those who haven't experienced discrimination like this might wonder what the big deal is and why couples can't just brush off these rejections and move on to another vendor. Jennifer Pizer, the law and policy director for Lambda Legal, explained to Yahoo Lifestyle last year how harmful and devastating it is to people to have a constant fear of being turned down.
"Everybody needs to know they can walk into a place of public business and be served," Pizer said. "Nobody needs to worry about having the door slammed in their face just because of who they are, and have to go from place to place wondering where they might be served and where they might be treated like a pariah."
Popular in the Community