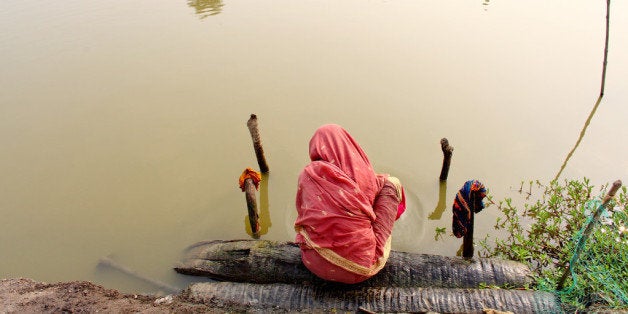 For those of us working towards ending poverty in the developing world, the issues swirling around the debate on climate change can be challenging. There are of course a small handful of skeptics who remain resolute in the face of the overwhelming evidence and scientific consensus. However for those of us who have little doubt that changes in climate are happening there is still a high degree of uncertainty about exactly how a warming climate will impact on our lives and in particular on the lives of the most vulnerable.
Scientists can predict, for example, that cyclones, droughts and other extreme weather events are likely to occur more often due to our warming planet, but cannot currently conclusively attribute any of these individual events to climate change.
This can make it more difficult to persuade decision makers and individuals to take action on both urgently cutting carbon emissions and helping vulnerable communities to become more resistant to the impact of climate change.
One area where we can be more certain is around the economic impact of moving to a low carbon economy. As the co-chair of the Global Commission on the Economy and Climate, Lord Stern, recently positively reported, "If we choose low-carbon investment we can generate strong, high-quality growth -- not just in the future, but now. But if we continue down the high-carbon route, climate change will bring severe risks to long-term prosperity."
What we also know is that the impact of climate change will be felt most by the very poorest communities in this world in the form of droughts, floods and changing weather patterns. Drinking water risks being contaminated with salt water and human waste in times of flood and rising sea levels and it becomes harder to reach in times of drought. This is why I was invited as Chief Executive of WaterAid to speak on the UN General Assembly's Climate Science Panel this week.
In our work in Sub Saharan Africa and South Asia we see the impact of drought and floods on poor communities -- water tables dropping, shallow wells drying up and flood water contamination. Action is needed to help these communities to adapt to current changes and action is needed to mitigate against the impact of future disasters -- we cannot wait until the science can tell us exactly how lives will be effected because for many communities that may well be too late.
From Bangladesh to Ethiopia, many of the communities we work with are already trapped in vicious cycles of poverty because they live in some of the most variable and difficult climates on earth. The idea that life could get even harder for them under an increasingly unpredictable climatic future is truly frightening.
As an organization, we are adapting how we work to take into account increasing climate variability and to ensure that we help communities in becoming more resilient to current and future impacts of climate change.
Back in 2009, when the devastating cyclone Aila hit the southwest coastal zone of Bangladesh, ten year old Shusmita Mandal was living in Koira District with her father. Her mother had tragically died 18 months earlier during cyclone Sidr, and the family was struggling to survive on their father's agricultural wage of less than $1.25 a day. They were therefore extremely vulnerable when the second cyclone hit.
Cyclone Aila forced Shusmita and her father to leave their home and take shelter on an embankment, along with 600,000 others. Lacking access to clean drinking water, sanitation and education, their next two years were spent on the edge of existence.
Finally when they were able to return home they discovered that the salt water that had flooded the local area had made growing food impossible. Shusmita's father struggled to find work and Shusmita had to travel more than 1km from her home to find safe drinking water.
WaterAid is working hard to support Shusmita and her community in rebuilding their lives. We are working with local partners and the local government to rehabilitate the water, sanitation and hygiene facilities using technologies such as raised latrines and raised hand pumps that are more resilient to extreme weather events.
At the same time, we have supported local committees and school clubs to educate, raise awareness, improve planning and build capacity for adaptation and reducing the risk of the next extreme event. Now 15, Shusmita, is working with her community and local government to demand better flood protection.
This week's Climate Change Summit could not be timelier. 2015 will be a huge year for international cooperation on climate and development. All UN member states are working towards a series of internationally agreed Sustainable Development Goals to be agreed next September. And soon after, countries will gather in Paris to conclude crucial climate change negotiations.
The clock is now ticking on both these processes. We are urging the international community in New York at the UN, to think about the needs of the world's most vulnerable citizens and to show the leadership needed for a more equal, stable and prosperous future for all. A future where poverty is indeed eradicated by 2030 and where everyone has access to safe water to drink and sanitation.
This post is part of a month-long series produced by The Huffington Post in conjunction with a variety of events being held in September recognizing the threats posed by climate change. Those events include the UN's Climate Summit 2014 (that was held Sept. 23, 2014, at UN headquarters in New York) and Climate Week NYC (Sept. 22-28, 2014, throughout New York City). To see all the posts in the series, read here.
REAL LIFE. REAL NEWS. REAL VOICES.
Help us tell more of the stories that matter from voices that too often remain unheard.