I never intended for this to become an annual tradition, writing about the Kona Ironman Triathlon every fall. But every year I return to this event to volunteer as a lifeguard, and every year I come away with a story I want to tell. This year it is Lisa Hallett's story.
As I was preparing to fly to Hawaii a few weeks ago, I read Lisa's story in my local paper, The Seattle Times. In fact, I carried that paper onto the plane with me. I told the story to my wife and then retold it again to the friend who picked us up at the Kona airport. Lisa's story was staying with me.
In August 2009, Lisa Hallett's husband, Captain John Hallett, was deployed in Afghanistan. The couple had a toddler and an infant -- both boys -- and Lisa had given birth to their third child a few weeks earlier. Her husband had not yet met his daughter. The story took a tragic turn: Lisa's husband was killed -- as were three other soldiers -- by an improvised explosive device. They had been delivering medicine to a local village.
As part of her grief process, Lisa became a dedicated runner and began to run marathons. Needing a greater challenge, she started training for triathlons and Ironman competitions. She also founded an organization with another military spouse called wear blue: run to remember. Originally a local group that took root in the communities surrounding Joint Base Lewis-McChord in western Washington, the organization now has chapters throughout the U.S. Their mission? To build running communities that honor the service and sacrifice of the American military.
A couple of days before the Kona Ironman, I drove to the airport to pick up my son, Kyle, and his family, who were joining us for the week. Kyle would also be lifeguarding; it was his first year as a volunteer. Kyle immediately started telling me about a woman on the plane. She had been traveling alone with three young children. Kyle and his wife wondered if perhaps this woman's husband was competing in the competition and was she was flying in with the children to cheer him on. At baggage claim -- everyone milling about and marking time -- Kyle found the opportunity to ask about it. "Is your dad competing in the Ironman?" he asked the oldest child. "No," the young man replied, "My mom is." Polite conversation took place between the two families while all collected their bags. There were waves goodbye and well wishes as they parted ways. Kyle pointed the woman out to me as I loaded luggage into the trunk. She looked familiar...
I wondered if the woman was Lisa Hallett, whose story had so impressed me just days earlier. I showed Kyle the newspaper and he agreed it was her. We all decided then and there that Team Bland would show support for Team Hallett and for wear blue: run to remember. Each competitor in the Ironman wears a GPS device, allowing followers of the competition to track individual athletes. This provided us with a way to watch Lisa's progress during the Ironman.
The day of the competition arrived. The swim is the first event, and so Kyle and I were finished with our responsibilities early. At mid-day, we checked online and saw that Lisa was approaching her transition to the final leg of the competition: the marathon. We piled into our car, drove to the route, and found a place among the many spectators gathered along the streets of Kona. We spotted a large contingent of people nearby wearing blue and inquired if they were there to support Lisa. They were not -- they did not know her -- but immediately joined us when we explained our plan to cheer Lisa on.
Within minutes, we saw Lisa making her way down the course. Her concentration was intense, and she appeared tired. My family does not lack either enthusiasm or vocal power. We whooped and hollered and screamed her name. She looked up -- surprised -- and broke into a huge smile. It was a great moment for us, and then Lisa continued on with her journey.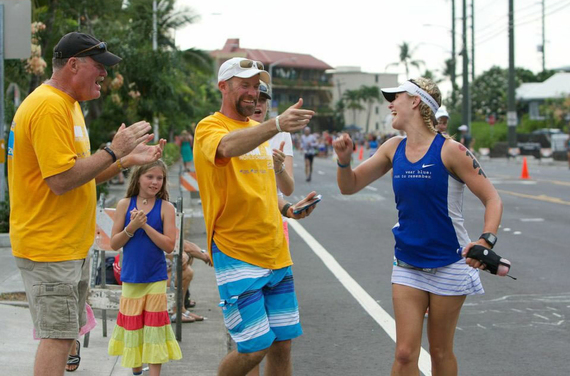 The Bland family is on the left. Lisa Hallett of wear blue: run to remember is on the right.
Once again we left the course and headed home. Hours later, Lisa's GPS indicated she was getting close to the finish. My family looked around at one another. My young granddaughters jumped up with resolve. I was impressed -- it had been a long day and surely they were tired. On any other day, they would have been preparing for bed. But this was not any other day, and once again we headed to the car.
The finish area at the Kona Ironman is chaotic. The crowd of supporters waiting to greet the athletes as they cross the line is deep, and getting close is no easy matter. It was dark now, and late. From a distance, we watched as Lisa crossed the line and completed the course. Her smile -- now meant for everyone there who was sharing her moment -- was once again big. Her message -- wear blue: run to remember -- lit up on her shirt in the glare of the bright lights. Somewhere in the crowd, her own family enveloped her. We cheered for Lisa, we hugged one another, and made our way home one last time.
The Kona Ironman is over for another year. It is one of those events that dominate everything and everyone for an intense but short window of time. And then it all disappears from sight, packed away for another year. The route is disassembled and the town put back together now. Athletes, spectators, volunteers -- we've all dispersed and resumed our lives. My son had Lisa's email address and we reached out to her after the race with our congratulations. This week, we received a most extraordinary reply from Lisa, who gave me permission to share both her story and her words.
It was so comforting to have your family's encouragement leading up to the race and your eyes on me in the swim. Even more, all the support your family brought to the course on race day was humbling.

When John died, I had no idea how I was going to make it without him, from a single mother with three children under three years old, to just me existing without my best friend, my encourager, my stabilizer, my everything. Two and a half months after John died, I ran the Seattle Marathon. I remember desperately clutching my cell phone at the finish line, waiting for John to call, to congratulate me on finishing the race, and dissolving into tears when I realized that John was not going to call. John had died, and that call was never going to come through. Five years later, there is still a piece of me at each race that forgets, that is still clinging to the hope that maybe John will call this time. That he will find his way through some long morale line from some unspoken location of deployment, and call and say that he loves me and is proud of me. It's foolish because I know better, but I'm still always disappointed when that call doesn't come through.

Despite this twinge of disappointment, I have been far from alone in this journey. It has been incredible to see the people, like your family, who have been placed in my life. Thank you for being a part of my family on race day, from making sure I was safe on the swim, to the encompassing cheers that pushed me through 140.6.
I am amazed at how profoundly a single day in October affects me each year, and this year affected my family as well. Congratulations to all of the Ironman participants, not only for your athletic accomplishments, but also for your ability to inspire us all. Lisa's organization is wear blue: run to remember. It is a support network, a living memorial, and community-building organization. Learn more about how to support this important mission at www.wearblueruntoremember.org.
Popular in the Community