US infrastructure is in a desperate state. The Senate Budget Committee references a 2013 study , "Report Card for America's Infrastructure American Society of Civil Engineers (ASCE)," that estimates roughly $3.6 trillion in total investment is needed by 2020 to return the nation's facilities to good repair, which ASCE defines as safe and reliable with minimal capacity issues and minimal risk. The Report Card assigned a classroom letter grade to our overall infrastructure, pegging our national performance at a "D+." Our schools, roads, and dams, as well as our wastewater, transit, hazardous waste, drinking water, and aviation systems received a "D." But in Southern California, hiding in plain sight, is perhaps one of the most underappreciated public-private-partnership efforts to leverage the Los Angeles River as community infrastructure.
The Los Angeles (LA) River is likely not the first association that comes to mind when you think of Los Angeles but the history of the LA River predates Los Angeles, going back more than 1,000 years. For centuries it anchored Native American communities for the Gabrielino Indians and the Tongva as well as European populations. The areas encompassed much of present-day Los Angeles and Orange Counties, including Santa Catalina, as well as parts of San Bernardino and Riverside Counties. The 1800's was marked by a Los Angeles River course change and significant flooding which continued into the 1900's. The recurrent flooding, particularly a flood in 1914 which caused $10 million in damages throughout the developing basin, spurred the creation of the Los Angeles County Flood Control District a year later. After two more destructive floods in the 1930s, Federal assistance was requested and the Army Corps of Engineers took a lead role in channelizing the River. Channelization began in 1938, and by 1960, the project was completed to form a fifty-one mile engineered waterway. But after decades of neglect and disinvestment, attention and resources are once again focused on the waterway. A 2015 LA Business Council Institute Report, "LA's Next Frontier: Capturing Opportunities for New Housing, Economic Growth, and Sustainable Development in LA River Communities" states,
"The Los Angeles River revitalization presents a unique opportunity to develop underutilized land and build new transportation connections, creating a cohesive series of sustainable, thriving, equitable communities throughout Los Angeles County. Successful redevelopment along the river will be a key component of the region's sustainable growth strategy for years to come."
River LA, formerly known as the Los Angeles River Revitalization Corp, was established in 2008 by the Los Angeles City government and served as an Advisory Committee member for the report. The new brand officially launched this month and the evolved brand identity is intended to evoke a simpler sense of community, connection and inclusiveness for the region along all 51 miles of the river not just Los Angeles. Also, dropping "revitalization" is simply good branding practice i.e. the old name was hard to say too long to remember and LA River Corp was easily confused with US Army Corps of Engineers.

Historically, rivers moored economic activity and congregated populations so a river or as community infrastructure is not unique. What is different about River LA and their programs is how they and their partners use the LA River as a social innovation lab to test ideas about the socio economic determinants and new models for building sustainable community engagement and growth. One such program is the Rio Vista Parks.
Moving away from revitalization also recognizes that communities need a pathway to discovery, both metaphorically and physically, to the LA River. As outlined by the LA River Revitalization Master Plan, more than 300 streets intersect with the LA River of which many are unmarked. Many of these Rio Vistas are also overgrown, derelict or have unauthorized private encroachments. ("Rio Vistas" are street ends by the LA River which are public rights-of-way that can be transformed for aesthetic, recreational and environmental benefit.) Although derelict Rio Vistas embody the neglect and inaccessibility of the river, it also presents a peculiar opportunity for communities to rehabilitate access to the river.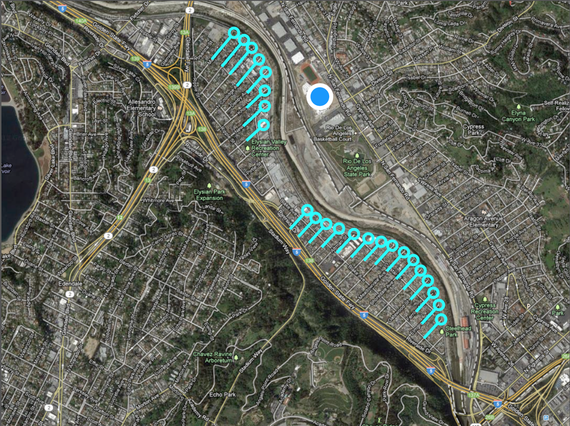 In 2014 River LA teamed up with Glen Dake/Miguel Luna (GDML), NELA Riverfront Collaborative, and L.A. River High School to launch the Rio Vista Park Program (RVPP). (RVPP partners also include the Mayor's Office, the Fourth Council District, the Thirteenth Council District and the L.A. Conservation Corps.) Students, community members, school administrators, and industry professionals came together to design and develop "shovel-ready" projects along the river in Elysian Valley. The L.A. River High School students apply classroom learning towards the design of sustainable projects that convert neglected street ends into "Rio Vista" parklets for public use. Improving street ends will re-orient neighborhoods towards the river, provide access to the existing bike path, and allow for enjoyment of waterfront open space.
Several key components of the RVPP include:
Employing elements of design thinking and visioning derelict Rio Vistas would be viewed as undeveloped assets not burdens
Programming valued Rio Vistas as vibrant platforms not static locations
Community ownership of the program and the process
Crafting a decentralized model loosely mirroring franchising to leverage commonalities and support with room for creativeness on a Rio Vista by Rio Vista level
The RVPP program exemplifies the broader public-private-partnerships model of River LA and the model has not gone unnoticed. RVPP recently was award significant support from The Walt Disney Company of $1million for breaking ground on the first three parklets this month.
Eli A. Kaufman, Director of Communications explained that "River LA wants to ensure that the enhancement of our public infrastructure is designed to serve the greater good - for both people and nature. We believe that this next generation infrastructure is going to take creative public-private partnerships that are driven by transparent data, broad participation, and beautiful design. We are committed to bold public infrastructure that is both functional and elegant, that facilitates the mundane and momentous and that addresses the reality of climate change and liveability in a truly integrated ecosystem."
Who knows perhaps next time you are sitting by a river bank you will look at it in a completely different way.
Related
Popular in the Community