If you consider yourself a true fan of drag, the "Grizzly Kiki" podcast is essential listening. These gals go behind the scenes with not just the queens from "RuPaul's Drag Race" (of which they know several personally, but the chats that they have had with queens like Pissi Myles, Meth, and Fifi DuBois give you a peek behind the scenes of what this true art form is all about. Betty Washburn (Daniel Silva) and Mary Kona (Robert Lechuga) took time away from the mic to chat with me about how they got their own start in drag, what makes "Grizzly Kiki" tick, and what's next for this devastatingly divine duo!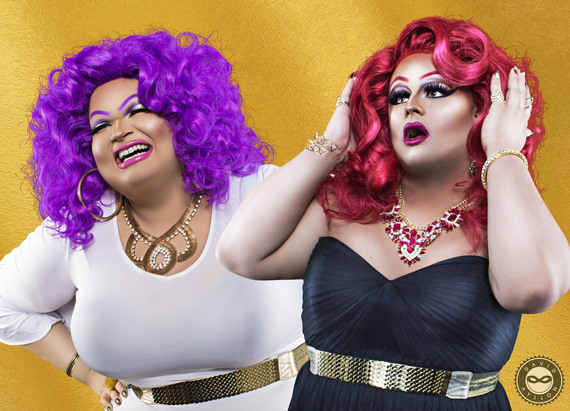 For those that have never seen either of you on stage or out in the clubs, how would you describe your performance look, style, and "drag" as a whole?
Betty Washburn-My performance style is stationary." Since I don't perform very often & am a Puerto Rican born without rhythm, the dancing learning curve is quite steep. I am also still in my drag infancy, so where I will eventually go performance-wise is a mystery. However, while I do love mixes and spoken word, I an more drawn toward songs that I have a deep connection with and prefer to present them in their original form.

Betty started out with a "mother of the groom" aesthetic. At Mary's urging, I purged our closet of "those" dresses and have now embraced a much more body-conscious look. I love prints, colors, and sequins in my drag wardrobe. Stepping out in a look that has a common thread tying it all together is very important to me. Betty is a tribute to my mother, Yvette, who was my best friend and greatest inspiration. When I'm in drag, I try to become that saucy & chic mother of your best friend that you always wished your mom could be like. Betty is my heightened & exaggerated interpretation of my mother, who I truly believe was a drag queen herself!

Mary Kona-Well it feels a little strange describing my performance style, as we rarely get a chance to perform. My goal is to be the poor man's Jennifer Coolidge with a dash of my latinx roots. (I've struggled with representing my latin American heritage through life, so of course that happens in my drag too.) Mostly, I love the identity fraud element. Mary can do whatever she wants because she doesn't exist, kinda like Debbie Salt in "Scream 2".
How did both of you get your start in the extremely competitive New York City drag scene?
Betty-Doing drag came out of supporting Mary when she wanted to jump back into her heels. At first, I felt a little out of place, since it wasn't something I had ever thought of doing, even though I did love drag. However, the power the art form and how it can impact people really inspired me go above and beyond supporting Mary. I am determined to find a place for myself in the drag community. The growth of Grizzly KiKi was a big force behind throwing myself headfirst into drag. As we interviewed more queens, I became even more interested in perfecting the rudimentary skills I had begun to develop. Having the support of these nearly one hundred girls behind us has also been a huge factor. Their encouragement, love, and bookings have pushed me to become a better queen.
Mary-That's a difficult question. I was roommates with ("RuPaul's Drag Race Season Eight Contestant) Thorgy Thor in college, which helped introduce me to a wide variety of queens in the nightlife scene, so people knew me before the podcast as the chubby guy next to Thorgy. Then the podcast started and we've basically just been tricking a bunch of drag queens into adoring us, while we steal their souls, in preparation for world domination.

It's so hard to stand out in New York City and in drag; how have you carved out your own niches?
Betty-Again, it's really all because of the podcast. While we both have our own aesthetics and creative process, it's Grizzly KiKi that has made us known in the New York drag scene. Without trying, we've created a rather large network of queens, performers, and bar patrons who have made it possible for us to be more than spectators.
Mary-It's the podcast. The podcast is our calling card. We've gotten some amazing compliments from Queens who listen to the show, calling it the Inside the Actors Studio of Drag.
What do you both ultimately want to achieve in your careers? Any aspirations to be on "RuPaul's Drag Race"?
Betty-My biggest goal for the next 25 years is to successfully complete a performance where I fully become lost in the moment. I still have my training bra on in many areas of drag, so I want to learn to do everything and be an expert in the things that I love the most. Once I've figured out exactly what they are, I'll get back to you. Oh, the "RuPaul's Drag Race" question (JK!) How could it not be asked? We do it all the time. I'm currently in talks with HGTV & World Of Wonder to host my own home improvement competition show featuring the best Queens we can find! The winner receives a house, property taxes paid for live, and a 5-year supply of Drano (if you've ever washed wigs in your bathtub, you'll appreciate that!)
Mary-I'd love to do more in the way of performance. I just want to be comfortable as Mary. She's still going through puberty, so once the zits clear off and the hormones balance out, she'll be unstoppable. "Drag Race" is off in the horizon, I guess. It's hard because doing recaps and learning background information makes it hard to continue loving the show as a fan. You cannot, however, deny that it's an amazing opportunity and a huge launching pad for a lucrative drag career.
"Grizzly Kiki" is the premiere podcast for fellow rabid fans of drag queens. How did that start? Who have been some of your favorite guests?
Betty-Mary summed it best in her answer. She's a total ham, both in and out of drag, so I'll never tell her who the real star is (ha!) It really was her idea to just start recording the conversations we would have with our friends in our own living room. We quickly left behind recaps of reality shows - other than " RuPaul's Drag Race". Our first interview was only 15 minutes long with none other than the Queen of Shade herself, Miz Jade. After listening to it on loop, we were hooked on the concept and saw the need for Queens' stories to be recorded and shared with the world. Drag is more than dressing up. There's a story behind every queen that led them to the art form and the stories we've been able to access are astounding and inspirational. We've also had the chance to hear from listeners (both fans of drag and queens themselves) how listening to or being on the podcast has affected them. That's when we really understand the importance of what we are doing.
There are so many queens that have been my favorites. The ones that stand out are: Alaska Thunderfuck (I think that she's such a complete package and her love of what she does is a huge inspiration); Miss Coco Peru (she's a Bronx girl like me and I'm mesmerized by her ability to tell stories....and can we talk about that signature Bronx accent?!); Jackie Beat (I love that she embraces being cranky and blunt, but is still one of the funniest and most honest queens you'll ever meet - just listen to "I Invented That," her song with Alaska on "Poundcake." It says it all!); Lady Bunny (She's a legend and just being in her presence was a privilege. She gets the very essence of what drag is and how comedy, even when it's offensive and crude, can alleviate the worst pain); Sister Roma (She has the most soulful eyes I've ever seen. Talking with her face to face during our interview was like being on another plane of existence. She is a queen who has not just seen the landscape of queer culture change, but has placed an active role in its advancement.) I could give you more with detailed reasons, but I don't think you have enough space on HuffPost's server for all of that. So, here are some more: Peaches Christ, Joey Arias, Pissi Myles, Krystal Something Something and, of course, MIZ JADE!
Mary-Grizzly Kiki started because of my selfish want for stardom. I wanted to start a podcast, but didn't know what to talk about, so one night after watching " Drag Race" season 6 with Miz Jade and our friend Marcus, I propped my phone up and we started a conversation about the episode. It was such a lazy beginning, but it started this huge project that has taken over our lives. As a result, we have been privileged to meet some of the most amazing artists, which makes it hard to choose a favorite. My stock answer is Alaska Thunderfuck, because I never thought I'd be so lucky as to have a conversation with her, much less have her number in my phone. She has been immensely generous to us, so duh. But there are so many amazing girls who have spent an hour or more with us. Lady Bunny was a huge moment, as she's a huge inspiration and the only antidepressant I can afford. Sister Roma was a religious experience, no pun intended. Coco Peru gave us so much in the way of personal stories and exposing her beautiful soul. (I know, I get weird talking about these girls, because I love them so much.) Peaches Christ is a peach (you're welcome). I could keep going but it would never end.
Who have you not had on the podcast that you still would love to talk to?
Betty-I would love to be smug and say that eventually we'll get to talk to any and every queen we've ever wanted because we're Grizzly KiKi, but my mother taught me better than that. At this point, the one person I would love to have on the podcast is Shea Coulée from Chicago. We both have developed an obsession with the Chicago girls and Shea gives you everything you want and more. She's polished, well spoken and articulate, and is creating art that will have a long-lasting impact on the drag landscape.
Mary-John Leguizamo. He is one of the few straight men who can create a convincing, committed female character, where you forget that he is actually a man. Or at least that's what I thought as a child.
Speaking of "Drag Race," several NYC girls have won. How do you think the show as a whole has been for the drag community?
Betty/MaryThe show has its good points and its bad points. As a fan, I'm thrilled to meet a new crop of girls every year, but it sucks to see the show prey on the weak. Drag is about community, so seeing certain girls pulled apart for the sake of ratings it painful. This is their art, and no amount of crazed fans should dissuade them from continuing to create and succeed. I am proud to live in the city that has two enormously talented winners who are happy to give back to their community.


What do your male alter egos do when not on stage or out entertaining?
Betty-When Betty is resting at home eating Fiery Cheetos and watching House Hunters marathons, I'm hard at work as the Registrar of a New York City museum. How else am I going to keep her in rhinestones and heels?
Mary-That's boring. I have an office job and am currently obsessed with Blackish. Blah blah blah.
The gay community has had a very trying summer. What do you think are the biggest issues facing our community and what do you see as your part in helping to address them?
Betty-I think the biggest issue facing the queer community at the moment is actually being a community. There are so many outside forces tearing us apart via prejudice, discriminatory policies, and hate crimes that we tend to retreat to our respective letters under the "LGBTQIA" umbrella. Now, that's not to say that members of the community haven't played their own roles in contributing to this. However, although we're seen as a "minority" and "marginalized," the queer community is a powerful force and if we band together to support and love one another, no politicians, small-minded people, or hate groups will be able to hurt us on the level we have been in the past.
Mary-What a great question! If we are talking about the letters under the umbrella, we need to stop making the T silent. The trans movement is in progress and I think we need to make a bigger splash. However, I'd like to find a way to bring about more trans visibility, respect, and protection while keeping the letters together. Our community is beyond divided and we need to huddle back together and figure out how to protect and love everyone. It was our trans siblings that started this whole thing, they put their lives on the line for all the progress and protections we've seen so far, now its our turn to protect them.
What does "pride" mean to you?
Betty-To me, "Pride" means accepting oneself & being open and honest with those around you. This doesn't mean that in order to have "Pride," you have to come out before you're ready or that everyone has to be an activist. Accepting myself has made it possible for me to achieve peace and stability in many areas of my life. It also entails properly caring for yourself before focusing on others.
Mary-Being visible. I think that's the point of the event and the root of the word, to recognize accomplishment. I was raised catholic and so the idea of being proud was looked at as a sin, probably because it is a selfish act. I think everyone needs to be a little selfish to come into their own and so I celebrate that. I grew up being told that who I was made others feel uncomfortable and was essentially inconvenient. So be you, be selfish, and be proud.
Facebook-(Facebook.com/GrizzlyKiKi)
Twitter & Instagram- (@GrizzlyKiKi)
Photos 1&2 Courtesy of David Ayllon
REAL LIFE. REAL NEWS. REAL VOICES.
Help us tell more of the stories that matter from voices that too often remain unheard.