This week, I got the chance to have a laugh out loud conversation with three hosts of one of daytime's hottest shows, The Talk. Nominated for five Emmy awards this year, including best daytime talk show, Julie Chen, Sharon Osbourne and Sheryl Underwood seem to be having just as much fun together on camera as well as off. From the secret to the show's success, to battling the effects of aging, to engaging with fans, to Barbara Walter's retirement from The View, the ladies had me laughing and loving every minute of the conversation.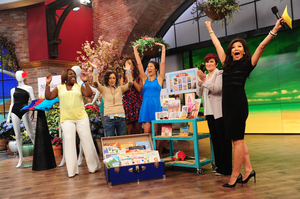 While several talk shows were canceled or ending their run on daytime TV this year, The Talk seems to be going strong year after year. "I think we don't take ourselves too seriously," says co-host Julie Chen. "We aren't trying too hard. We just try to be ourselves and the rest falls into place."
Co-host Sharon Osbourne says the secret to The Talk's success is due in part to the hosts and the crew. "I think we have great chemistry and we are lucky to have the best producers and our crew is the best. It's just like a family and I like to think that that comes across on screen."
The Morning Beauty Routine
While their day starts pretty early in the morning, the moment they arrive, they head straight to the make-up chair for their daily beauty transformation. "I would say that by the time I get into the chair, it takes beyond a village," jokes comedienne and co-host Sheryl Underwood. "I really have to be spackled and cut and contoured and then the hair. Then I have to make sure that I don't eat too much salt because that swells me up. People think that darker skin is easier but we can look ashen and washed out. And I've said this before and I'll say it again -- whoever is lighting us is lighting the most diverse team in talk. That I believe. They deserve an Emmy... I look 35!"
For Sharon Osbourne, her beauty regimen includes a new technique that she recommends for older women: Less is more. "I think for me anyway, I'm always a work in progress. I'm trying to change a lot now. As I'm getting older, this year, I'm trying to wear less make-up and I'm trying to pull it back. When you get to a certain age, the more make-up you wear, I think it makes you look older. So I'm trying to change it up a bit and look a bit more current." After updating her make-up, Osbourne also decided to go for a chic new look with her hairstyle. She says, "I took a look at my hair a few months ago and I felt like I looked like a soccer mom. There's nothing wrong with looking like a soccer mom, but it's just not my style."
Julie Chen takes the multi-tasking approach to beauty and says, "My beauty process starts at about 8:27 a.m. at our morning meeting. I start by putting on my fake eyelashes because it takes a while for the glue to dry. Then after our meeting, I stay behind to write the show with our writer and our executive producer and we have a blow dryer going and we're writing and we're screaming over the noise." Since the show is produced live nearly every day of the week, Chen finds herself writing, primping and laughing every step of the way. "We have to multi-task because we have a live show and from there, I head to the make-up chair. The great thing is, I don't really pay attention to what is going on and I don't have to because I trust everyone that I work with that I'm doing my job and they're doing their job and we all kind of co-exist. It all seems to falls into place."
Why Fun Conversation Trumps Confrontation
While some daytime and late night talk shows find success by creating a pressure cooking situation for guests, The Talk is not the place for confrontation. Sure their may be differences of opinion, but everyone's voice is heard -- especially when Underwood and her fellow co-hosts crack jokes and share personal stories that will make you laugh and cry. "While we're more entertainment and light commentary driven, we can step our game up but we don't have to be right. We don't have to take polarizing positions. We just want to be the best at who we really are with people we trust. The only way I can put up a wacky joke is because I know that these ladies are just as wacky with me. You don't have to be a clown but we're not arguing. We're just having a great time," says Underwood.
One of the fun things the hosts have all experienced as a result of being a part of the show is getting the chance to interact with fans on a daily basis. While Underwood loves participating in live chats right after the show, Osbourne says she uses social media as a way to make sure her fans and followers are happy. "I kind of use it as a barometer because you say certain things and instantly somebody will make a remark about your comment. So it's a very good barometer to check what you're saying and to keep yourself in line and to know what your audience is feeling because they will instantly come back and tell you," she says.
While they've featured hundreds of celebrities, experts and chefs on the show, host Julie Chen says it's impossible to pick her all time favorite. "We've never had a bad guest and people come here and once they walk through the door, the last person who was here was our favorite person. I feel like we walk off the set every day and say that was a great show. Have fun with us. We're not going to ask you that humiliating question. We're here to make you feel good and have a few laughs."
Osbourne adds, "When you can turn around and you say 'Oh my goodness we've interviewed Jane Fonda, Debbie Reynolds, Tom Selleck and little Selena Gomez comes on and so cute. It goes across the spectrum. I mean we are just so lucky to meet amazing people."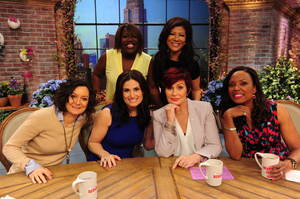 On Barbara Walter's Retirement
As they wind up a week's worth of shows in New York City, The Talk hosts also took time to share their thoughts on the retirement of legendary broadcast journalist and The View host, Barbara Walters. "I'm sad. Barbara is the whole reason why I got into broadcasting," Chen recalls. "My mother and I would bond when I was growing up watching her specials. My mom loved her and was like -- wow she's an inspiration to all women, this is something maybe you should consider getting into. She has paved the way for every female broadcaster who has come after her and will continue to do so for the things she has done. So I wish her well but I wish she wasn't stepping down because I can't imagine turning on a TV and not seeing Barbara Walters."
Osbourne says that Walters is a living legend who can never be replaced. "You know what it is? It's like an impossible shoe to fill. You cannot replace somebody like Barbara with her years of wisdom. It's like there's certain music that you grow up with and it becomes part of your life. And it's like Barbara is a part of everybody's life. We all grew with Barbara. For me, I look at Barbara like an inspiration and she defies the odds. Look at her. She's in her eighties and she's quick, smart, gorgeous, totally into pop culture. She is an iconic figure that cannot be replaced. Nobody can replace her because nobody has that breadth of experience that she's got in life and in broadcasting. She's an amazing woman."
Underwood adds that if it weren't for Barbara, there wouldn't be a place for her at the talk show table. "She's a visionary and a trailblazer. If she had not put her concept together then it wouldn't be a concept for us, Where would you put women together at a table," she says. "We wish her good luck and God speed. Sometimes it's good to get your rest and enjoy what you've achieved. We hate to see her go but when does she get to take some other types of journeys that she's always wanted to do? You read the things that she's accomplished and the people that she's met and I still believe that Fidel Castro is still pining for her. Look at the life that she's lived. The doors that she's opened. The people that she's interviewed. I'm just an old country girl from Arkansas who never thought I'd be on TV, but look at the door that she opened for a lot of people, especially for women."
Make sure to check out The Talk all this week from New York City at 2 p.m. ET/PT on the CBS Television Network. Or if you'd like to join the show virtually, you can also follow them at @TheTalk_CBS #EverybodyTalks.
REAL LIFE. REAL NEWS. REAL VOICES.
Help us tell more of the stories that matter from voices that too often remain unheard.