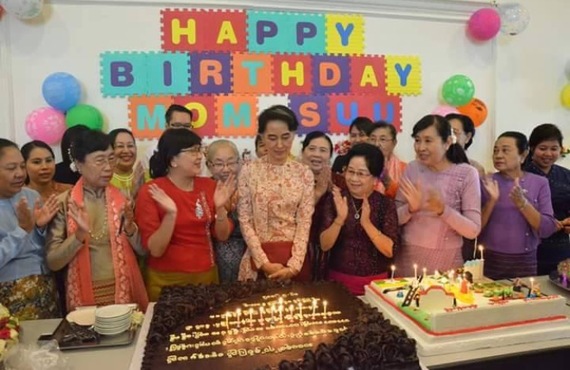 She came walking Into our lives No prior plans before She only did What anyone would do No less no more ...
To care and help Her aging mom Assist her on her way She never knew How all would be So different from that day ...
But History soon Would take a turn Her life completely changed Her caring heart Would play a part Where all was rearranged ...
Through many years Through tears and smiles We've had our share of strife We've done our best To take this test Find Meaning in this Life ...
But life is full Of happenings We just don't have control Sometimes things Lift us in the air To deep caress our soul ...
Yet anyone can Have a dream To hope for better days To try and find Our Unique place In each our different ways ...
How lucky though For us to see her Standing where she's now One can't even Imagine that Such things could come about ...
And as we grow And learn from life The lessons we recall Expect the Unexpected Learn to stand after we fall ...
That dreams do change Along the way Yet one thing that remains The Person Who We Truly Are Our wisdom slowly gains ...
And now the time Has come for us To be there as she was To help and give Our very best To spread our finest love ...
Not take for granted Anything We've worked so hard to gain To honor those who've helped us through The suffering and pain ...
Although it may Seem easier To judge what others do One never really knows Unless one walks In other's shoes ...
So Let Us All Rejoice today For Life's Amazing Plan For Giving All Humanity A Loving Helping Hand ...
And IF one day One was to share This story down the line I'd gladly say Back in the day The Lady was so Fine ...
Happy 71st Birthday Aunty Suu 🌷🌷🌷 ...
May you be Happy May you be Healthy May you Find Your Peace May you Find Your Joy !!!
THANK YOU FOR EVERYTHING !!
___________________________________
Soe Moe Lwin 19/06/2016 11:00 am
REAL LIFE. REAL NEWS. REAL VOICES.
Help us tell more of the stories that matter from voices that too often remain unheard.