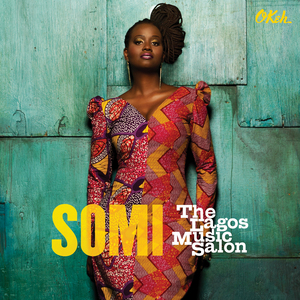 Mike Ragogna: Somi, after speaking with your Uncle Hugh Masekela, you decided that you wanted to go to Lagos, Nigeria, that trip inspiring your new album The Lagos Music Salon. Did you have any idea of what was going to happen after that or were you just going to Lagos for discovery?
Somi: I was definitely just going to discover. I had always been interested in seeing what it might be like to live and work on the African continent. How it might impact my lyrical and musical inspiration. It was really Uncle Hugh who gave me the courage and reminded me of the global citizenship of musicians. We shouldn't overthink something in terms of a move, and then we start thinking of the logistics, the production, the finances. He said you can go and just decide to spend time with a part of your audience and a part of the world and then always come right back if and when you feel ready. I decided to stop talking about it and just go. I had this soft landing through the extension of a former graduate advisor of mine at New York University, a professor there by the name of Awam Ampka, who is also Nigerian and has been in the US for a number of years, now tenured at Tisch. He was starting an international artist residency program and I took him up on the offer to go for a minimum of 7 weeks. I used that time to kind of explore the city, the country and my heart to see if it seemed like the right place for me to be at that time. I decided once I got there that I would stay through the end of the following year. I moved there in September 2011 and the plan was to stay until December 2012. Once I was there, I stayed for 18 months until 2013.
MR: So you were deeply affected by and loved your trip.
Somi: I did, I really fell in love with Lagos. I went there with no agenda and just to see how it would inspire me.
MR: Your album is made up of sound snippets and original material that was inspired by your trip to Lagos. How did the music and the lyrics come together? What was your creative process?
Somi: It was a really organic process and I really wanted it to be that. Because I had no agenda, I decided to, at the very least, just capture the sounds and the energy of the city the best I could. I had this pocket digital recorder that I would take out whether I was at the airport, in the streets, in the club or with my friends and just try to document and archive a 'sound diary' of sorts. I wasn't really clear about what music might come out of that. It started there and then I would journal quite a bit through my travels. I was really just reflecting on everyday experiences, whether they were tragic or magical. As a result, sometimes these reflections came out as songs with melodies and some of the chord structure. Other times they would just be ideas and then I went back later to try to develop it as a song. Coming to the concept of the salon really took me some time. I was there and probably 6 months in I started to have a little bit of a panic attack like "What did I just do? I left New York? Did I just throw my career in the toilet?" I wasn't sure why I was there anymore, but then suddenly I saw a thread through the songs that I had written up to that point and realized that it was really about creating this room of conversation and having a chance to become intimate with the city of Lagos. I wanted to share that and tell the truth because Lagos always tells you the truth. In this way it was a really organic process and somewhat ethnographic. Also I was fortunate to meet a handful of wonderful musicians, the producer Cobhams Asuquo, and also a person that collaborated quite a bit, Ré Olunuga, a Nigerian artist who I met early on so that was a great opportunity. They both taught me a great deal about the local energy, music, culture and tradition of the scene.
MR: You mentioned "Lagos" in terms of "the truth." Did you learn any new truths while you were there or maybe did some of the other truths you believed in previously, get shifted a bit?
Somi: Well, that is a fantastic question. I always say that Lagos is very much like New York in the sense that it is a hard city but if you show up for the city it has deeper rewards. It really can show up for you as well. If there is anything to take away, I learned about the privilege that I was given just by being born as an African women on U.S. soil and what that citizenship gives me. I found a deeper understanding of what it means for African artists who are born and raised on the continent with the limitations of resources, or visas, or immigration, then still manage to find themselves on the global, cultural stage. I think I just have a deeper respect for what it means to make it to that stage as an African artist. It was humbling in that way and allowed me not to take for granted some of the things that can easily be taken for granted when you are here in the West. But if anything, it taught me to always try to move outside my comfort zone. Maybe it was a reminder of that. We can all be reminded to challenge ourselves in new ways and explore other sides of ourselves and put ourselves in uncomfortable positions. For me, it allowed me to find a new way of telling stories and hopefully make the work stronger. I always want to take risks, be brave and be honest.
MR: With "Four African Women, " it's obvious you really did have to be there to understand not just intellectually but also emotionally, what was going on with these women.
Somi: Well, thank you for that. Interestingly enough there were two artists that I listened to while I was in Lagos. One of them being, Fela Kuti because its Fela and it gave me an understanding of his work; an understanding that Lagos is the only place that could actually create his sound. The other artist was Nina Simone. Something about her honesty, her raw beauty, her truth telling and her commitment to justice. All of these issues really seemed to mirror the honesty of Lagos and I wanted to celebrate her and pay her homage while also including some of my reflections of the plights of African women. This is not specifically about Nigeria, but it is a song about some of the issues women across the continent survive. I wanted to honor her in this way and it makes me really happy that you found some truth in that piece.
MR: Somi, "Two Dollar Day" reflects on a domestic worker you met during the Occupy Nigeria protests. Can you talk about that song and its creation? And how did you relate to the worker who was going through her ordeal?
Somi: I would watch it on the streets, seeing people protest, and when you have the opportunity to actually meet someone who is living the repercussions of changes it humanizes the story. I really just wanted to tell her story and to help relay the fact that there is humanity in those choices and that there is dignity in the people who live through that as well; dignity in those that are living on two dollars a day in a country that is still very wealthy but unfortunately these resources are not shared. It was about acknowledging the dignity of that woman and celebrating the people that took to the streets to recognize the power they hold and their impact. People often talk about Nigeria as a sleeping giant, and when you see it awaken in the streets in such a dynamic and popular way, it is very moving.
MR: How do you not get swept into the passion of it all, wanting to commit yourself on a full time basis to issues you become involved in?
Somi: I think as artists, we are committed. At least I would like to believe that I have committed in a full time way and every time I get on stage I'm telling the story. I always tell the story that led to that story. I try to participate in whatever way I can. The stage and the microphone are powerful things, so I am always honored to have the opportunity to bring light to these issues.
MR: In addition to the salon environments you were creating, you also were performing in Europe during this time. So you basically were bringing your experiences out to the world through your performances, educating and spreading the word on Lagos even before the release of the album,.
Somi: I really hope so. I was also playing in salons in Lagos because I really wanted to make sure the people of Nigeria were endorsing it. I am an East African woman and my family is originally from Rwanda and Uganda. There is always that idea of "are you really of this place? Can you really take ownership of this story and tell our story to the world without being exploitative or having a foreign lens?" That is what was so important about spending so much time there. Those salons in Lagos really allowed me to get a response from the Lagosian and gave me the confidence to go out into the world and share the stories. Hopefully the Nigerian audience is happy.
MR: Was this an eternal link that you have established with Lagos?
Somi: I would say so. I haven't been to Lagos in several months but I miss it dearly. I am reminded of it every time I share this music. I'm hoping to be back within the next four months. It's definitely one of my proudest moments in my journey to have just taken that time and taken that risk and to be given the gift that Lagos and the Nigerian people gave me.
MR: It seems the more people that talk about segmented issues occurring on the African continent, the more America and the rest of the world can be educated in Africa. I think we look at it as one giant land mass. We don't really understand the cultural divisions, histories, and each country's issues as well as we should.
Somi: Absolutely. I think right now it's such an exciting time on the continent. The African voice is beginning to be heard in a different way and we are all beginning to appreciate those nuances. There is so much work that we need to do on the Western side of things in terms of understanding the subtleties, large and small, but it is also such an exciting time because for the first time, you are seeing more and more African artists actually participate on the global cultural stage and really tell their stories in an honest, authentic and exciting way. I am happy to contribute in whatever small way I can to really help people understand more about what the African experience is today.
MR: Somi, what advice do you have for new artists?
Somi: I would say probably that same that Uncle Hugh said. We should try to understand that we are global citizens. We should try to be of the world and tell stories of the world, for the world. Just be honest with our hearts and with those around us.
MR: After Lagos and visiting Europe, is there or any other location you'd like to visit for a project?
Somi: Absolutely! I definitely want to go to my homeland, East Africa. I have all sorts of things that I would like to share, think about and research in Uganda and Rwanda. One of the projects that I am working on in Europe is with Ibrahim Maalouf, a Lebanese trumpet player in Paris. We have been exploring the conversation between African and Arab jazz traditions and the role of women in the movements of the Arab spring. I am really interested in spending time in that part of the world and North Africa. The thing is, as an artist I'm in Los Angeles right now but there is always something that you can take away from a place. I definitely have my hotspots and things I am thinking about. We will see what happens.
MR: What was the culture shock like coming back to New York after 18 months in Lagos?
Somi: I think there a few different things. As difficult as it can be, it can also be idyllic. It can have tropical beauty and paradise and also a different appreciation. In other cities outside of the West, I feel that people have different sense of appreciation for balance. Its not just moving in the same way New York is. In African cities, I have more time to do the work while also having the time to enjoy living. It could've been the creative process that allowed me to be so still but I guess the biggest culture shock was not being so still.
Tour Dates
March 7 - The Painted Bride - Philadelphia, PA
March 8 - The Velvet Note - Atlanta, GA
March 9 - Blues Alley - Washington, DC
March 11 - Regatta Bar - Boston, MA
April 24 - Roulette - Brooklyn, NY
******************************
"NO MORE TEARS" FROM SACHAL
"'No More Tears' is the first song on record because you start any journey by trying to accept where you are in the moment - no more, no less. I didn't know how to write a breakup song without being too survivor-ish or super-slit-your-wrist-ish. I just figured: this is what it is to be alone. It's easier to just accept it and get on to being more than someone's useless ex."

"I started writing this song by just singing the melody with as much conviction as possible. That grew into a type of blues, but I wanted to ensure there was a ton of empty space between my singing and the bottom. Space to float around, imagine, get lost in. Then in the later section there's a little more motion and drama to make the words glisten."
******************************
MISHKA SHUBALY'S "YOUR PLUS ONE AT MY FUNERAL"
According to Mishka Shubaly...
"Do I ever get depressed? Hoo boy, you bet I do. One reliable pick-me-up when I'm down is to imagine myself dead, snuggled into my cozy little coffin like a wooden sleeping bag, with lots of hot girls crying over me. With 'Your Plus One At My Funeral,' I manage to deflate even this sad, narcissistic little balloon by obsessing over an ex from beyond the grave, wondering who she'll bring as her date to my funeral. Only years after writing this song did I realize that it holds the epiphany that finally made me stop drinking--I had become more afraid of my life than I was of my death."
******************************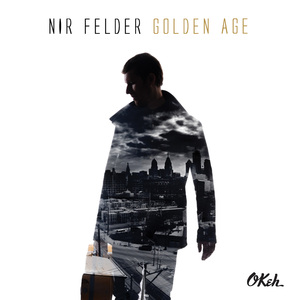 A Conversation with Nir Felder
Mike Ragogna: Let's talk about all things Golden Age, where historic speeches actually played a part in its creative process. Was the concept of Golden Age planned out or was it something that happened as it evolved?
Nir Felder: I didn't really plan out the album from front to back as I was writing the music. But it was like, those themes are something that we're dealing with in such a major way in this sort of political climate kind of musical climate, for basically the whole time I've been a professional musician. So this was stuff that's with me and not something that just ended with the record. The narrative goes through basically my whole adult life. I started playing music as a teenager, and said this is what I want to do, it was when Napster came out--same exact time. The changes in the music industry, the changes in the U.S., the changes in New York City have been so profound over the course of my adult life and it was just what I was tuned in to. The Golden Age title is kind of more of a question than it is a statement. I've said that many times in interviews, but the record was written during a time that I was feeling very hopeful and now maybe things have panned out the way we could have hoped, or better, and other things have panned out not at all that way. It's just food for thought.
MR: How would one pull off a "Golden Age" in the hostile political environment we've got now?
NF: Well, the whole point was that the golden age was something that was never actually there. You never think to yourself that you're living in in a golden age, it's just something that's always in the distant past or the distant future. You have this kind of wheel that is spinning around and you're always neither here nor there. That campaign was about pointing towards the future and him saying that it's coming, come with me and I'll take you there. There's a certain naivety of buying into that but at the same time it is so human to want that to be the case. Every culture has that concept of a golden age, it's just something innate in us that we do have this kind of optimism or in contrast, if we see it in the past it's pessimism. But we all have this belief in something like that really being possible. It's amazing and part of the human condition. Some of the stuff on the record, like the Mario Cuomo speech, who passed away this year, dealt with the rising inequality. That's still a major issue that's not being resolved and is looking like it's getting worse. The fact that we address it and we talk about it and we think about it is a start. It's better than nothing.
MR: It seems like everyone would want a golden age and all that implies, but do you ever really reach a golden age?
NF: No, you never do, but you try. Something about it in the music itself and what I chose to put in the final product dealt with ambiguity. I never released a transcript of what the voices were saying, and I purposefully had them at some points muffled. I want people to be able to interpret it however they see fit. It was amazing to see all the different theories that came back, like he's saying this or he's saying that. It's purposefully ambiguous. I feel like no one's caught it all yet. I guess I'm glad.
MR: You recorded this project with Aaron Parks, Matt Penman and Nate Smith. What did they bring creatively?
NF: Those guys are so brilliant in that they are these amazing improvisers but they also have this sense of the song being the most important thing at all times. We were a working band at the time and what I treasure about those guys is that you don't have to explain to them what something's about, they get it. They get that it's a song and not just a bunch of chords on a page, or a bunch of melodies. That it is something much bigger than that. They really played that and put the music first which is cool.
MR: You started out loving the blues, your original heroes being Albert King and Stevie Ray Vaughan. Then that changed, evolved, into, I guess, a golden age for you, when you crossed into jazz. Was there a big, "Aha!" when you discovered jazz?
NF: It was a gradual, "Aha." There are always those moments and that's what we always look forward to finding when a door opens or a light bulb goes off. But usually, it's more gradual. It's just a gradual awakening to the possibilities and figuring out who you are. You get a little more clarity into yourself, which is the amazing thing. Music is a great feature
MR: You won the Berklee Guitar Department's Jimi Hendrix Award and also you won a Billboard Scholarship for Musicianship and Academic Performance. How did you react to these achievements and did they affect your life creatively or personally?
NF: I couldn't really take it too seriously, because like I said, music is this great feature and it's very humbling to know. People can commend you and people can say you did well and that feels good obviously to see your hard work recognized. But we all know what we're up against. We all know that music is endless. We all know that for everything you can do, there's so many things you can't do and really all we can attempt to do is tell our stories honestly and do our best to communicate the things we know that only we can share with people. Our own really unique personal stories. It was nice to be recognized and it always is, but it is really--is this music moving people, is this touching people, am I sharing something that's special? So it never stops. You're never like, oh okay, I made it, I'm done. It's always going.
MR: How does the creative process work for you? Do you get together with the other musicians and then create from there? Are you on your own in a room? How does the music get out of you?
NF: It's a combination of it all. I've tried all the different approaches that I can think of to create. Sometimes I write a lot on my guitar, often alone, and then I bring it to the guys and we revamp it. Sometimes I'll sketch it all out on the computer with different elements. Maybe I'll make the drumbeat first. It all depends. But I really do enjoy writing from the guitar, because I came up in the era of guitar. Big guitars and that rock n roll guitar sound of open strings and open chords. I felt like some of that was lost in jazz guitar because guitar players were trying to be horn players or piano players, which was great. I wanted to remember what it was like to still really be a guitar player but still play this improvised music that we love called jazz.
MR: That thing we love called jazz, what kind of state do you think it's in right now?
NF: It's in a state of evolution that's kind of like everything around us. It has a lot to do with the recording industry and the changes within the recording industry. If you look around, people are like maybe this will work or what happens if I do this. So it is a creative time, it's a time of experimentation, but some people are still sticking to tried and true formulas as a reaction to the uncertainty. There's a mix of both, of avant-garde pushing forward and the reactionary clinging of the status quo and everything in between. I like to explore the grey areas. But I am also interested in what's coming next. I think there is a lot of great, exciting music to be made.
MR: Is there anything out there musically where you're so blown away it affects your own creativity? Do you have those kinds of experiences?
NF: Sure, I'm always looking forward to those experiences, so I'm always trying to find that thing that lights something up and inspires me. Sometimes it's not through music and it's through travel or something. But musically, I really enjoyed the latest Ryan Adams record. I thought that was just such a great example of a true record, when there are so few true records these days. Things are so marketed towards singles and I felt like he really made a statement with that and it was something that he did himself, in his own studio and self-produced. It sounded amazing. The care they put into that record was really amazing. He didn't win a Grammy but he was nominated for many, which was a coup in and of itself. I thought that was really cool that he followed his vision and it paid off and he made a great record. I also like Father John Misty's newest album and the one before. I think he's pretty brilliant and very funny too. Doing cool things with production and really caring about it. You can really tell those guys really really care. That's always good to see.
MR: Where do you see you going from here? What's the game plan?
NF: Well, we're improvising, right? So we don't totally know, but I'm working on the next record, which is a continuation of a lot of these themes. It's not going to be a huge departure from Golden Age because we have so much more material to mine there. Just bringing it forward with the guitar and jazz and this kind of music that's inspired by songs and hopefully speaks to people. So I'm continuing in that direction.
MR: What advice do you have for new artists...emerging artists?
NF: For emerging artists, the best advice I can really think of is to just really believe in yourself. I could list all the terrible advice that I got over the years that I didn't follow and that I'm really glad I didn't, because its hard to teach someone not to follow advice. The best we can do as teachers, is to say this is what the mainstream is or this is the general practice. You want to give students information, but I think the most important thing any student can take away from that is, okay, let me explore this information and let me take what I like from it--I'm talking about in music and in the arts in general - and leave the rest and follow my own path. Every one of these emerging artists and ever individual that approaches music has some thing special to say. That can get lost if you are trying to say what someone else has already said. You have to sing your own song. That's the only way to do it. You know that all the artists you love are influenced by other artists but they found a way to say their own thing in their own way. That's the goal. To do that you have to take what you like and leave the rest. So my advice is to not always follow people's advice and believe in yourself.
MR: Just curious, do you find that using those heavy gauged stings on your particular guitar affects your creativity as opposed to maybe using other kinds of guitars?
NF: Yeah, because I know that there are not a lot of other people that play that way. I have this old Mexican Stratocaster that I got when I was 13 with really heavy strings on it and I'm playing jazz indie rock hybrid on it. I know there's not really anyone else doing that but it's not because there's no one else doing it that I did it. I just kind of happened. When someone told me I needed to get a new guitar I said, no I like this one and I'll keep these strings on it because I like those. I like the way those sound. I love Stevie Ray Vaughan and he did that, but I don't want to play that style of music necessarily. I just loved that sound. When I think about it, I realize it's something unique so let me keep going with it and follow all my whims. Sometimes something good comes out of it and sometimes I have to say, maybe I'll just do this one by the book. It's a mix of respecting history and learning from the tradition of the music but also willing to say, oh screw it.
Tour Dates:
March 7 - Dazzle Jazz - Denver, CO
March 8 - Studio 222 - Fargo, ND
March 9 - Des Moines Social Club - Des Moines, IA
March 10 - Evanston SPACE - Chicago, IL
March 11 - Blue Whale - Los Angeles, CA
March 12 - Kuumbwa Jazz Center - Santa Cruz, CA
March 15 - Brick and Mortar - San Francisco, CA
March 16 - Jazz Alley - Seattle, WA
******************************
ISABEL ROSE'S "NEVER SATISFIED"
According to Isabel Rose...
"Thanks to the late great, Joan Rivers--who probably rolled over in her couture casket when she was snubbed by the Academy Award's this year--red carpet shows have become cultural events in and of themselves, like the Macy's Day parade or the Super Bowl half-time show. Judging from the copious twitter strings that allow the public to weigh in now, too, many people care more about watching the red carpet than they do about the actual ceremony that follows. As a reflection of American values, it seems that spectacle, taste and branding are eclipsing the creative accomplishments that got them there.

"Every artist who walks a red carpet today has to make a decision about what that moment will be used for: self-expression, self-exposure, political statement, branding, re-branding or all-of-the-above. Every artist who walks the red carpet today has to decide whom to please: their management, their studio, their stylist, their fans, their fans parents, their children, or--gasp--themselves.

"I decided to use my latest video, 'Never Satisfied,' as an opportunity to explore these themes of sartorial criticism vs. self-expression while simultaneously paying homage to those iconoclasts whose individuality has stamped an indelible impression in our collective consciousness. It was also exciting to take a song I recorded about a relationship and turn it into something with less victimization attached. It was empowering and liberating, and dare I say it, as much fun as running through a field of daisies buck naked with a glass of Chardonnay."
****************************************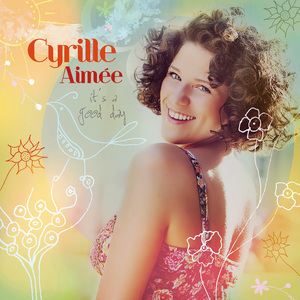 A Conversation with Cyrille Aimée
Mike Ragogna: Cyrille, of course, I have to ask you...is it a good day?
Cyrille Aimée: Yes, it is a fast and urgent day! (laughs)
MR: Terrific! Okay, on It's A Good Day, you visit standards as well as originals. How did this project come together?
CA: For this album, I really wanted to create a sound that was mine and mine alone. I tried to dig into who I was and what I wanted to share musically--growing up with gypsies and then coming to America to learn the American Songbook and then going to Brazil to do some records with Diego [Figueiredo]. I realized that there are a lot of things that are in me and so I kind of decided to put it all together into one sound using the guitar as the common thread throughout the album. I had a Latin guitar, a gypsy guitar, a jazz guitar, and it created an original sound because these 3 types of guitars were not meant to be together. For the songs, I like a lot of different kinds of music. I don't like categories in particular. From Michael Jackson to Peggy Lee, I like it all. I just think of songs that make me feel good, remind me of something or that I like the lyrics to.
MR: Duke Ellington's "Caravan" is one of the first songs you ever learned, right?
CA: Yes, I learned that with the gypsies.
MR: How did it feel coming back to the piece? How has it evolved within you over the years?
CA: Now I understand it more. First of all, when I learned it, I learned it phonetically. And I didn't speak English as well as I speak it now. So, I guess it is the same with all of the songs from the American Songbook. At first I fell in love with them for their melody and their harmony. I came to America to study harmony and rhythm and improvisations and got deeper and deeper into the lyrics and what the songs actually meant. Now the lyrics are one of the most important things to me.
MR: Would you say with Michael Jackson's "Off The Wall," you are relating to those lyrics as well?
CA: Yes! I love the lyrics. It's exactly as I see life, to not just follow everything, but follow your instinct and live off the wall.
MR: With the approach you took with this album arrangement-wise, it were as if there were "voices" employed by the various guitar instruments, like you were performing duets with virtual vocal artists using these instruments.
CA: Yes! But it's not really "duets," as there are more than two of us and more than two guitars but the guitar is definitely a voice to me. I love the guitar for so many reasons. First of all because I grew up around the gypsies and that is the instrument that they play and they use the guitar not just for its common role, but as a percussive instrument, because the drum set didn't fit in the caravan (laughs). So they had to use a different instrument to make the percussive sound. I love the guitar because you can bring it everywhere and you can start a jam wherever you are.
MR: What is your musical evolution?
CA: Many different ways. My first memories of music are of my mother playing Dominican music in the house because my parents love to dance. They love to throw parties and dance, so there was a lot Latin music in the house. My father loved listening to classical music, but when I met the gypsies, that's when I knew I wanted to make music as well. And then from the gypsies I discovered Ella Fitzgerald and then that got me into the American songbook. From there I got really into all the instrumentalists like Miles Davis, piano trios, and then I got into the Brazilian stuff because I met Diego. It's still going on and I keep growing as a musician.
MR: With Diego, what are the dynamics when you guys are playing together?
CA: It really is incredible. The first time we met in 2007, I was the winner of the voice competition in Montclair and he was the winner of the guitar competition and a year later he contacted me via MySpace and asked me to come to Brazil to play some gigs. We had never played together, but I really wanted to go to Brazil, so I went and it was an instant connection. We realized there was something really strong in the music we played together and we could share many things because I have my French side that I brought into the duet and his Brazilian side that he brought, and we have the American songbook in common that we both really loved. It's really special.
MR: You're not easy to put into a genre because although you perform jazz, you have other influences. How would you define yourself as the artist you are now?
CA: I really don't think too much about that. I just want to be happy. My main goal in life is to be happy. If I can make other people happy by doing what I love, then I feel like I've done everything in life that I've wanted. I just want to make people feel good and change people's lives with music and that's it.
MR: You were spotted by Stephen Sondheim and were in one of his productions. How did that come together, what is that story?
CA: It's really different from what I used to do. It was a challenge and I love challenges. I learned a lot from it and I actually started taking acting lessons from that day on.
MR: How did he discover you?
CA: They contacted Lincoln Center looking for a jazz singer and that's how they found me.
MR: Cyrille, what advice do you have for new artists?
CA: Keep following your dreams. Live "off the wall" (laughs) and as long as what you are doing is what you want to do, then it should work...if you are honest.
MR: Ideally, what would you want to do next?
CA: I want to do a lot of things--I want to act, I want to sing, and I want to meet new people!
Tour Dates:
February 28 - Portland Jazz Festival - Portland, OR
March 5 - BLU Jazz - Akron, OH
March 6 - Dirty Dog Jazz Cafe - Grosse Pointe Farms, MI
March 18 - Alvemia University - Reading, PA
March 26 - Bedford Hall - Kenosha, WI
March 27 - Lakewood Cultural Center - Lakewood, CO
April 10 - Stamford Center for the Arts - Stamford, CT
Calling all HuffPost superfans!
Sign up for membership to become a founding member and help shape HuffPost's next chapter