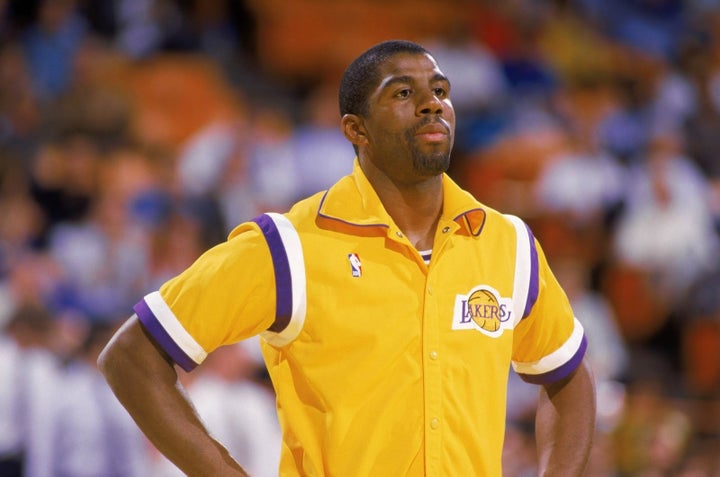 Every so often, I put the political commentary on hold to comment on my favorite pastime. Far from a subject expert, my experiences do consist of playing competitively for years at the amateur level, before moving on to coach high school hoops in Northern Virginia. I've also been known to hold my own on the blacktop, testing my mettle everywhere from the mean streets of Philly to the talent-rich proving grounds of the DMV.
One of my earliest childhood memories include posing for a vintage Polaroid at the Spectrum with my dad. We stood between two life-size, cardboard cut-outs of Sir Charles and The Doctor. It was 1987, I was almost four, and the 76ers lost by two in overtime. It was Dr. J's farewell tour, a swan song of sorts, but another superstar would steal the show.
Earvin "Magic" Johnson would finish the game with 18 assists, 16 points, 9 rebounds, and 3 steals. That's no typo – Magic had 18 assists and led his team to a 112-110 victory in overtime. Johnson imposed his will on the game, and nearly 18,000 onlookers watched in disgust. Secretly, many Sixers fans reveled in the idea of witnessing greatness. Spectators were well aware that Magic was a future Hall-of-Famer, and watching a virtuoso at work (even against one's beloved team) was still special nonetheless. His charisma was undeniable. His talent, divine. And he carved through the Sixers defense with the precision of a surgeon. The things Johnson did on the court could only be explained as magic.
Far removed from his heyday on the court, Johnson recently embarked on a new journey. On Tuesday, February 20th, Johnson was named President of Basketball Operations of the Los Angeles Lakers. After hanging it up for good, Magic has enjoyed a successful career as a businessman. Magic's net worth is an estimated $500 million, and his portfolio includes holdings in the Lakers, Dodgers, Starbucks, Burger King, and a national chain of movie theaters. Lakers fans and investors alike are hoping Johnson can bring some magic back to the organization. At 19-39, there are only two teams in the NBA who currently have worse records: the Brooklyn Nets and the Phoenix Suns.
The Lakers have been dismal for quite some time. Even in the waning years of Kobe Bryant's reign, the club was a bottom feeder at best. The Lakers haven't made the playoffs since 2013, and for such a storied franchise, that is simply unacceptable. Many blame the poor performance on Jim Buss and Mitch Kupchak, the two executives calling the shots since 2013, but both have since been fired. Yet the million dollar question remains.
Can Magic turn things around?
The NBA is rife with cautionary tales of ex-players turned executives who have run organizations into the ground. Remember Michael Jordan's stint in Washington? Isaiah Thomas' forgettable time as coach and general manager? Even the Zen master himself, Phil Jackson, hasn't been able to achieve balance in New York. Can Magic beat the odds?
Let us not forget, he already has...
If history is any indicator, Magic will do just fine in the front-office. Laker Nation can let out a sigh of relief and welcome home its favorite son. Magic has the instincts to identify true talent on the court, as well as the business acumen to make sound decisions that will benefit the organization both professionally and financially. In three years, the Lakers will once again be a perennial powerhouse, much to the chagrin of my father's Sixers.
Calling all HuffPost superfans!
Sign up for membership to become a founding member and help shape HuffPost's next chapter
BEFORE YOU GO