LAS VEGAS ― Monie Stewart-Cariaga recently decided to leave the townhouse she's renting to buy a new home. For a single cocktail server, she couldn't be in a better position to do it. Beyond the fair wage and tips she earns at the Paris Las Vegas Hotel and Casino, Stewart-Cariaga plans to take advantage of a home-buying assistance program run by the Culinary Workers Union Local 226, the powerful union that represents service workers like her on the Vegas strip.
Members are eligible to receive a $20,000 loan to help with a down payment, which is only repaid if the member sells or rents out the home. It is one of many ways the Culinary, as it's known, has been helping servers, bellhops and line cooks get their piece of the American Dream. More than half of the union's members are Latino, and more than half are women.
"For what I do, I feel like I couldn't be in a better place," said Stewart-Cariaga, who is 50.
She was about to get ready for a shift at the Paris, where she has worked for 18 years ― what would be considered an eternity in most U.S hospitality jobs. But Vegas has upended the assumption that service jobs must be high turnover and dead-end. For Stewart-Cariaga, a mother of two, there's no mystery as to why things are different here: "This is a union town, and everybody knows it."
That's in spite of the odds against it. For 65 years Nevada has been a "right-to-work" state, one where union-represented workers can opt out of paying dues, even though the union is still legally obligated to bargain on their behalf. Nationally, union membership in the private sector has tumbled to a near-historic low of just 6.5 percent; the numbers tend to be most dismal in right-to-work states, where unions typically wield less power in the workplace and the statehouse.
Yet the Culinary has found a way to thrive in Nevada. The union now represents 57,000 workers at the majority of casinos and hotels on the strip and all but one casino downtown. (Its sister union, Bartenders Local 165, accounts for 3,500 of those members.) Even though the right-to-work law means none of those workers can be required to support the union through their paychecks, more than 95 percent of those workers choose to pay full union dues anyway, keeping the union on strong financial footing. That is an astounding rate by any measure.
The union just recently flexed its muscle in contract talks involving 50,000 workers at 34 properties. As the previous contracts neared their June 1 expiration date, the union held a strike authorization vote. Ninety-nine percent of workers who cast ballots authorized the union to declare a citywide strike June 1 or later if they couldn't reach a deal with the casinos, potentially disrupting the entire local economy. The credible threat led to a breakthrough, with the two largest operators ― Caesars and MGM, which together run 18 unionized properties ― soon agreeing to five-year deals. As of publication, workers are still preparing to strike at other properties where negotiations continue.
"There's just a real willingness to organize and to constantly be organizing," said Ruben Garcia, an expert in labor law at the University of Nevada, Las Vegas School of Law.
The union's success is a ray of hope for unions elsewhere, as state and federal policies become more hostile to organized labor. Previously the domain of the South and West, right-to-work laws have spread rapidly in recent years, even to Midwestern union bastions like Michigan and Wisconsin. They are now on the books in 28 states. Meanwhile, the Supreme Court is poised to decide a potential landmark case in Janus v. AFSCME Council 31, which could make the entire U.S. public sector right-to-work and deliver a severe blow to public employee unions.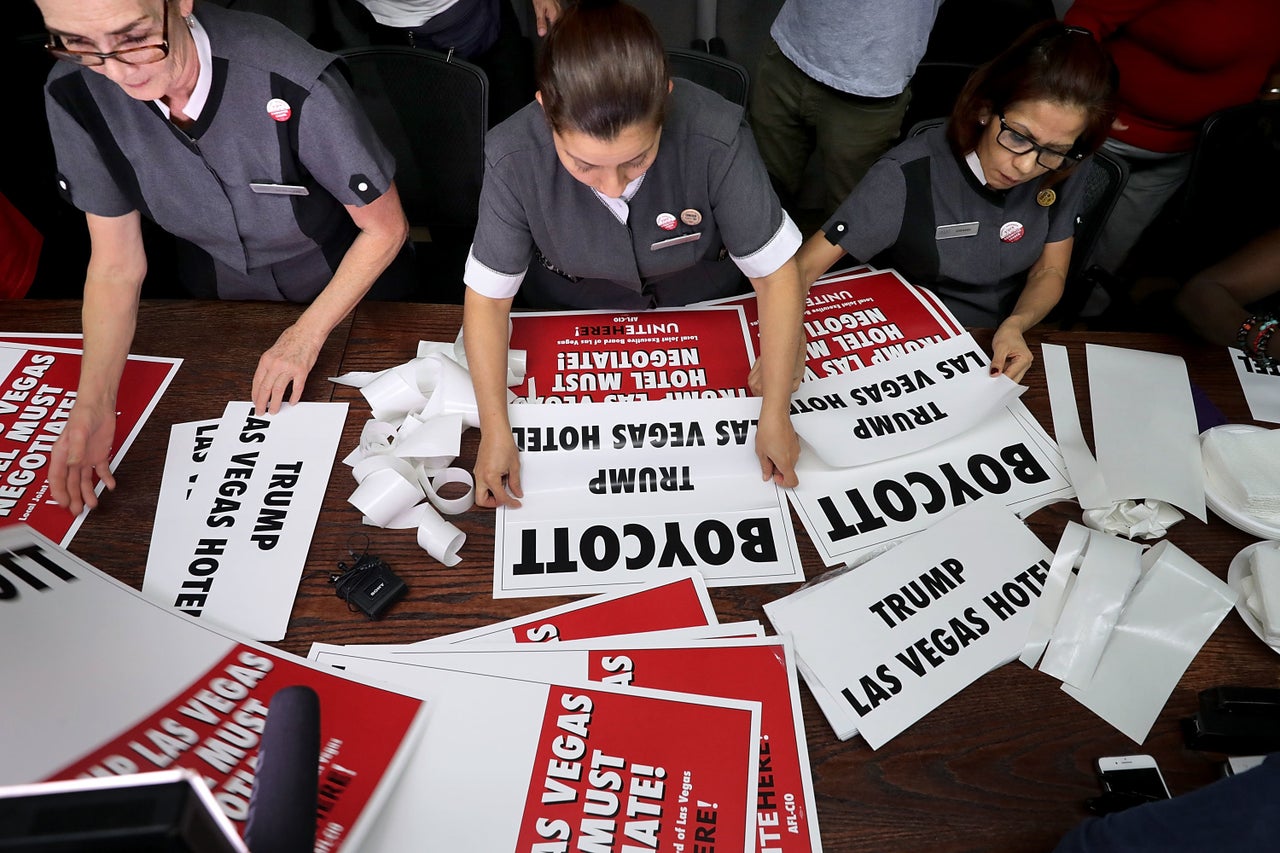 If unions hope to endure in such an inhospitable climate, they will have to look a lot more like the Culinary. For years, the union has blended unionization campaigns at non-union properties with the ongoing organizing within their current membership.
When workers have the option to not pay any dues, a union has to constantly engage its members and prove its value to the people it represents. For the Culinary, that has meant cultivating leaders inside the casinos; getting rank-and-file members involved in political causes and organizing drives; and, above all, mobilizing to win solid contracts with strong pay and benefits that show members the advantages of being in a union.
"We don't know any other way," said Geoconda Arguello-Kline, the union's top official. As a Nicaraguan immigrant and former Vegas housekeeper, Arguello-Kline is a symbol of the union's rank-and-file ethic. "For us, it's a very natural way to survive here in Las Vegas: organize, organize."
Arguello-Kline was speaking at the Culinary's bustling union office, near the northern end of the strip. The halls buzzed with English and Spanish, as workers sought out reps to help them with their health care coverage, compensation benefits and workplace grievances. The office also brought job seekers. Every weekday the union runs orientation for would-be members and holds a roll call to announce job openings at union properties they can apply for.
But much of the union's most important day-to-day work is done off-site by members like Stewart-Cariaga. She serves as a shop steward at her casino, helping other cocktail servers navigate problems in the workplace. When she isn't ferrying drinks to customers at the blackjack table, she may be helping unionize other casinos and restaurants or, as was the case this spring, working on the next contract covering workers at the Paris. A few years ago, she even took off work and fasted for seven days outside Palace Station to draw attention to a labor dispute inside.
As a shop steward, Stewart-Cariaga has a list of 20 employees she's responsible for helping and engaging through the union. One woman on her list was lukewarm about joining until Stewart-Cariaga recently showed her what the union can do. A supervisor had written the woman up for dubious reasons, so Stewart-Cariaga went to bat for her and helped file a grievance. After that, the woman started paying the $60-per-month dues.
"Ninety-nine times out of a hundred, they will end up needing the union's help," Stewart-Cariaga said. "Fortunately, we'll do that for them, and that speaks volumes."
The union tries to achieve a positive feedback loop: worker involvement begets good contracts, and good contracts keep workers involved.
According to the union, the average member earns $23 per hour in pay and benefits, including a generous health plan and an employer-funded pension. The union's health fund offers family coverage with no monthly premium, and last year the union opened its first health clinic to serve members and their families. The housing program, which was created a decade ago through a collective bargaining agreement with the casinos, has shelled out more than $4 million toward down payments and closing costs.
Employers, in turn, get a well-trained and professional workforce with low turnover. The union jointly runs a training center with employers called the Culinary Academy, helping workers upgrade their skills so that bussers can become servers, barbacks can become bartenders and so forth. The course food servers take is 152 hours long.
"Even though this is a right-to-work state, people who work here understand that the Culinary has made a living wage possible," said Leain Vashon, a bell captain who also serves as the union's vice-president. "Even the people who are not in the union only get a great salary because of the Culinary."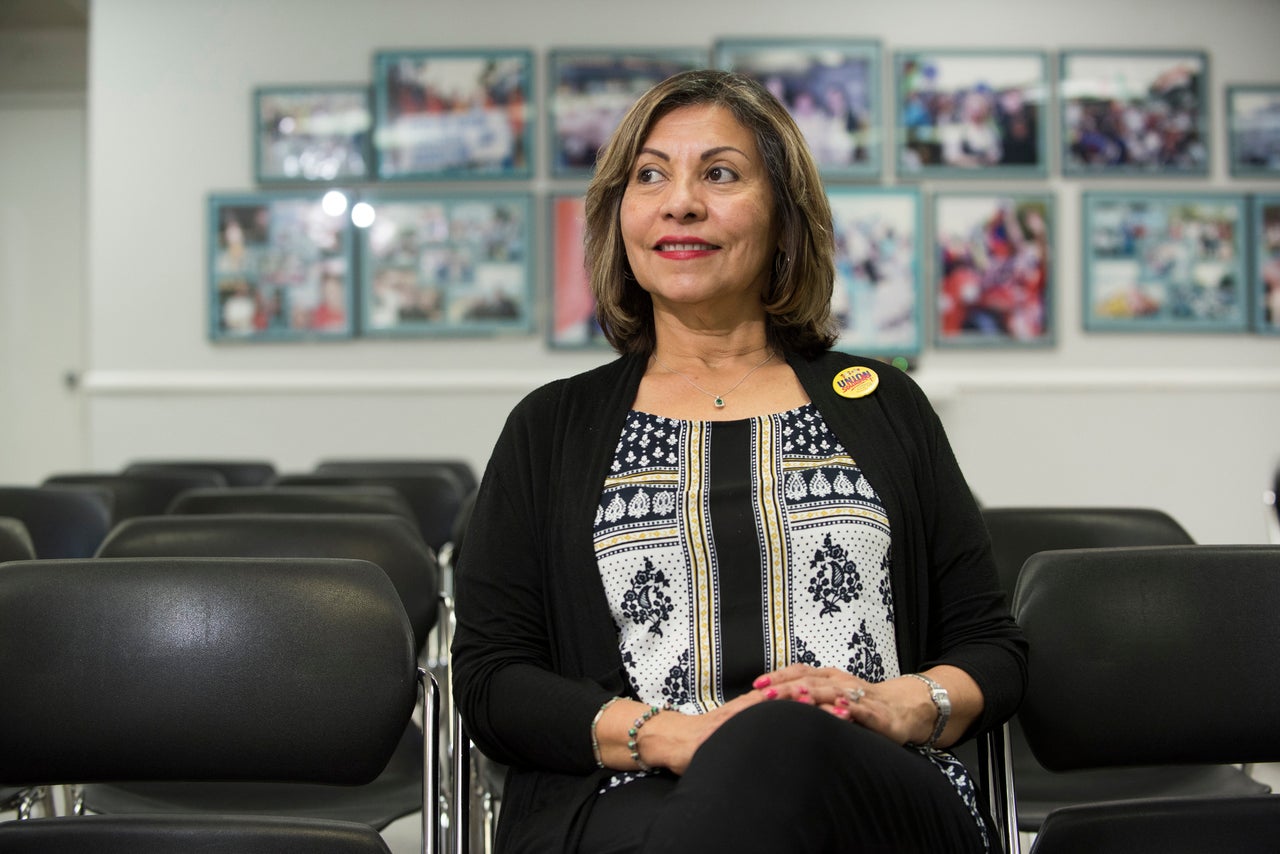 With a unionized workforce being the norm rather than the exception in Las Vegas, the non-union properties in town end up having to pay higher wages just to compete for qualified workers. That, in itself, negates much of the benefit a hotel might find in trying to stymie the union. (Billionaire and conservative donor Sheldon Adelson is one of the few operators to consistently fend off the union over the years.)
The Culinary has persuaded many operators to abide by "card check" ― allowing workers to unionize by submitting signed union cards from a majority of the workforce. Card check lets workers bypass the longer process of a secret-ballot election, which employers are entitled to demand. In elections, workers are often pressured by managers ― and sometimes by consultants hired by the company ― to vote against the union. One of the first to allow card check was the casino magnate and accused sexual harasser Steve Wynn, who reached a major agreement with the union in 1989.
For those who are more resistant, the Culinary is willing to wage aggressive campaigns, including boycotts and mass demonstrations, many of which have lasted for years. It successfully unionized the Trump International Hotel ― a joint venture between the Trump Organization and the businessman Phil Ruffin ― in 2016 after a long and ugly fight that included a boycott of Trump properties and federal charges of union-busting against the hotel. The union's fight with Stations Casinos has carried on for a decade with mixed success; it has won elections at four out of ten properties.
"We've never viewed right-to-work as a hindrance," said D. Taylor, who previously led the Culinary and is now president of its international parent union, Unite Here. "Workers are getting screwed whether they're in right-to-work states or not. You have to have a constant organizing presence and you have to change the culture of your union. It has to be run by great rank-and-file leaders."
That wasn't always the case for the Culinary. When Richard Blair, 63, was working in a kitchen at the Dunes in the 1980s, he didn't even know he had a shop steward. But as the union transformed into a more bottom-up operation over the years ― much of that under Taylor's leadership ― members like Blair have become the driving force. He is now a shop steward at the MGM Grand and says he has been arrested five times at Culinary protests over the years. Nearly every worker on his list of 20 is a dues-paying member: "everyone but that one guy on swing shift," said Blair.
The union density on the strip is so high that it almost resembles the sectoral system in labor-friendly Europe, where unions bargain with entire industries rather than individual employers. The solidarity makes for strong leverage. Although there hasn't been a stripwide strike since 1984, the Culinary was one of several unions that waged a remarkable strike at the Frontier Hotel and Casino for six years, four months and ten days, coming to an end in 1998. The unions kept a picket line running 24 hours a day and claim not a single striker crossed it.
"The standard is high today because workers have always been fighting for it in the past," said Arguello-Kline.
The union approaches new contracts as an opportunity to grow. As heavily unionized as the strip is, non-union hotels and restaurants still pop up. In their contract talks with the operators every few years, the Culinary makes a priority of negotiating an easy path for those new properties to unionize. Typically, this happens through an agreement from the owner to remain neutral in an organizing drive.
Other contract provisions that the union has bargained for help it remain strong, such as access to employee dining areas inside casinos, which allow the union's paid organizing staff to speak directly to members on the worksite. The contracts also enable workers to take leaves of absence from their jobs to work on union issues. Under such arrangements, a worker will take off several months, paid for by the union, to help with contract negotiations, political campaigns or organizing drives at other casinos.
It's a remarkably effective tool in educating members in the union's work, so they can bring what they've learned back to their workplace. After all, workers are much more likely to listen to what a trusted colleague has to say, as opposed to a union official they don't work alongside.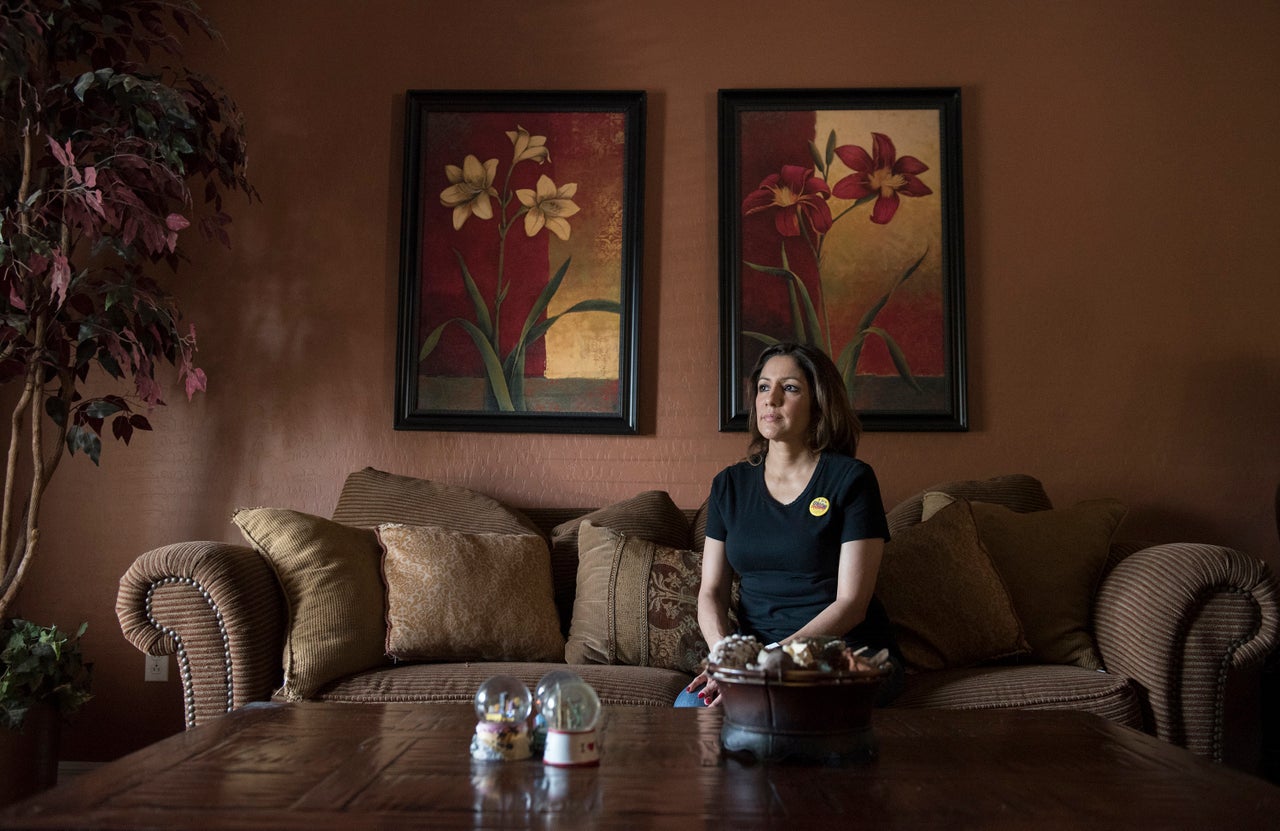 On a recent Wednesday afternoon, housekeeper Claudia Ramos was at home making the most of her leave of absence from the Paris by reaching out to other workers to update them on contract talks. Sitting at her dining room table, the 44-year-old native of Mexico had a list in front of her of shop stewards, committee members and "targets" ― workers who aren't union leaders yet but have shown promise. The bilingual Ramos hoped to get those targets more involved in the union.
She undertook a course run by the Culinary to do this work, learning about every article in her own contract. Ramos is exhausted after cleaning eight hotel suites in a shift. But the leave-of-absence program has allowed her to devote all her energy to the contract and help her fellow housekeepers understand what's at stake in the fight.
"We call it a fight because we need to fight with these corporations," said Ramos, a mother of three who's married to a construction worker. "They say they don't have the money, and we know they do. We can lose what we have right now: health care, pension, all that stuff."
Ramos took another paid leave of absence in 2016, to knock on doors for Hillary Clinton and other candidates endorsed by her union. The Culinary has become something of a kingmaker in Nevada politics; its members are a get-out-the-vote machine for Democrats in federal and state elections. But it also likes to think of itself as the largest immigrant rights group in the state. The union's membership is approximately 54 percent Latino. It regularly hosts citizenship drives, in which members on paid leave from their jobs help immigrants navigate the process to become voting citizens.
"They've made themselves very important to the political powers that be," said UNLV's Garcia.
The Culinary has certain built-in advantages in Las Vegas that organized labor doesn't have elsewhere ― in particular, a healthy hospitality industry that gets visitors to empty their wallets and can't easily outsource its work. The union has so successfully intertwined itself with the city's tourism that its fortunes are more or less tied to the operators'.
The Culinary lost a few thousand members in the aftermath of the housing crash and Great Recession, which hit Vegas particularly hard, but the casinos have rebounded. And thanks to language in the union contract, workers who'd been laid off when the Sahara Hotel and Casino closed in 2011 were entitled to return to work when the property reopened under new ownership as the SLS in 2014. The union views such "successorship" language as critical for its contracts, since casinos can easily change hands from one corporate owner to another.
That's not to say the union doesn't have its vulnerabilities. A surprising one is automation, as restaurants buy more pre-cut foods rather than rely on line cooks, and casinos experiment with drink orders placed over iPads right at the slots. That's a particular concern to Stewart-Cariaga, who's made a living handling drink orders for 26 years.
In most other cities, a cocktail server could lose her job to an iPad with no notice and no severance. But in Las Vegas, the Culinary has raised the automation threat in its contract talks with the casinos. Stewart-Cariaga says it's just another example of why she wouldn't want to work anywhere else and why she puts so much time into growing her union.
"Just because you have it OK doesn't mean you will even tomorrow. That's how much you walk on eggshells at a non-union property," she said. "I appreciate the people who did this before me. I'm doing it because it's the right thing to do."
Popular in the Community